Bharti Singh declares she is ready to take on Kapil Sharma
Here's the latest update from the world of Bollywood. We bet you wouldn't want to miss this. Read on for details... Is it for real? Or is she just putting on a brave front?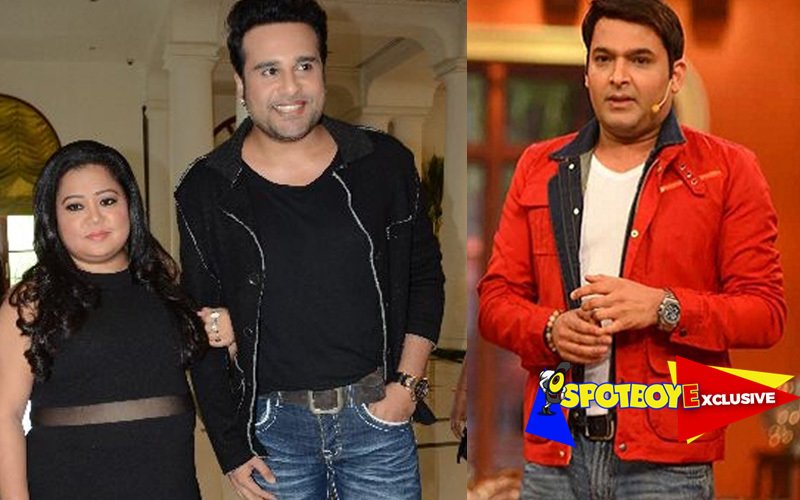 Kapil Sharma and his team of Comedy Nights With Kapil made a splash on social media this morning with their pictures, indicating their return with their new show on Sony (Kapil Sharma is b(l)ack with a bang, Feb 23). The show's promos will be on air shortly.
We had already spoken to Krushna Abhishek when he and Bharti Singh took over from Kapil with their show Comedy Nights Live on Colors (Kapil Sharma felt insecure and ran away from the battlefield, Jan 31).


Now, the time is right to talk to his partner-in-crime Bharti. Excerpts:


The promos of Kapil's new show are round the corner...
Arre wah! I am very happy for Kapil. Competition jab tak na ho, mazaa nahin aata.
I don't care what the world says, but truth is that Kapil and I are like bhai-behen. We both have come from Allahabad. People think that we avoid each other – but trust me, we always talk to each other when we meet at parties. What happens in our professional space doesn't affect our equation.
Are you nervous that it may affect the ratings of Comedy Nights Live, considering it will be aired in the same time slot?
Koi tension nahin hai. There are so many shows in the comedy space. But my fans will always want to watch my show. Similarly, Kapil bhai's fans will always want to watch his show. See, even when Comedy Nights With Kapil was on, people used to watch my show Comedy Nights Bachao, right?
That could also be because Comedy Nights Bachao is aired on Saturdays while Comedy Nights With Kapil used to be aired on Sundays...
The world is too big. Even if Kapil and I split the audience into half, then we'll have enough people watching our respective shows.
Do you think Krushna is feeling the heat?
I haven't met Krushna in the last 3 days, so I can't say. The way I see it, the competition is between Kapil and Krushna. I don't have anything to do with it.
Why?
Kapil Sharma is a guy and I am a girl, so how can you compare me with him? (pauses)

Go on...
I have 3 shows going on – Comedy Nights Bachao, Comedy Nights Live and India's Got Talent. I am very happy with what I have got and I don't want a fourth show right now because it will be too much for me.
But many feel that you guys are very repetitive on Comedy Nights Bachao and Comedy Nights Live. Voices are same, tonality is same...
How are they similar? Comedy Nights Bachao belongs to the genre of insult comedy – where we invite celeb guests and pull their leg. Comedy Nights Live is a family show. I play Chintu Sharma, Bittoo Sharma's son in Comedy Nights Live. You won't find any trace of Bharti Singh in the show.
All said and done, it's not going to be easy. The whole team of CNWK has gone with Kapil and they promise to return with a bang...
Everybody tells me, "Arey, woh waapas aa raha hai." Aa raha hai toh aa raha hai. Big deal! Even we had made a splash when we came with Comedy Nights Live, right?
Will you watch Kapil's new show?
Right now, I don't even have time to watch my own shows. But if I get the time, I will.


Image Source: Colors & Ifairer