Bharti Singh: Krushna and I will not let Kapil Sharma be forgotten
Here's the latest update from the world of Bollywood. We bet you wouldn't want to miss this. Read on for details... Claims she is bindaas but denies quite a few truths!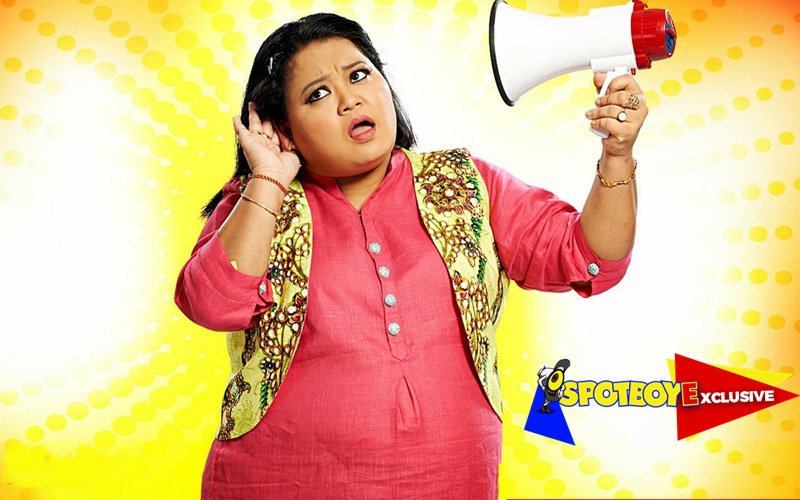 Bharti Singh, the Laughter Queen of Indian television, will now bowl you over. Literally! The comedienne is all set to try her hand at an altogether different 'ball game'.Bharti will now entertain you with her batting and bowling skills in the upcoming Box Cricket League Season 2 as a team member of Chandigarh Cubs.
In a conversation with SpotboyE, she talks about her new assignment, and of course, the war between Comedy Nights on Colors and Comedy Nights on Sony:


Comedy Nights Bachao, Comedy Nights Live, Sanam Re and now BCL... you seem very busy...
Seriously! I have been very busy. I shot promotional video for Sanam Re full night and I attended BCL team launch, I have night shift again today and there is no sleep...only death. Just kidding! Well, I try to stay active and fresh. I have committed myself to a busy schedule and I stick to it.

Cricket and you?
Anita Hassanandani convinced me to be a part of it. My only relationship with cricket is gullywala cricket. But here, it seems like a picnic.

The first episode of Comedy Nights Live didn't go down well with Kapil Sharma's fans...
We got mixed responses from people and their reaction is very genuine. Kapil's fans will obviously feel bad. If you get some other fat lady and replace me, my fans will also be hurt. Our intention is not to replace him. We also want to make you laugh and receive love from you. No comedian competes with another comedian. A comedian is like a joker, who's only motive is to make you laugh. It's a request to all our fans that please don't misunderstand us but motivate us. If not us, someone else might have replaced him.

Did Kapil called you after your new show ?
He loves us. We have a very good relation. We go to each other's place...we eat, drink together. We even travel to Amritsar together. People think us to be rivals because we have different comedy shows. But all these are mere conjectures.

That doesn't answer my question. Let me ask it this way: What was Kapil's reaction after Comedy Nights Live's first episode?

We told him that 'hume bahut gaali paadi hai'. He said not to worry, 'every good thing comes with obstacles'.

There was constant mention of Kapil in your first episode. People didn't take the mockery in a lighthearted manner...
The channel wanted that we keep Bittu Sharma's character alive, as we have taken over his house. We can't randomly arrive at his place. So we used his name for reference, but we didn't mean to insult him. And more over, I play his son – Chintu Sharma, so I will mention him in every episode. We won't let people forget Kapil.

Did Kapil know that you are going to play his son?
He was totally surprised and he laughed when he came to know about this track. In one episode of Comedy NIghts with Kapil, a small kid was shown as Bittu Sharma's son and then he disappeared. So now I am here as his son. He was happy. Every person wants to grow. He wants to do films, he has opened his production house... I wish him loads of success. I hope Kapil gets so busy with films that he doesn't even find time to talk to us.
He is headed to Sony...
He is going to a different channel...let him go. Why shouldn't he go? A talented person like him shouldn't fear anybody.

There is animosity between Krushna and Kapil...
There is no rivalry, and who says that it's Krushna's show? Even I will take offence if someone calls Comedy Nights Live to be Krushna's show. It is our show – it belongs to him as much as it belongs to Sudesh and Bua and I.

There have been rumours about your engagement...
Bharti Singh is bindaas. If I am engaged or I get married, I'll surely let everyone know about it. There's no harm in falling love, if there is something brewing I'll inform everyone. You have seen me flirting with actors, kiss them... if I find my real life hero, will I hide it?

We know for a fact that you were kissing your boyfriend Harsh Limbachiyaa in a car outside your building (CAUGHT! Bharti Singh smooching boyfriend Harsh in car, Dec 30)...
Hey Bhagwaan! I keep on kissing every actor... if I have kissed Harsh, there should be proof. It has been seven years since I left Punjab, I respect my parents... I know my limits. When I am engaged or married...I'll kiss in the open, because he'll be my husband! No one can stop me then.


Image Source: Colors, Manav Manglani & instagram/bharti.laughterqueen