Bigg Boss 13: Rashami Desai's Mother Rasila On Arhaan Khan: 'Glad That My Daughter Learnt Of His Reality'- EXCLUSIVE
Rashami Desai's mother Rasila Desai in an EXCLUSIVE conversation with SpotboyE.com. The lady talks about her daughter's relationship with Arhaan Khan, Sidharth Shukla, her journey so far in Bigg Boss 13 and lots more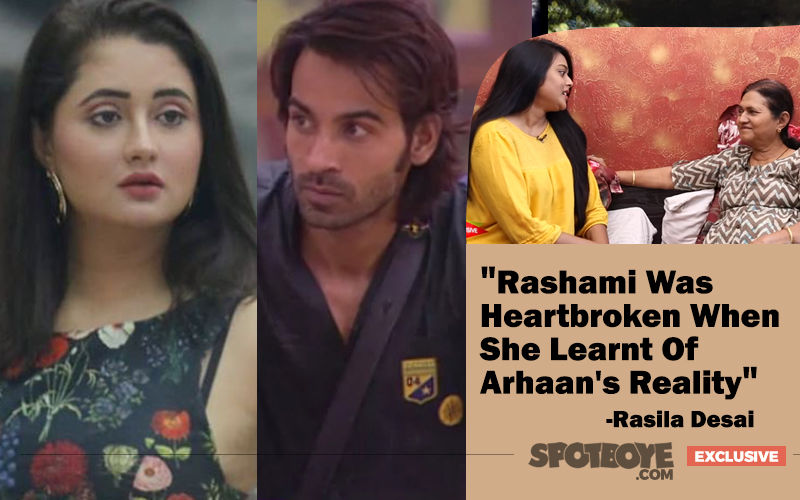 Rashami Desai whose journey inside Bigg Boss 13 house has been no less than a rollercoaster ride is inching closer to the finale. We caught up with her mother Rasila Desai at her place and the actress' mom spoke about Rashami's game, her equation with Sidharth Shukla, the big shocker from Salman Khan about Arhaan and lots more.
We heard you've been unwell. What happened?
The situations that my daughter Rashami is going through in Bigg Boss 13 house are making me weak every day. Sometimes I feel I should break all the rules and get inside to stand by my daughter's side as she is all alone. I want to give her a tight hug. I wonder how she is dealing with so many things alone. Yeh soch sochkar meri tabiyat kharab ho rahi hai.

Did you ever expect Rashami to reach this far in the game?
I had expected because I trust my daughter and I also trust her fans who love her.
Why didn't we see you inside for Rashami during the family week?
I really wanted to enter the house but couldn't make it as my blood pressure and diabetes was really high that time. So, I decided to send the kids inside who are extremely close to her. And I knew she would be happy seeing them.


The kids asked Rashami to turn friends with Sidharth Shukla. Was that your idea?
I didn't tell them anything. Kids these days are very smart but I think it must be Swastik's idea. But they were on cloud nine seeing their Bua especially Bhavya, as she is extremely close to Rashami.


Do you think Rashami will walk away with the trophy?
I have started getting dreams in the night that Rashami is entering the house holding the trophy.

In one of your interviews, you had said that Rashami didn't discuss about her participation on the show with you. What was your reaction when you saw her on Bigg Boss 13?
I have been following Bigg Boss and when I saw her inside, I got stressed out thinking as to how will she manage. I never made her do any household work. Also, I had noticed that the people who get locked inside are mostly loud while talking. But Rashami is not loud at all. It's only me and Rashami who stay together so I haven't seen her screaming or talking loudly. But then I explained to myself that she is a mature girl now and she is capable of handling any situation. I think she made a good decision by going inside.


We saw her receiving a lot of flak especially from Mahira Sharma and Paras Chhabra on her food...
Rashami paanch bhaiyo ki ek lauti behan hai so mere ghar mein she is over pampered. They don't allow me also to ask her to do any kind of work. But in that house, she is doing so much of work and there are people who still raise fingers on her. Whatever she cooks, it gets over which means she is cooking it properly. But when people like Mahira and Paras say that she puts in a lot of negativity, it makes me feel angry. I really want to ask Mahira if negativity is a kind of masala that's available in the market that my daughter is adding in the food.

Rashami had saved Mahira once during the Pizza delivery task and was evicted from the house that time. Do you think it was a wise decision?
Absolutely not! That was the only decision of Rashami in this game which I will never appreciate. I saw somewhere Mahira's mother saying ki meri beti ne 2 mahine mein utna naam kama liya jo logon ne 20 saal kaam karke nahi kamaaya. I want to tell her that the world knows on what grounds she has got the fame. Secondly, I am really upset with Mahira that she is not even thankful to my daughter because of whom she has reached till here. If Rashami wouldn't save her that time, Mahira would have been ousted long back.

Did you get a bit hesitant seeing Rashami and Sidharth in the same house?
I was definitely hesitant initially but when I saw Rashami saying 'I know him and we can connect', I got a bit relaxed thinking that they have kept their past aside and have entered the house with good maturity. So there is nothing to get tensed but it was momentary as in no time, they were seen fighting again.

What went wrong between the two during Dil Se Dil Tak?
I really don't know what exactly went wrong between the two as Rashami never informed me about anything. That time I was working in a school which was far away and she used to be on sets so we hardly got any time to interact. But I had a rough idea that the two were having fights on set.

Are you liking their current equation on the show?
I am liking it honestly. And I want them to turn friends and stay like this.

Are you ready to forgive Sidharth for passing the 'Aisi Ladki' comment on your daughter?
I think Rashami herself had corrected him at the very same time. I was proud to see her taking a stand for herself and making him realise about his mistake. And I am sure that Sidharth too must have realized that what he said was not right. Though, he gave an explanation to Salman which didn't make sense to anyone.

Are you upset with the makers to discuss your daughter's personal life on a public forum?
I am not at all upset with them because I understand that there are always two sides to each story. I know it was heartbreaking for my daughter to know things which she was unaware of until now. But I'm glad that she discovered his reality (of Arhaan Khan). And I always look at the positive side.


When Salman Khan entered the house to console Rashami, what were the thoughts running through your mind?

It was very emotional for me. I will forever be thankful to Salman Khan for doing this for my daughter. She needed someone at that moment and he was there.

Who do you feel Rashami can look up-to for moral support now?
People were saying Asim is a good friend of hers but when the time came, he also supported his girlfriend Himanshi and not my daughter. He could have corrected Himanshi to not say such things about Rashami while she was talking about Arhaan's condition outside, but he didn't do that. And that hit me bad.

Do you think Rashami has earned a friend inside?
Devoleena ko main uski sahi friend maanti hoon. I think she has always guided her for the right thing and stood by her side.

We had heard that you and Rashami weren't exactly on good terms when she entered the house. Is it true?
It is true and I won't lie. Although, I can't tell you the things in detail but all I can say is we have a generation gap so there are times when we have argued over things. I still treat her like a kid which she doesn't like at times. But I am too attached to her, as her father passed away when she was very young so I have brought her up all alone. So, I am very protective towards her. But now, I just want to say that when Rashami comes out with the winning trophy, she will also have another trophy in the form of her mother standing next to her.


Image Source:- instagram/arhaankhaan/spotboyeteam