Bigg Boss 13: Sonal Vengurlekar On Asim Riaz's Brother Umar, 'Woh Iss Duniya Ka Aakhri Insaan Hoga, Jiske Paas Main Jaana Chahungi'- EXCLUSIVE
In an exclusive video interview, Sonal Vengurlekar talks about her past with Umar Riaz, followed by Asim and Shruti's love affair and lots more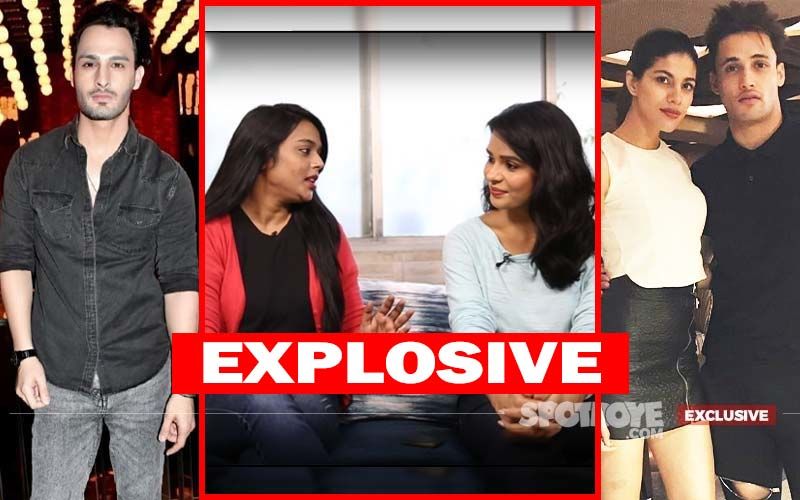 Sonal Vengurlekar, who was once close to Umar Riaz came to the forefront yesterday when she exclusively revealed to us that Asim and Shruti Tuli were in a live-in relationship. Her claims earned her enough hate messages from followers of Asim and Umar. In fact, the latter even called her a 'Chhappri' and 'Flop TikTok Star'.

Shruti too denied her claims and said that she is doing this as she wants to get back at Umar. So, we engaged in a long video conversation with Sonal and she spoke at length about Umar, Asim, Shruti.
How do you know Umar Riaz?
I met Umar at a party last year in March after which we dated for almost 5-6 months. And that time, nobody really knew him. He introduced himself to me as a surgeon. However later, things didn't work out between us and we broke up.
But Umar states that you two were just good friends...
I read that in your article. But let me tell you, when you had reached out to me to know about our relationship status, he had conveyed me a message through a common friend to not accept it. And because he was requesting so much, I decided not to confirm it to you. But if he has been claiming that we never dated, so let me tell him that I have his old chats with me which are enough to prove what was our relationship status that time.
What led to the break-up?
Umar was very abusive in the relationship. He used to feel that girls from this industry can do anything to be in the limelight and all this used to upset me. We would have arguments and the last time when we fought, he texted me an apology message from Asim's number as I had blocked him.
How did you meet Asim then?
Obviously, Umar made me meet him but that time he never disclosed that he is going to participate in Bigg Boss. He used to always tell me that I have good contacts in the acting space. I even shared numbers of some casting agents with Asim to help him out.
So how many times have you met Asim by now?
Around 2-3 times at his place, where Shruti Tuli used to stay with him. I have spent a lot of time with these three people and in fact, we had also gone to Juhu beach together to chill. Umar had clearly introduced Shruti to me as Asim's girlfriend.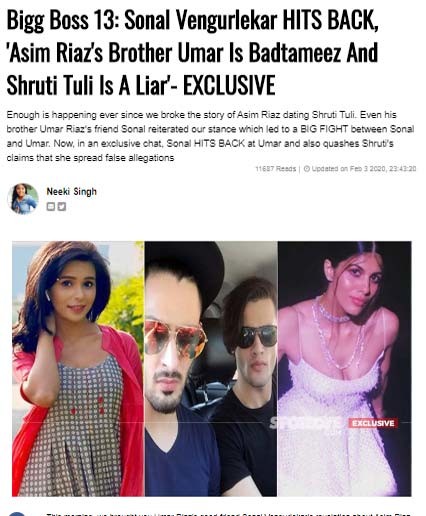 Umar feels that you are trying to malign them by disclosing these details…
If he feels I am lying or making up stories to defame them, then it's not true. I'm not even trying to enter in to their personal space. His brother Asim is a contestant on Bigg Boss 13 which I have been following as a viewer. In fact, I am following the controversial show from the last 12 years. Hence, if I am talking about him it's is only because as an audience I do have a right to give my opinion.

According to Shruti and Umar, you are doing this to get inside the Bigg Boss house…
That's another stupid thing to say; do you think by revealing his relationship status, they will call me inside Bigg Boss? I always wanted to participate on the reality show and I have been mentioning this in all my interviews over the years.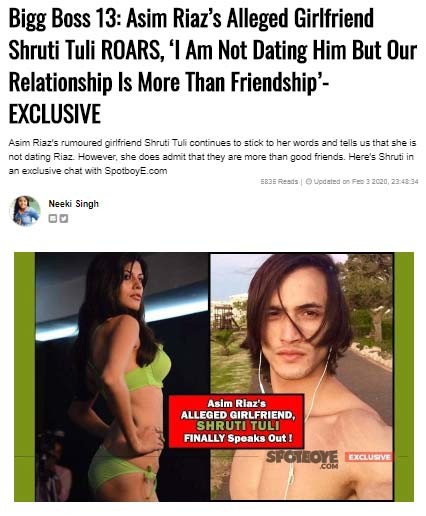 Shruti says that she met you just once on Asim's birthday...
I also remember that meeting. In fact, I have a video of that evening in my phone which is enough to prove the equation between her and Asim, but I am not sharing it anywhere as I don't want to make things dirty. Asim and Shruti used to stay in a 2BHK flat and one more roommate was there. Frankly speaking, I have no personal grudges against Asim, Shruti or for that matter, Umar too.
Then, what made you openly talk about Asim's relationship status?
Like I already mentioned, I have been following the season. Until now, Asim had stated that he is dating someone outside and I thought he is being real. But when Himanshi entered the house and Vikas Gupta tried to remind him about his girlfriend, he stated that he has no connection outside which is not right. I don't understand how many times will he contradict his own statements. I know having an affair outside is not a big deal. But as Salman sir said, one should end a relationship before entering into another one, which Himanshi did. For that matter, Paras and his girlfriend Akanksha have also been real. They at least spoke about their game plan unlike these brothers who are hiding things and lying.
Shruti says that she isn't the girl whom Asim and Vikas were talking about. Your thoughts?
I am surprised by the way Shruti is reacting to all of this. So, let me make this clear that I haven't actually taken her name. It was already there in the news before I spoke to you. Vikas Gupta has also not taken her name anywhere, so why did she have to tweet for him and play the denial game.
Why do you think is Shruti lying?
I know these brothers really well and they are very manipulative. I am sure they must have manipulated Shruti also, to not accept her relationship status with Asim, until he is in the show. And if Shruti is saying that I am doing all this for publicity, then she should do her homework. Also, I have a gut feeling that not me, but Shruti herself gave out the details secretly as she needs more mileage than me.
Fans of Asim feel that you have done this under the influence of Vikas Gupta. What do you have to say?
To make things clear, I do know Vikas Gupta personally, but not to the extent that he would tell me to do these things for him. Now also, when he came out of the house I messaged him on Instagram that I really liked the way he brought out the truth and he even replied by saying 'Mujhe jo sahi laga maine usko support kiya'. Also, I read somewhere that Umar claims Vikas is doing these things for fame. Do you think Vikas Gupta needs to do anything for publicity? I mean he is already so famous.
Since you shared a past with Umar, did you do this to get back to him?
Woh iss duniya ka aakhri insaan hoga jiske paas main jaana chahungi
Do you find Himanshi and Asim's relationship real?
It will be too early to comment on that as I feel they are just attracted to each other. Aur ek saath rehne se attraction ho jaati hai aur usme usme kuch galat nahi hai.


Which contestant are you supporting in this season and why?
I am supporting Sidharth Shukla as I feel he has always been real. From day one, he never tried to impress anyone or change his behaviour as per the situation. He is genuine and showed all his emotions. I know there are people who say that he abuses so let me tell them, Asim also abuses. In fact, he pokes Sidharth and then he reacts.
Do you think Sidharth will win the show?
Absolutely, he will be the winner. Audience andhi nahi hai.

People also feel that you are against Asim as you are supporting Sidharth…
Not true!
Lastly, Umar called you 'Chhapri' and a 'Flop TikTok Star'. It must have been quite disappointing…
I have done enough work in my career till now. I will not say that all my shows ruled the TRP charts or I am a star, but they have done decent. And, I have been constantly working. My last show ended in December and next month, I am starting my new project. Also I don't think there is any shame being on TikTok. That medium has given some wonderful talent and made many people's lives. By the way, Umar Riaz himself is on Tiktok and was following me, but now I saw that he has unfollowed me.


Image Source:-Instagram/asimriaz77.official/umarriazz91