Bigg Boss 14: Nikki Tamboli's Mother On Rakhi Sawant's Comment, 'Mardo Ko Kone Mein Lekar Baithti Hai Chugalkhor': It's Vulgar And Cheap-Exclusive
Nikki Tamboli's mother's exclusive interview regarding the harsh treatment meted out towards her daughter by Rakhi Sawant, Arshi Khan, and others inside the Bigg Boss 14 house.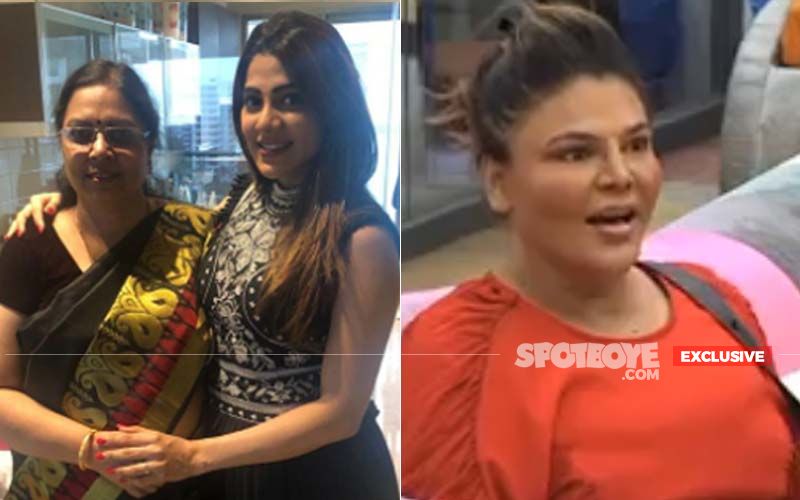 Nikki Tamboli who is amongst the most popular contestant this season re-entered Bigg Boss 14 house recently. Although her second innings in the house is quite a troubled one as we could see her being targeted by the Ex contestants Rakhi Sawant, Arshi Khan, and Kashmera Shah. We saw Nikki getting into a physical and mental fight on various occasions after which we heard her saying she wants to quit the show.
We got in touch with Nikki's mother Pramila Tamboli who shared how disturbed her family is with all this. Read on this exclusive chat;
Did you get upset when Nikki got eliminated from the house during the first finale?
I was only upset with the fact that she got eliminated due to fewer votes. She was playing a good game but votes were not in her hand.
When she had come out from the house did you get a chance to see her?
I so wanted to meet and hug her tight but it wasn't possible. As she was sent to the quarantine directly. But yes I got a chance to speak to her phone. She said Mummy mujhe quarantine kar diya hai wapas agar main ghar aayi to phir 14 days ke liye poora process karna padega. If the public will demand my presence then I may get into the house again.
How much have you prayed for her second innings?
I was sure that the audience will get her back on the show. My prayers are always there for her. I was really happy when I saw her re-entering the show.

How do you see her second innings in the reality TV show house?
I am feeling extremely disturbed by the way a few of the contestants like Rakhi Sawant, Arshi Khan, and Kashmera Shah are treating her. She is being mentally harassed by them. It is difficult for a person to take so many things alone. We all witnessed how Vikas Gupta lost his cool on Arshi and threw her in the pool because of which he had to leave the show. My daughter is strong but at the end of the day, she is a human being and getting mentally tortured by them.
We saw Nikki saying she wants to quit the show in yesterday's episode...
With that, we could understand how broken she is with their behaviour towards her. I felt so bad when I saw her saying that. So many people called me after that asking if she is actually quitting the show? Please tell her not to. We will not watch the show if she comes out. She can't quit the show because of them. I got so many reactions already.
Nikki and Kashmera had a big fight during the captaincy task. What do you have to say about that?
I felt really bad the way these three girls, Kashmera, Rakhi, and Arshi cornered her in the task and didn't allow her to play. Also, Kashmera went on to slap her, biting her, and held her legs so tight that she could have fallen down on her face. Thankfully Rubina was there to hold her. She was continuously saying usne mujhe laat maari but laat marna to chhod vo hil bhi nahi paa rahi thi. But the worst part was Rakhi was abusing her and the people present there were laughing. I felt like she was treated like an animal who is caged and people are getting themselves entertained by mistreating her.
Go on...
Whenever I see an animal being abused on TV I change the channel as I cant see that but I never imagined someday I have to see my daughter going through all this. She was being attacked from all sides and she was fighting all alone.

We could see a huge tussle between her and Rakhi Sawant now...
The kind of language Rakhi used and is abusing on the show I feel pukish. I really don't understand what people find entertaining in this. In the latest promo I saw her telling my daughter 'Mardo ko kone mein le jaakar baithti hai chugalkhor', it sounds so vulgar and cheap. At least she should respect the viewers who are watching the show with their families. Nikki has a lot of fan following amongst kids and if they see such a thing and ask their parents how would they explain what did she mean? Rakhi went on to throw a chair on her. I don't know what limits she is going to cross.

Are you expecting host Salman Khan to correct them?
I am expecting Salman Khan to correct them on Weekend Ka Vaar. As what they are saying and doing is unbearable not just for Nikki or other housemates but also for the audience. If he has seen the episodes I am sure he will also not like the way they are behaving on such a big platform. Arshi ko unhone last week bola tha mujhe aisa bhada mazaq pasand nahi. He is not in the house so he can deal with them but Nikki is inside and she has no other choice than tolerating them. I just hope it all stops soon.


Image source: Instagram/colorstv/nikki_tamboli/colorstv