Bigg Boss 14's Arshi Khan On Her Viral Video Of Fan Kissing Her Hand Without Consent: 'I Had No Clue What The Person's Intention Was' -EXCLUSIVE
Arshi Khan speaks about the uncomfortable situation a fan recently put her in after he kissed her hand without her permission.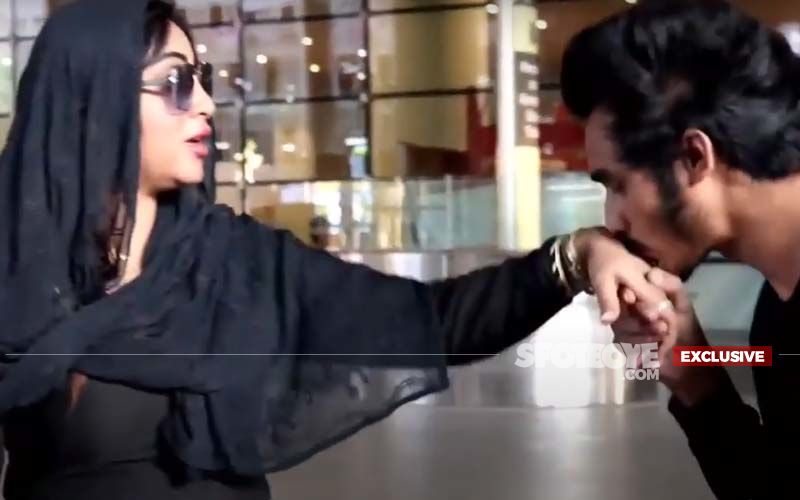 Arshi Khan who was last seen as a challenger in Bigg Boss 14 is making headlines after a video of a fan kissing her hand without consent went viral on the internet. Arshi, who gained popularity after she participated in the controversial reality show, was at the airport interacting with paparazzi when a fan came towards her and asked for a selfie. However, after clicking a picture with her he surprisingly kissed her hand and ran away from there which left the actress puzzled. And now talking to SpotboyE.com exclusively, Arshi has opened up about the viral video and how fans leave celebrities confused and in an uncomfortable situation a lot of time...
What stopped you from reacting to the person kissing your hand without your consent?
I had no clue what that person's intention was. And I didn't react to it as whatever I would have said anything to him it may have gone against me, stating that a celebrity misbehaved with a fan. So I thought it is better I just leave from there.

Did that behaviour make you feel angry?
Absolutely! I was in quite a good mood and was interacting with my media fellow mates. But this incident made me so upset that I didn't wait there and left in my car immediately. The situation is already scary outside due to COVID-19 and we all have been following social distancing and such behaviour definitely irks you. I respect my fans' love but I want them to be more responsible also.

Being a celebrity how difficult it is at times to manage such fans?
There are a lot of times when these kinds of fans put you in this uncomfortable zone. We are also human beings and have a personal life too and if we react to it, it often goes against us only in the media. We too are emotionally attached to our fans and frankly speaking this bond makes us confused as to react to such situations. We just keep thinking if we need to react over it or just let go.

Before this have you ever been in a similar situation?
A lot of time actually. I remember once I had gone to an event where a lady wanted to click a photo with me and she pulled my hand forcefully towards her that my sleeves tore in public. Also in another incident which happened immediately after I came out after Bigg Boss 11, I was at an event where a group of boys came so close to me for the picture that they were almost over me. And I can't tell you what that feeling was.

What message you have for the fans who cross their limit at times?
I just want them to understand and learn the well-mannered way to express their love. And most importantly respect the females. This is pandemic time, so maintaining a social distance would be good for them and us also.

Did people reach out to you seeing this video?
Yes but I want to tell them I want to be known for my work now and not controversies.




Image source: SpotboyE