Chahatt Khanna's EXPLOSIVE Interview On Two Failed Marriages, Infidelity Accusations And Casting Couch- EXCLUSIVE
Chahatt Khanna has faced a lot of troubles in both her marriages. We sat down with the Prassthanam actress and she didn't hold herself back or mince her words while speaking all about her turmoil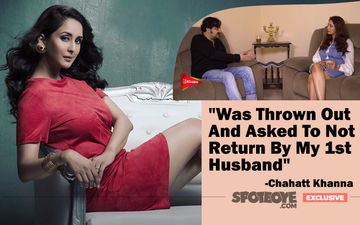 Chahatt Khanna has braved a lot of turmoil in her personal life but never let it affect her daughters. This Manisha Koirala look-alike actress met me at her Malad residence. It was a long chat where she was extremely candid and ducked no question whatsoever. Over hot cups of tea, we started talking to her on a cool note about her upcoming film Prasthanam (where interestingly she plays Manisha's daughter). The latter part of the interview has some SHOCKING disclosures which will disturb you. SEE THE VIDEO BELOW
Excerpts:

Let's start with Prassthanam...
Sure. Well, the movie just happened. Koi planning nahin thi. You can say it just landed in my lap. Casting director Kunal M Shah called and I initially said "No". He called again and I said "No" again. His third call (in June) did the trick.
Huh? Why did it take you so long?
I was asked to play a mother. Honestly speaking, I was apprehensive.
Why were you apprehensive of playing a mother?
A lot of actors are uncomfortable playing a mom, we feel we will become typecast. But then, I thought that if I am a mother in real life why not a mother on-screen? Also, it depends on how you look. If you can look 20 and yet pull off a mother's role, why not? By God's grace, I look younger than my age.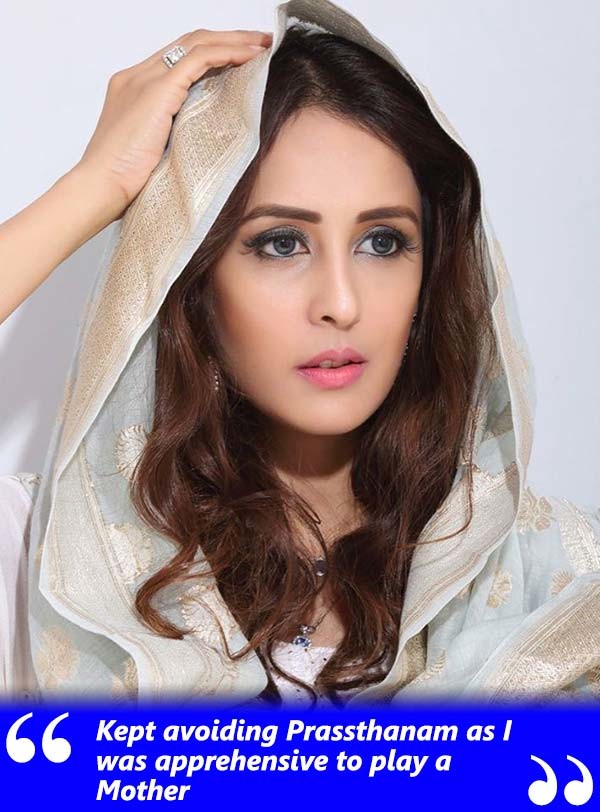 What are you playing in the film?
I play Manisha Koirala's daughter and Sanjay Dutt's illegitimate daughter. I play a strong-headed doctor, who knows what she wants.
Similar to your personality?
Nope. I might come across like that but I am quite easy-going. I am very open to suggestions.
How was it working with Manisha and Sanjay? Did you get intimidated?
No, thankfully not. I have shot two ads with SRK. I wanted to meet Manisha ma'am since so long and wanted to share screen space with Sanju sir. I did get a little jittery though, when I first met Sanju sir because both of us speak quite less.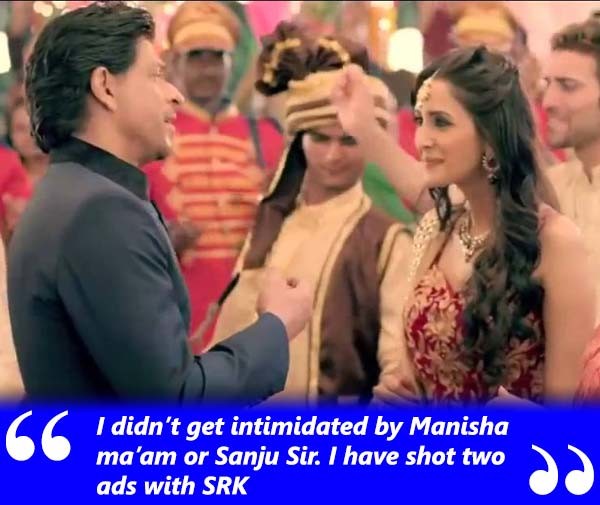 Are you a shy person?
Yeah, I am a shy person. But now, I am trying to break boundaries.
Bade Ache Lagte Hain made you a household name...
Yes, and I owe it to Ekta (Kapoor).
So, is it 'No" to TV now and only 'Yes" if it's Ekta's serial?
It's a given I won't say 'No" to Ekta ever. But I am not running away from films now. Things have changed.
What has changed?
The casting couch.
Are you saying there's no casting couch now in films?
There is no conditional casting, that is--- if I do this for you, you have to do this for me. There could be mutual dating between the maker and an actress but there is no diktat. The casting couch has at least lessened for sure.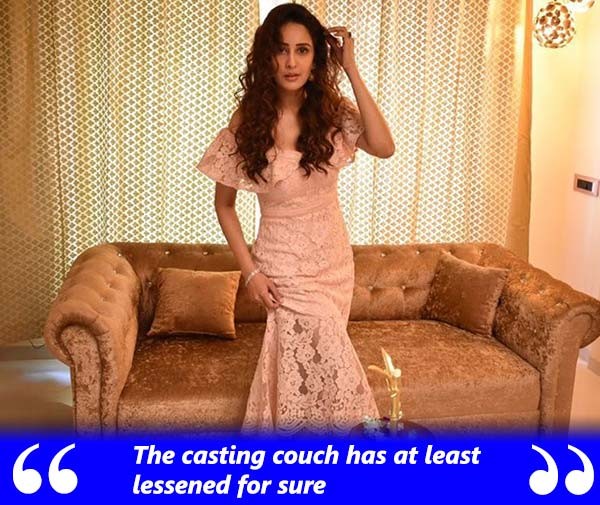 Have you had an experience of someone putting forth an indecent proposal?
Yes, ask me about it. Casting directors were also in it. Who will admit it? Nobody. Casting couch existed on a very large scale.
What did you do when you got the indecent proposal?
I didn't go for it, which is why I was doing TV.
But why didn't you come out during the #MeToo movement and speak? So many girls came out and even gave graphic details of the harassment they's faced...
And some of them also took cheques and kept quiet. Aur jinka publicity stunt tha, woh kaam kar gaya. This was a phase. It was like a fashion trend. Whosoever encashed, encashed. Whosoever didn't, didn't.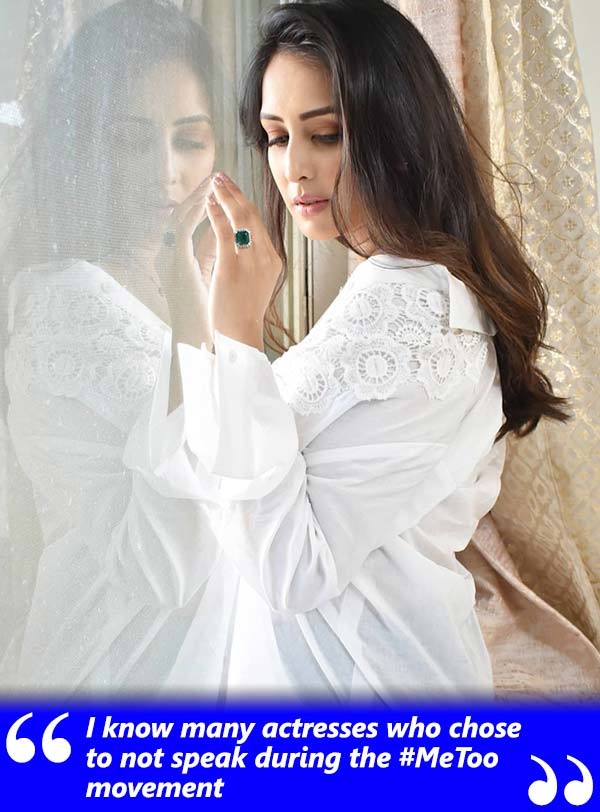 I don't think we must undermine their suffering...
Why not speak there and then? Yes, I know many actresses who chose to not speak. But let me tell you that there were quite a few actors whose names should have surfaced but did not. Agar suffering hoti hai, then why wait for a platform like #MeToo?
Like I wanted to separate in marriage and I did. I didn't wait for a #MeTooDivorced campaign/platform to arise where I would land and say, "MeTooDivorced".
You spoke about your separation. Time to go to your marriages. What happened in your Marriage 1?
Many people have a notion that I walked out from my both marriages. But that's not true. In my first marriage, I was thrown out of the house and told to not come back. I was hospitalised and my husband and in-laws told my family that they should take me away from there. They didn't want me back. It was a case of domestic violence.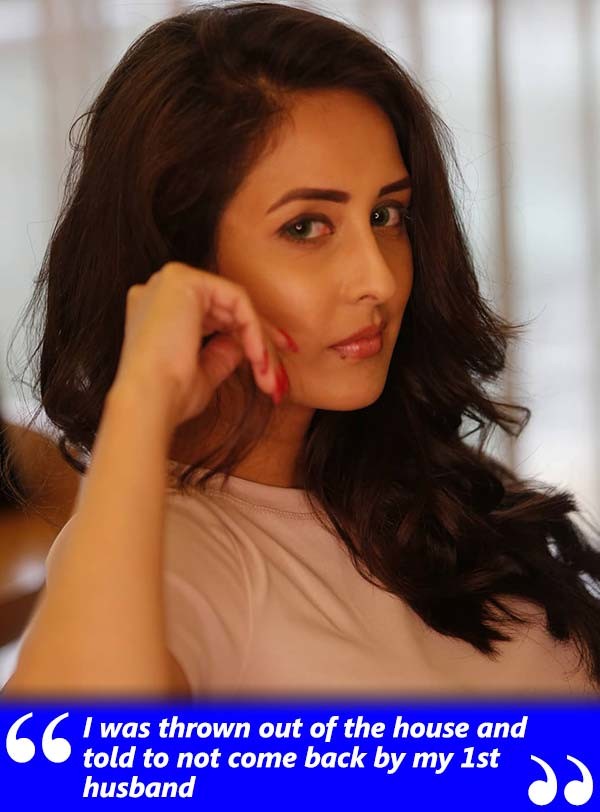 I still say that my second husband Farhan is not a bad person, it's just that he and I don't get along.
But Farhan accused you of several things, right from having an affair with a co-actor to....
Yeah, I know. I was accused of every possible thing. He said a lot. But I still kept quiet, till October. People then started suggesting me that I should speak out, which is only when I spoke to the media.
So, I am puzzled you still saying Farhan is not a bad guy...
I don't want to demean anybody in public forum or even when I am with my friends. Farhan and I have kids together. So I would like to believe that he is a good guy--- but we didn't get along.
Why did you take the domestic violence even in your marriage? You have been a strong, independent woman...
No, I wasn't then. I had done just Kumkum. They wanted me to leave my career and I even did that.
But why didn't you go back to your parents, when so was happening?
I don't know why I didn't tell them, until I was hospitalised.
That hospitalisation was a consequence of domestic violence?
Yes, but it's gone. Thank God, it's over.
It was my first love. He lied to me about my age. I was 16 when I met him. He told me he was 22 but he was 28. After 3 months of dating, I came to know his real colours.
And then, he must have told you, "Oh, I love you so much"...
Yeah, all that jazz...
Why is Domestic Violence increasing in our society?
It's a matter of concern. I have witnessed a husband beating up his wife and trying to throw her off from her balcony, while their kid helplessly cried and watched. It happened in the building I was staying in before.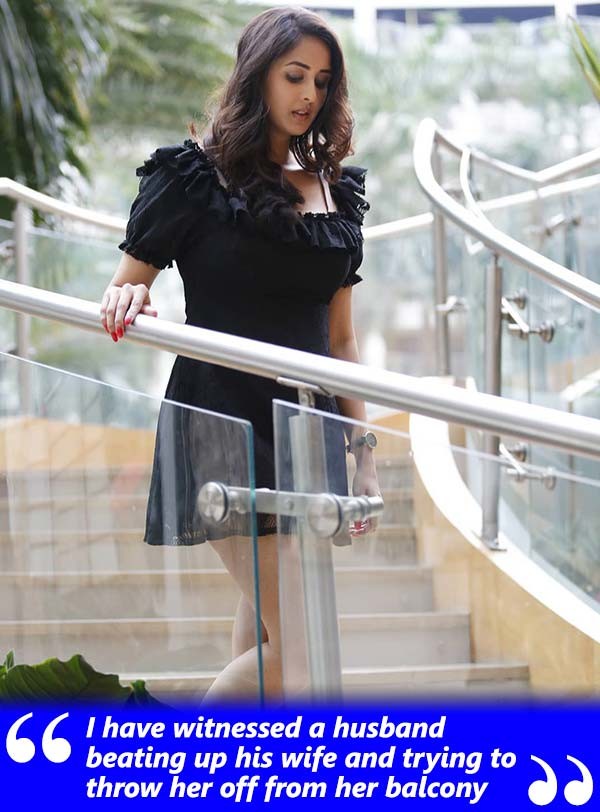 Lucky you didn't have kids from your first marriage?
Absolutely.
You see, people hide their real self. We all try to hide our real personality (for fear of being judged by) society. But it eventually comes out, na?
In fact, it's ferociously coming out nowadays. People are only planning to run down each other. Is it we were always like that? I have met some people who say we were always like that, we just held it back in ourselves, today we are unleashing all that...

Nope, we have changed over a period of years because of frustration creeping in due to our system not changing. Gone are the days when we had morals and ethics. We have evolved not in a healthy way.
Coming to your second marriage, you said you suffered sexual harassment at the hands of Farhan?
That's too personal. I happened to spill this out in print and it became the headlines. I don't want my kids to grow up and read that.
How long will you hide it from them? As a mother wouldn't you like to tell them the truth?
Hmmm... I haven't thought about that.
When they're 18, 20 or 25, they would learn it from here and there anyway...
Yeah, I'll have to tell them eventually, I guess.
I was simply conned into my second marriage- he lied about his financial status, bank balance, cars, phones...I came to know a few things within a week, I should have backed out.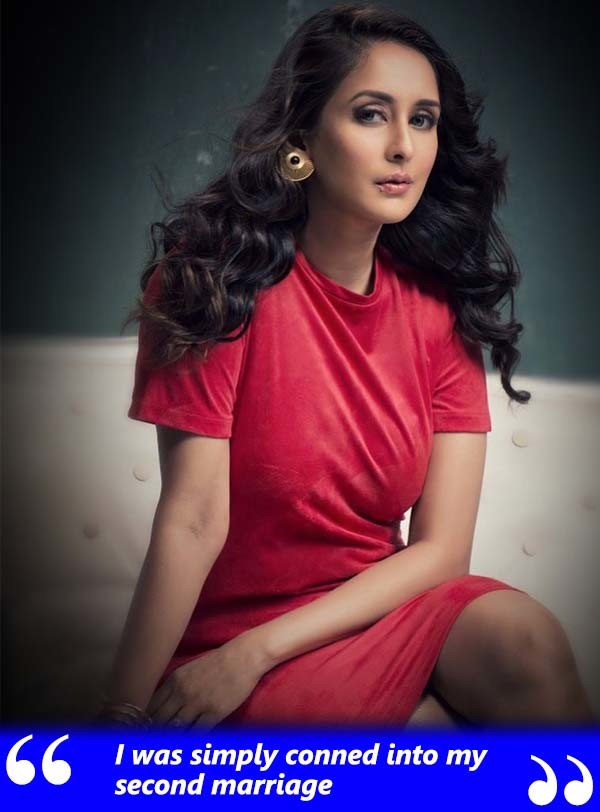 So why didn't you?
Farhan's granny convinced me to marry him. All those sanskars that I had from my parents made me quiet and accommodating. Sometimes now I feel hamesha buzurgon ki nahin sunni chahiye.
But I am glad we met and fell apart. I have my daughters.
Are they like Farhan or you?
My elder one is just like her dad and my younger one is like me. But you see, it's up to me how I mould them.
Divorce ka kya ho raha hai, Farhan ke matter mein?
I had filed it last year. Due to some reasons, it got dismissed. But we have filed it again.
It's from your side, not mutual...
Nope, it's not mutual.
A battle lies ahead, then...
Yeah, he doesn't want to divorce me anyway.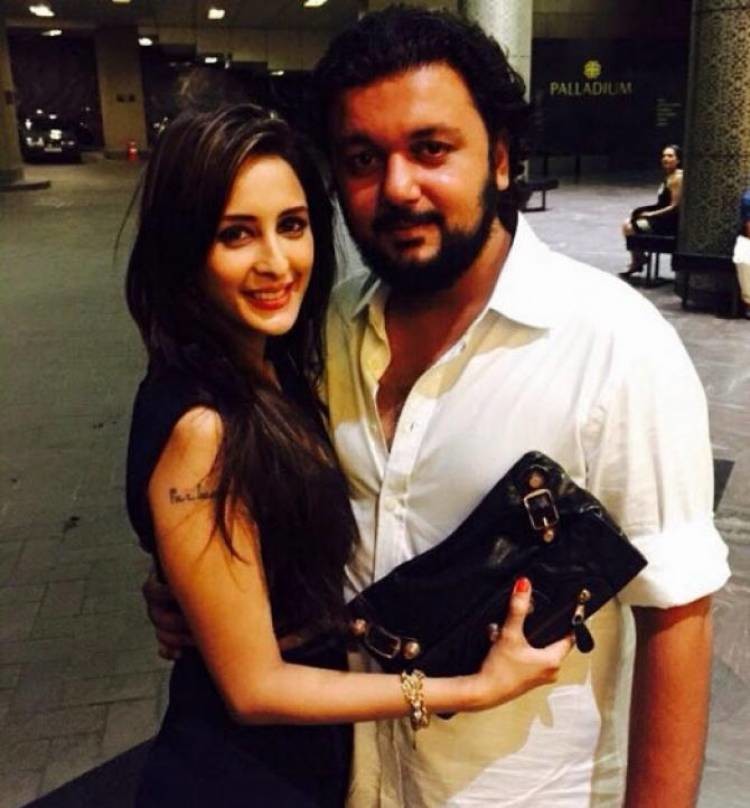 Does he call you harass you?
Yes, and says things, shouts at the top of his voice that if I don't go back to him he'll go to the media.
But I don't care. Let him do what he wants.
Kids are meeting him?
Yes, I am not going to stop them.
Are their minds getting colored?
That has started happening, but frankly, either I stop that or I stop them from meeting him. I would rather face the consequences than take away their right of meeting their father.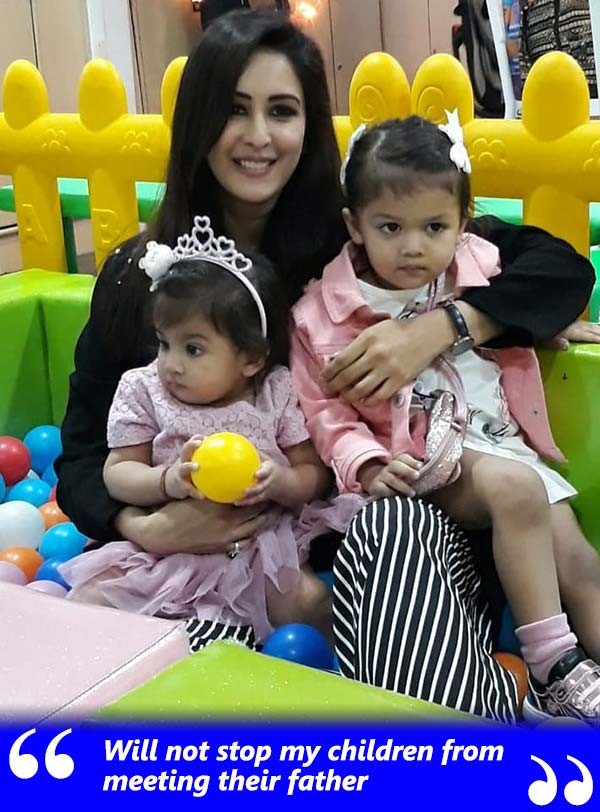 Correct me if I am wrong, but he accused you of staying at Sahara Hotel...
I was a corporate ambassador of Sahara. He accused me that I was in a relationship with Sahara Shri (Subrata Roy) which was so.... I really have no words. My mom touchess Sahara Shri's feet.
I was in Mumbai Mirror and I know how much Sahara Shri helped Manisha Koirala during her cancer treatment. He organised almost everything...
He does that too for many people. He is a God's man.
Were there days when you were lodged at Sahara Star?
Yes, because he started coming to my mom's house and create scenes there where I had shifted.
Did he come to Sahara Star?
Yes. A dirty mind will think dirty. Nothing can change a filthy mind. A filthy mind cannot see straight.
Sexual harrasment?
A lot. A hell of lot. I have filed it in my petition.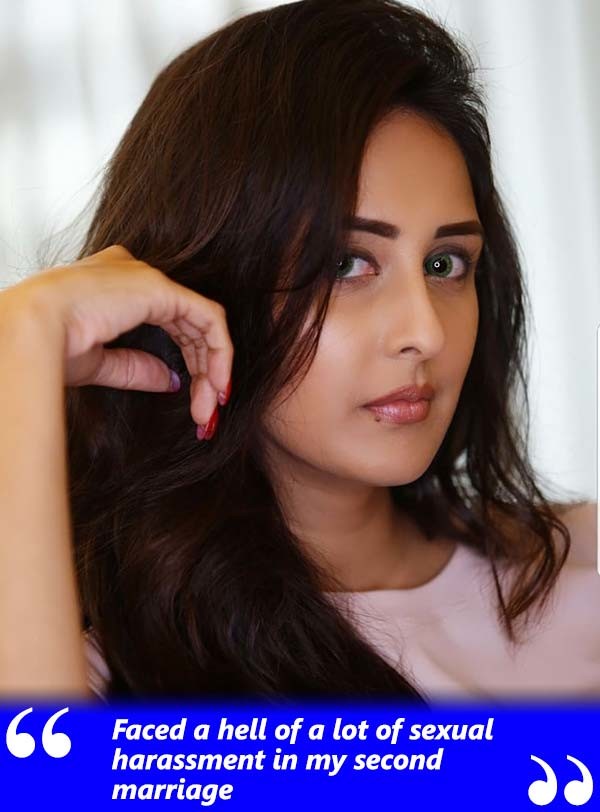 Sorry to ask you this question, but you had a second child from him in all this tamasha...
I had to think of that heart beating. A lot of people told me to do something as it's my life. I don't believe in killing someone. That's the reason why Myra happened.
Tell us your fashion brand. Are you enjoying it?
Yes, I am lovin' it. Retails will start soon. It's a small local London brand which I brought it in India... it will head to UAE after this. Bahut achcha chal raha hai.
It's all about catching trends. Our collection keeps changing frequently. Amazo (the brand name) will give you only the latest.
Be careful of not getting even inspired from other brands. Else your outfit in question will be labelled as Sasti Copy or Gandi Copy.
Somewhere your answer to one of my earlier questions got lost. You said you'll do TV for Ekta... so is it now mainly movies?
25 days ka shoot hota hai per month mostly TV mein. With two kids, it won't be easy. Let's see.
Your laughter and even looks remind me of Manisha Koirala...
Possible. Even I felt that. At the teaser launch of Prassthanam, I felt we looked like mother-daughter. No one has told that to me yet, you are the first one.
I hope Manisha is reading and watching this...
I will send her the link (Laughs).
Image Source:- Instagram/chahattkhanna/youtube/
Chahatt Khanna/befazool
They say the best things in life are free! India's favourite music channels 9XM, 9X Jalwa, 9X Jhakaas, 9X Tashan, 9XO are available Free-To-Air. Make a request for these channels from your Cable, DTH or HITS operator.