Coldd Lassi Aur Chicken Masala Chefs Divyanka Tripathi And Rajeev Khandelwal Reveal Their Favourite Food, Dish and Restaurant- EXCLUSIVE
Here's a joint chat with Rajeev Khandelwal and Divyanka Tripathi where they talk about their first dish, food and lots more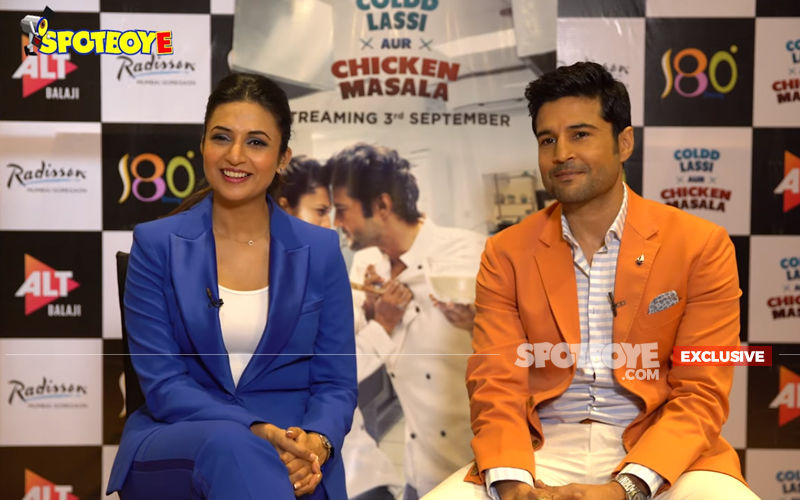 Divyanka Tripathi Dahiya's digital debut with web series Coldd Lassi Aur Chicken Masala is being loved by the audiences. Her chemistry with TV heartthrob Rajeev Khandelwal is another talking point for her fans. And hence we decided to get you a joint chat with them where they talk about their first dish, food and lots more.
For the first time you two are not just showing acting but cooking skills as well. How was the experience?
Divyanka: It was a beautiful experience which continued for many months right from hearing the concept to carrying out the cooking. It was for the first time I have spent so much time in kitchen. Being a chef is totally a different experience as you need expertise right from chopping vegetables to tossing them. And above all it;s an art, a beautiful creative work--- so when you have to act this out, it has to has to look natural onscreen. I even took cutting and chopping classes.
Rajeev: My journey was very interesting. I am attempting a love story after many many years and I said yes to it as the backdrop of the show was different. Besides, it was not a usual love story. It's about cooking and of course the emotions together. So it was challenging but it all fell in place due to the hard work of writers and directors. Also, let me not forget the full-time chef whom we had on set. So if we are looking good onscreen, then there were a lot of hands behind the scenes who helped us. So, it has been a very interesting journey no doubt.

When did you two come to know that Ekta is pairing you two opposite each other?
Rajeev: Ekta Kapoor told me that Divyanka is going to play your love interest on the show and generally Ekta doesn't go wrong in her selections. And of course I knew that Divyanka is hugely popular. And fortunately, when I was hosting Juzzbatt, Divyanka came there as a host and it was fun shooting with her as we were very much comfortable with each other.
So when I finally met her for this show I realised that it's going to be an interesting one. She is amazing on her part where she has to look vulnerable, yet Indian. Interestingly when she came on Juzzbaatt, I was not even finalised for this show---only talks were on. And post that it was an wonderful journey with her. For me, it was one of the most easy going performances with a co-actor.
Divyanka: Ekta never goes wrong when it comes to casting. She gave me a 5-minute narration and I said it was fine. Till that time I didn't even realise how much fan following this man (Khandelwal) has. I got to know that only when the news was out that we woo are being casted opposite each other.
As the show revolves around food and resturant we would surely like to know your personal taste around that. So tell us about the first dish you made in your life...
Rajeev: Well people usually start off with chai or a Maggie but mine was a roti. I used to make rotis for my mother. So I won't call it a dish but yes the first thing I learnt in the kitchen was making a round roti.
Divyanka: Lucky you, as my mother is someone when she cooks she doesn't want people around. So I never got to learn from her. Whenever she used to make something and I wanted to see that, she used to sat: Bahar niklo, mujhe garmi lag rahi hai (laughs).
But I still remember my first dish as you took me down to memory lane. I made pumpkin for the first time. My mother was unwell as she was expecting by younger brother at that time. And she was unable to get up. She said, "Chani aaj to khana bana, well, Chani is my pet name. And I was shocked. I didn't know at all how to cook. But then right from keeping the kadhai on the stove to telling me andaaze se kitna ingredients daalna hai, she guided me.
Your favourite food?
Rajeev: Anything which is organic, home cooked food. I am not a foodie actually.
Divyanka: Dal Baati Churma made by my mother.
Your favourite restaurant in town?
Rajeev: I end up going to Gazali, it's an sea food restaurant.
Divyanka: Me and Vivek are fond Rajasthani Thali, these days. I to used to love it since beginning but now maine Vivek ko bhi shauk laga diya hai.
We both love to go Maharaja Bhog. So when Vivek was not keeping well recently, he was so missing the Rajkasthani Thali. We usually wait for the day when they serve baati in the Thali, we love visiting on those days.
One dish which is a no-no to you?
Rajeev: I don't like to eat kadhi. Everyone loves it, but I don't (smiles).

Divyanka: Mere yahan aaj kadhi bani hai.
Well just like him, I also don't like one thing which is usually loved by everyone- mango.
Onscreen chemistry of you two is a thumbs-up. Now we would like to know your off screen chemistry which you have to tell us referring to this word: Sweet?
Rajeev:
Sweet to ye hain, err, chaashni hai yeh. When I hosting Juzzbatt, people told me that she is coming on the show and she's so sweet that tum thank jaoge, itni sweet hai woh.
Spicy?
Divyanka: Ye chupke se spicy hai. You won't believe so many girls have told this to me about him like oh he is so smoonworthy. And I tell them, I will tell him that for sure.
Rajeev: Mere liye use kiya are you sure?
Divyanka:
Yes for you (laughs). So Yaa there is a hidden spicy side of him.
Bitter?
Rajeev: As individuals, I don't think that we both are bitter. But yes I keep getting bitter in my personal life at times. Actually you should ask my wife all these questions. she may answer you better.
Divyanka: Yes, asliyat wahan se nikalkar aayegi.

Namkeen?
Divyanka: We both are namkeen.


Image Source:- Instagram/rajeev.khandelwal/divyankatripathidahiya