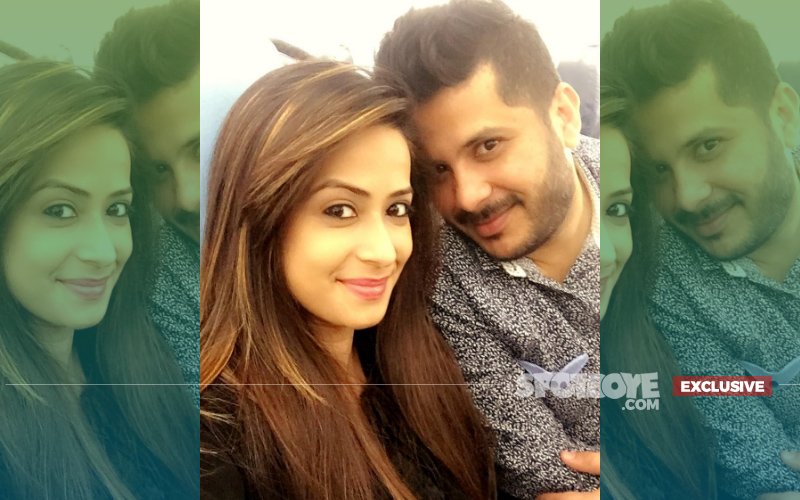 This December 9, we have another wedding in telly town. Amrit Manthan actress Dimple Jhangiani is all set to take pheras with Sunny, a diamond merchant. It will be a two-day wedding affair for Dimple and preparations are on full swing. While on 9th she will take the pheras, the bride is going to have her first dance with her hubby on 10th in a cocktail party. The actress, in her candid best revealed how she had the shock of her life the day she met her in-laws, how Sunny went down on his knees, her wedding plans and much more.

How did you meet Sunny?
It's totally not a fairytale love story. It's an arranged marriage where we met through our common friends. My friends and his friends knew that we are looking for prospects and they connected us. Then we started talking. When you meet a known person, it takes 2-3 months to understand. So in a few months we really clicked well. We told our parents then. We only met with the intention to get married. Dating was not in the scene.





Are you having the wedding jitters?
Yes I am very nervous. In reel life when we get married it's all fun, but in reality it's a very tense situation. Since I am the only child and the pampered one, there are lot of responsibilities and things needed to be taken care of during a wedding. There is happiness all around so there are mixed emotions.

How are you prepping up for the D-Day?
I am taking care of every single detail. My parents are also involved, but since it's my wedding, I have been making all the last minute arrangements. Sunny is also helping me. He has got a good choice. He has been choosing the colour palette with my nod for our wedding and its whole lot of fun.

You are going for colour coordinated outfits?
Sunny is finding it very funny. Since I come from a filmy background, I am used to wearing lot of colours. And he is like, "Ok whatever you want." Hum TV wale hai and we love clicking pictures and change many clothes. But he comes from a simple family background so he is not used to our shaadi drama.





What attracted you to Sunny?
He very simple, down-to-earth and family-oriented. I have seen many guys whose lives revolve only around friends. Sunny is a very balanced person. Since I am the bubbly kind, he understands me well and is also very matured. I have never heard him say no to anything. He encourages me. We share many similar interests like partying, going out for drives, listening to music and that's how we clicked.

Tell us about your in-laws?
They are the coolest bunch of people. Usually when the word in-laws come to mind, you imagine them to be strict. But they are very sweet. Sunny recently bought a house for us and they told us to decorate it in our own way. They are very positive people.

So there will be no problem if you act after marriage?
No no. I will be acting. Acting has been my first priority. I had met many alliances, who had problem with my career. But Sunny told me, "You have made your career independently. So why waste your talent? I appreciate whatever you have achieved."

Who is romantic? You or Sunny?
He is more romantic. Actually we both are romantic at hearts. He does many things for me. I am the filmy type though. I love giving surprises. He however tells me the whole plan.





How did he propose?
There was no proposal as such. As I said earlier, we had met with the intention to get married and we were just taking our time to know each other. He just took me out for dinner and asked me if I want to take it ahead. I said yes. Then he surprised me on my birthday. He called me over to his place and wanted to take me out for dinner. And he gave me a diamond ring. He is a diamond merchant so that was expected. But it was sweet of him to make an effort. But to my horror, imagine he took me upstairs to meet his parents! And I was wearing crop top! I felt so embarrassed to meet my in-laws for the very first time in a crop top. But they were very chill out. He gifted me a ring and his mom gifted me a pair of pearl earrings. I'll forever remember this meeting. So they saw my real side. I didn't need to pretend.

Tell us something romantic you have done for him.
He is kind of person who doesn't like much tam-jham on his birthday. So I had planned a surprise for him. So I took him out on the pretext of catching up with a few friends. And he had no clue what was in store for him. I had ordered a cake and we cut it inside the car and gave him 15 gifts. Since for men gifts are very limited I couldn't get the number of gifts as per his age, so I had around 15 gifts.

So what wedding surprise is in store for him?
My love, life is all for him. But he has surprise honeymoon package for me. I have been pestering him to tell is it a hilly place or a beach side...he is totally tight-lipped about it.


Thumbnail Image Source: instagram/itsmedimple