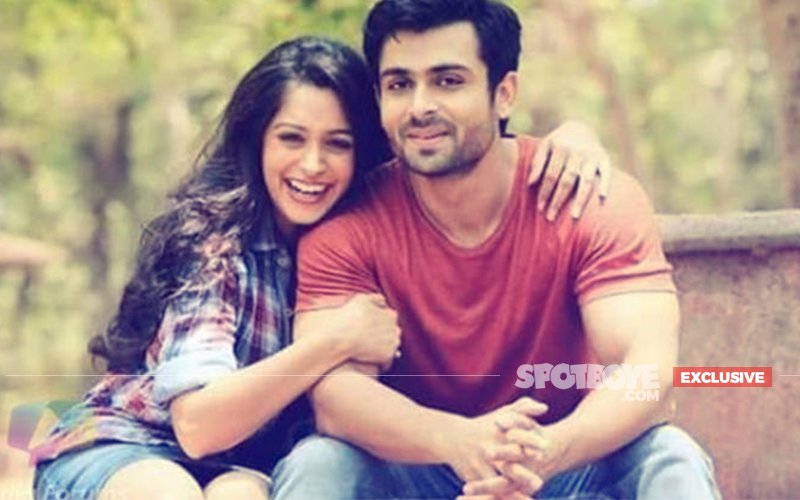 Your browser does not support the video tag.
Dipika Kakar and fiance Shoaib Ibrahim are on cloud nine. They are wowing the audience with their dance routines on Nach Baliye 8 and they also got engaged on the show. In an exclusive interview with SpotboyE.com, they opened up about their wedding plans, their love for each other's parents and a lot more. Excerpts:


How has the Nach Baliye 8 journey been?
Dipika : It's been fun till now. We have done so many things which we never expected to do. I have lifted him, I never imagined I would do that (laughs)
Shoaib: She has lifted me in just one episode. I have lifted her so many times.
Dipika: Whatever, I lifted you, that is what is important. We had so much fun. See for me, it was always fun and masti, but for him it has been very difficult.
Shoaib: Yaa, I am shooting for Koi Lautke Aaya Hai and rehearsing for Nach Baliye 8 simultaneously. I get no time to relax.
Dipika: I will tell you his routine. He wakes up at 7, leaves from home at 8. His set is in Powai, so it takes him two hours to reach there. He packs up at 9. Then he reaches the Nach Baliye set and then we bombard him with dance.
Shoaib: I practice till 3 in the morning. Then I go home and sleep for 2 hours and again wake up at 7. This has been my daily routine for like two months. At times, I get small injuries. The schedule is hectic but I am enjoying it. Because, dance is something we enjoy a lot.


Who is a better dancer?
Shoaib: Dipika
Dipika: No, I don't think so. Many people will agree with me when I say that when he performs, no one can take their eyes off of him. And the second thing is....
Shoaib: Bolo bolo, I have to work really hard to match her.
Dipika: It's OK. But when the final product is presented, you know who is better.
Shoaib: Yeah, that's what I am.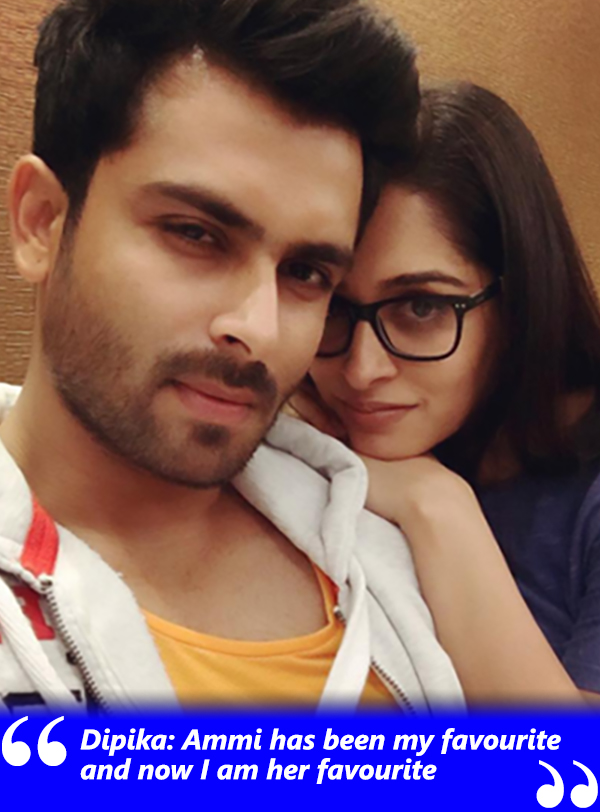 Shoaib Ibrahim Spending Quality Time With Dipika Kakar

How real is the drama, the romance and the tears on the show?
Shoaib: Honestly when we signed up for Nach Baliye 8, I thought Dipika will enjoy the show. We will survive for 3 or 4 weeks. We thought we will enjoy it as we will be working together after four years. But due to our fans, we have already completed nine weeks. Now, we have a responsibility towards our fans. And everything you see is real.

Shoaib proposed marriage to you on national television?
Dipika: It will not be possible for me to express what I felt that time. He proposed to me after our performance.
Shoaib: Basically the act was pyaar ki kahani. Every couple was asked to tell their love story through dance. And I felt I will not have a better way to end all her complaints.
Dipika: It was a very emotional moment for us. He was emotional, I was emotional.
Shoaib: She always used to complain that I have not proposed to her officially. So I thought it's the perfect timing and moment, so I did it.
Dipika: Yes, I am very proud of myself. Finally my demand has been fulfilled. He used to always say, 'Surprises don't work for me. So whenever you want anything just tell me.'
Shoaib: Fas bhi gaya hu main, I have proposed to her on national television. There is no way to escape. I have to take care of her for the rest of our lives now.
Dipika: Exactly (laughs)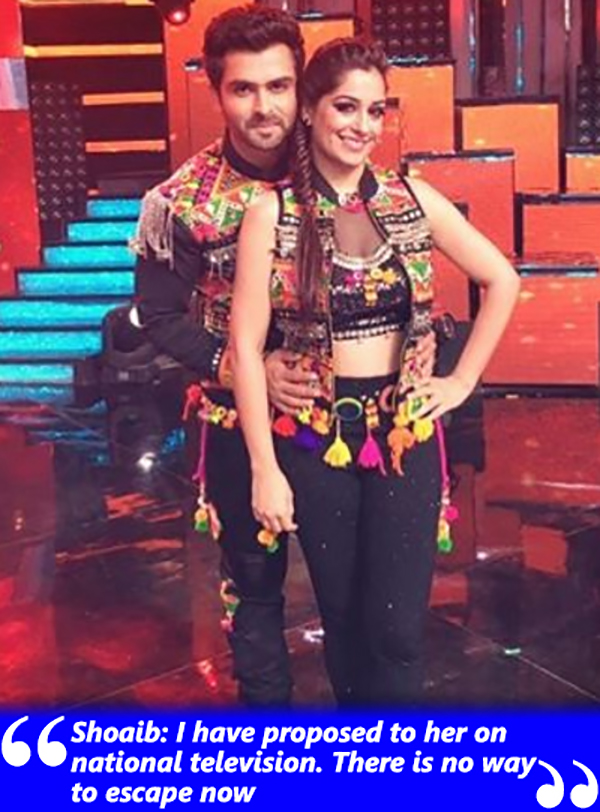 Dipika Kakar And Shoaib Ibrahim On The Sets Of Nach Baliye 8

So what about wedding plans?
Shoaib: I haven't planned anything yet. But yes, she keeps planning things. The wedding will happen in December 2017 or the beginning of 2018. The details and the date are not decided yet.
Dipika: Actually that's my department. We ladies are planning. The wedding will take place either in Bhopal or Mumbai. We have not finalised anything but the planning has started.

What does your dream wedding look like?
Dipika: I have got my dream man. I don't want anything more now.
Shoaib: She is really different. Not at all demanding, I must say. If I had given her a ring made of paper, she would have still been happy. Emotions are more important for her.
Dipika: Yes, I am not materialistic. Kya baat hai Shoaib itni taarif!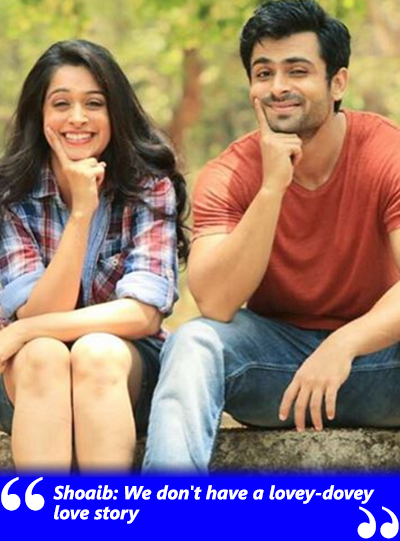 Shoaib Ibrahim Talks About His Relationship With Dipika

Who is more romantic?
Dipika: Me, me and me. He is romantic too but his love comes in instalments. One day he will shower me with love and then I will have to wait six months for my next turn.
Shoaib: I actually tell her, kar diya na, ab thode din chup raho.
Dipika: God knows how many days will he keep me waiting after all the romantic things he has done on Nach Baliye 8.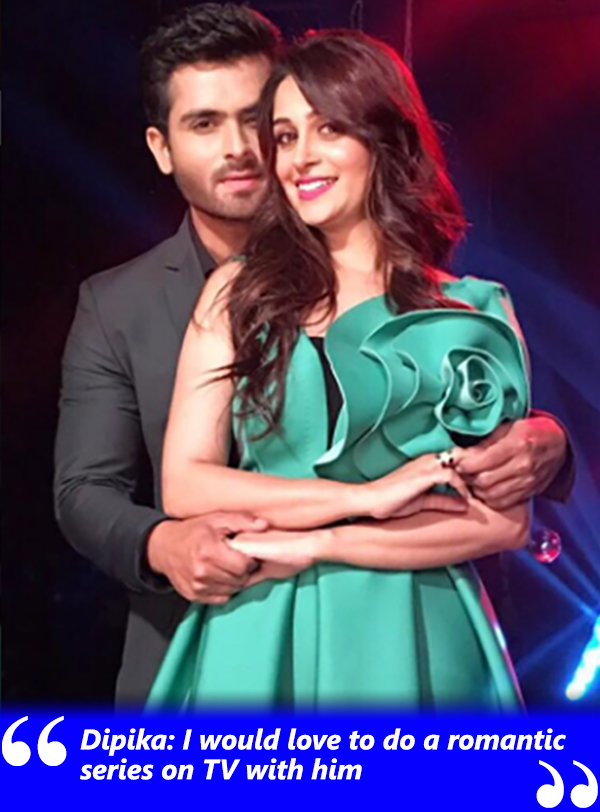 Shoaib Ibrahim And Dipika Kakar Strike A Romantic Pose

Would you guys want to work on a soap again?
Dipika: I would love to. But I am sure he will go mad if we have to act together.
Shoaib: I don't think I will be able to act with her again. After Nach Baliye 8, it's not possible. Whenever we make dubsmash videos, we laugh so much, that acting together is really not possible.
Dipika: But, I would love to do a romantic series on TV with him.

How did your love story start?
Shoaib: Frankly, no one has officially proposed to anyone. That happened now. When we were doing the show (Sasural Simar Ka) together, there was nothing. Actually there was something. When I left the show, we realised there is something which is missing.
Dipika: Yes. After that we felt that there is something between us, we are not just friends. If you ask me, we don't have a cute love story like others.
Shoaib: We don't have a lovey-dovey love story.
Dipika: We took a very mature decision. It was clear that we are not simply friends. And both the parents have open-heartedly accepted our relationship. Especially, Ammi has always been my favourite and now I am her favourite, even more than Shoaib. I think everything has fallen into place.
Shoaib: Yes, when I declared my relationship to my parents. They said if you guys are happy then let go of the world. You two have to spend your life together. But today I really want to thank Dipika and my parents for understanding our situation and accepting our love.
Dipika: I really want to thank Shoaib's parents, especially Ammi and Saba. I really love her.


Thumbnail Image Source: Instagram/ms.dipika