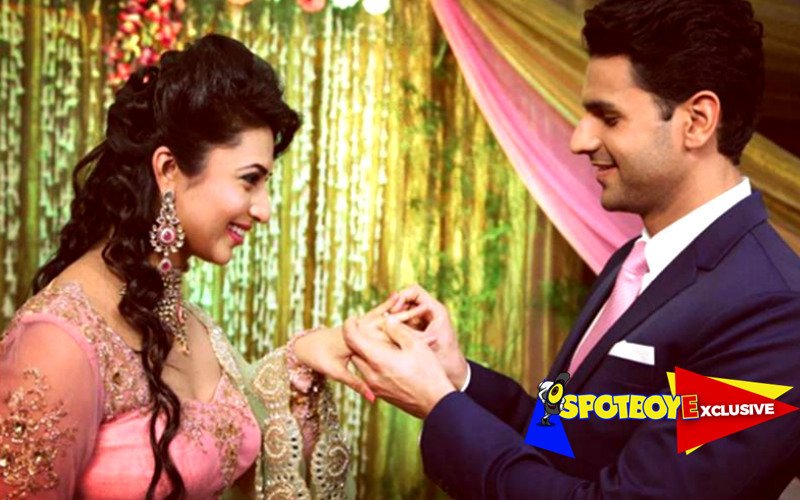 Your browser does not support the video tag.
The time is right to have a chat with Indian television's most popular actress Divyanka Tripathi who has formalised her relationship with her Yeh Hai Mohabattein costar. SpotboyE caught up with her this afternoon as she was leaving for her shoot. Excerpts from the conversation that followed:
You have surprised everybody with your engagment to your costar Vivek Dahiya...
(Laughs) It's a long story.


Please begin...

We barely have scenes with each other in Yeh Hai Mohabattein, so we hardly spoke to each other. We didn't have even each other's phone number. Sirf 'Hi', 'Bye' tha hamare beech.

So, how did love happen?
We were clicked in a party standing together and based on that picture, the social media started talking about us as a couple. Vivek got hold of my number and forwarded me the social media talk, and we both felt very amused at what was happening around us. Suddenly, a common friend of ours (who is also a part of Yeh Hai Mohabattein) suggested that we should indeed consider of being together as we have many similar tastes. He was pretty sure that we would be compatible. Moreover, he knew that I wanted to get married. My mom and dad were looking out for a match. Even Vivek had told our common friend once that he wants to have a serious relationship and settle down.
Uske baad Vivek and I started talking to each other, thoda thoda but awkwardly. Suddenly, we felt that we like each other a lot. We would speak for hours and hours, and our chats wouldn't end.
Did your parents get to know about Vivek from outside?
No, I informed my parents soon after I was sure that I had started loving him.

And?
They said that they want to meet him, err, scrutinise him (laughs). And then it was my turn. Wahi sandesha Vivek ke wahan se bhi aaya.


Did you feel nervous?

Terribly.
How did your grilling session go?
Do you know Vivek's dad is a lawyer and I was asked a whole lot of questions for 3 hours? His parents were concerned if I could be a good homemaker since I am an actress.

What do you like about Vivek?
He is witty and he makes me laugh. He doesn't impose himself on me and I can trust him. Even if we have differences on anything, we talk and sort it out. I am lucky to have Vivek in my life. He is the result of some good karma I must have done in my last birth or this one. We have not had a single fight yet. It's been five months now.


Was it easy to trust? You had only recently split with (TV actor) Ssharad Malhotra...

It took me some time. Every day I had hundred questions. I had lost faith in love and men.
Did you parents tell you that you ought to take it a bit easy when you first told them about Vivek?

When breakups happen, the entire family gets affected. My family didn't want me to be hurt all over again. I think they saw the happiness on my face whenever I was with Vivek and they evaluated that it was for real. They were very impressed when they met him.


What if Vivek hadn't impressed your parents?
We don't know what we would have done then, but kar liya na usne ? Let's harp on the positives.
When is the marriage?

Our parents will decide the date.

You want to be a mother?
Of course. I want babies- but not too soon. Let me enjoy my married life for some time. I love children and I will have them. I want to get all troubled with Mummy woes.

It must have been tough on you after your break-up with Ssharad...

I lost my confidence. Vivek helped me to recover it. I am back because of him. Frankly, I dont want to get into the nitty-gritties of my past.


Did Vivek help you to erase the memories of your past?
Yes. Do you know that I had lost my confidence?
But it didn't reflect on screen?
I am a professional. Even if I was crying travelling back home in my car or breaking down in my makeup room, I never showed it.

Ssharad has now said that 'he wishes the best for you'. Your reaction?

Nothing. Today, Vivek is my man and I am only concerned about him. Period.
Image Source: kyaboss