Ekta Kapoor Talks About The Return Of Nimrat Kaur's The Test Case, Chandrakanta And Motherhood
Ekta Kapoor talks about competition on the small screen, tackling risqué subjects and the much-hyped show Test Case which went on hiatus after a single episode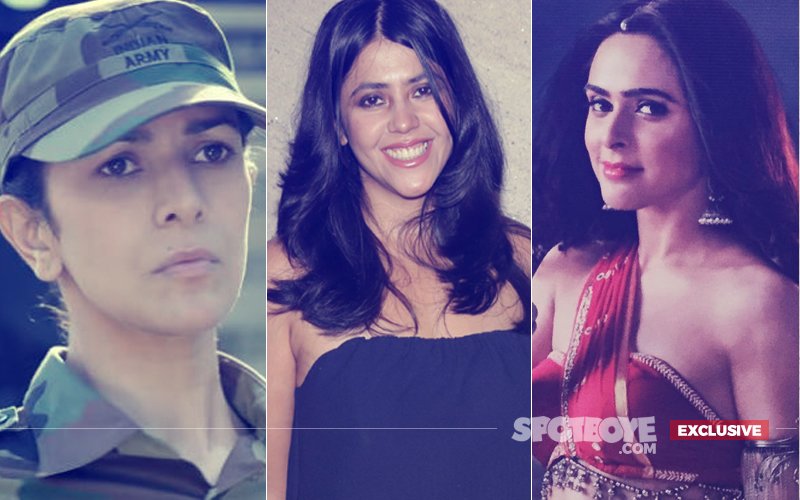 2017 is the year of change for
Ekta Kapoor
. She launched the app, ALTBalaji, which promises to provide digital content far removed from the K-soap genre. Then there is the new flagship show Chandrakanta and the controversial film, Lipstick Under My Burkha, which will be distributed by Ekta. In an exclusive interview to SpotboyE.com, the TV czarina opens up about her big plans for 2017 including spending time with nephew Laksshya.
Viewers have seen two Chandrakantas already, what is new in your version?
I always wanted to make Chandrakanta but yes I got late. But I decided whatever it is, I will make it because I believe in the story, concept and the characters. I tried to change the colours, magical city, talking parrots, flying carpets, the whole vision actually. That's how it will be different from the other producer's Chandrakanta (Prem Ya Paheli – Chandrakanta airing on LifeOK) . A whole new world has been created so that you won't find anything similar to the other Chandrakanta. We have only taken 5% of the story from the book (Chandrakanta by Devkinandan Khatri) and tried to create a whole new thing.
But there will still be comparisons...
I am not scared of comparisons. I just do my job.
Were you shocked when you saw the promo of the other Chandrakanta?
I only submitted my show with the concept to the channel last year. And then suddenly I came to know that another channel has already released a promo. But I can't stop someone from making something that is based on an old famous book. So I decided I will make it as I always wanted to do.
You took a lot of time to choose your Chandrakanta?
Our story is very Cindrella-ish. I wanted a girl who is 21. And I wanted a good actress too. There were a lot of young girls who auditioned but their performance lacked maturity. So finding both in the same girl was a bit difficult. But then we met Madhurima and she was perfect.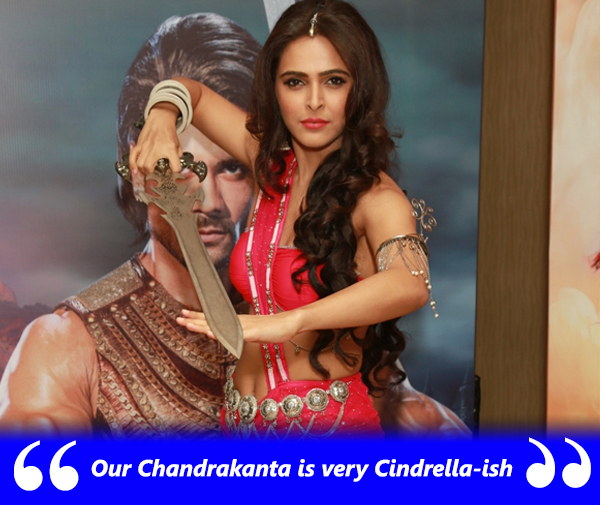 Madhurima Tuli Plays The Role Of Chandrakanta
It's a big show and your leading man is a new face, Vishal Aaditya Singh. Isn't that risky?
When have I worked with popular faces? We should give opportunities to new faces and let them show their talent. Vishal did not drink water for four days while he was shooting the introduction scene and landed up in hospital with a bleeding nose.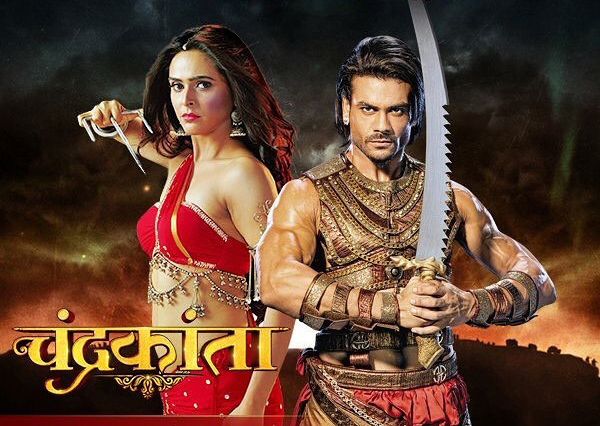 Madhurima Tuli And Vishal Aditya Singh In Chandrakanta
Why do you always choose Urvashi Dholakia to play the vamp?
I don't know (laughs). She is a very good actor and can portray a negative character in a believable way. I met her after a long time and I said, 'You are looking very nice in the costume and enhancing my character'. In Komolika (Urvashi's character in Kasautii Zindagii Kay)
there was some chalaak-pana but here she is in totally different avatar.
Buzz is, Naagin 3 will not star Mouni Roy?
I am putting out a promo of Naagin 3, with Mouni, in the first episode of Chandrakanta. That's my answer.
Your web series The Test Case got good reviews but was reportedly shelved after the first episode due to creative differences with director Nagesh Kukunoor?
There is a lot of misinformation. Nagesh just came to shoot for my first episode and then he started shooting his film. The shooting has been stopped but not because of creative differences, but the budget. The show is larger-than-life and the company has decided to stop it for a while. But soon we will come up with the rest of the episodes.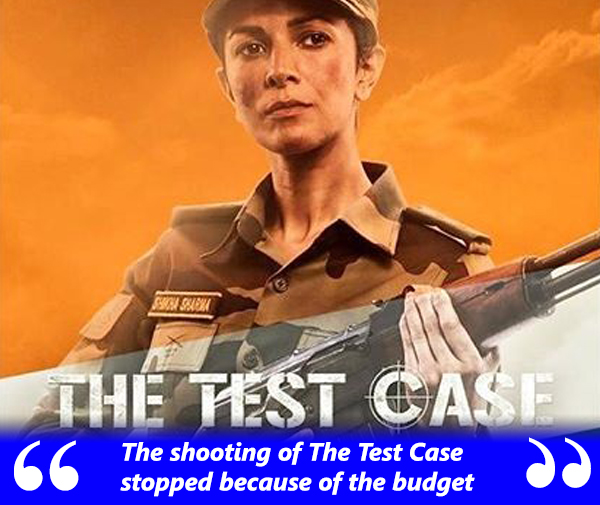 Nimrat Kaur In ALTBalaji's The Test Case
Coming to films, what's on your plate right now?
My thing is simple, I am going to do three films a year. I don't want to make more than three because then you end up making flops. The most important thing for the audience is cost. It's 200 bucks per ticket, 4 people have to go, time, money everything is involved. How many people will make that effort unless it's an exciting film? So we have an app, where you pay just Rs 60 for a month and we put some 20 shows in a year. Then there is TV. Why will people spend so much to see the content in theatres? We want payable, not watchable content. Watchable is internet, watchable is TV, movies have to be payable.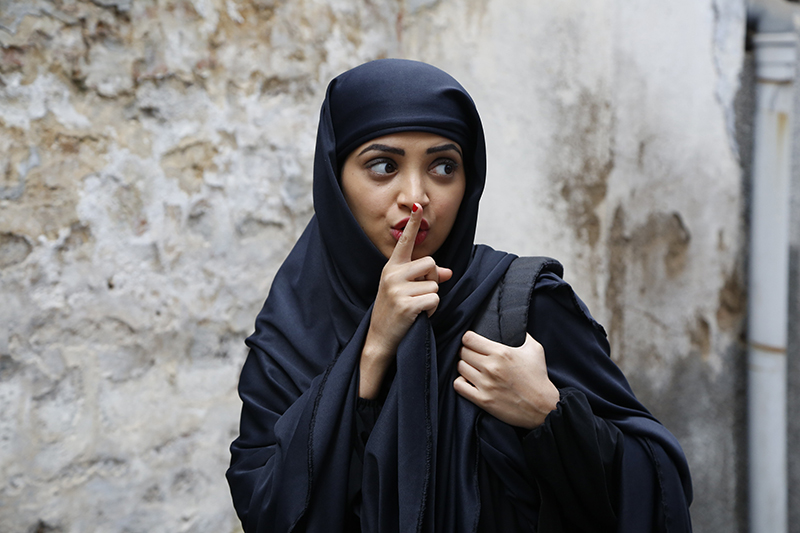 A Still From
Lipstick Under My Burkha
So is that the reason you have taken up the distribution of Lipstick Under My Burkha?
I love that script. That is something I wanted to do. I was busy launching my app when the movie came to me. So I sat in my office theatre with some of my staff members and the film made me clap. Infact, everyone sitting there loved it and said, 'What a film!'. I asked them will it be big, they said maybe no, will it make money they said maybe no. Still, I loved it and I said, I will do the distribution.
The recent poster seems to use the lipstick as the middle finger. Is it a message to the Censors?
Not at all, it is a lipstick, I don't know where the middle finger came from. I have no problem with the censor board, I think they are doing their job. They are under a lot of pressure. If there are any rights, any questions, they are answerable. Lipstick Under My Burkha is a film about a 50-year-old woman's sexual urges. There are so many films where men are hanging with a young girl, looking at a young girl but that is somehow OK. But when a woman thinks the same way, then everyone is shocked.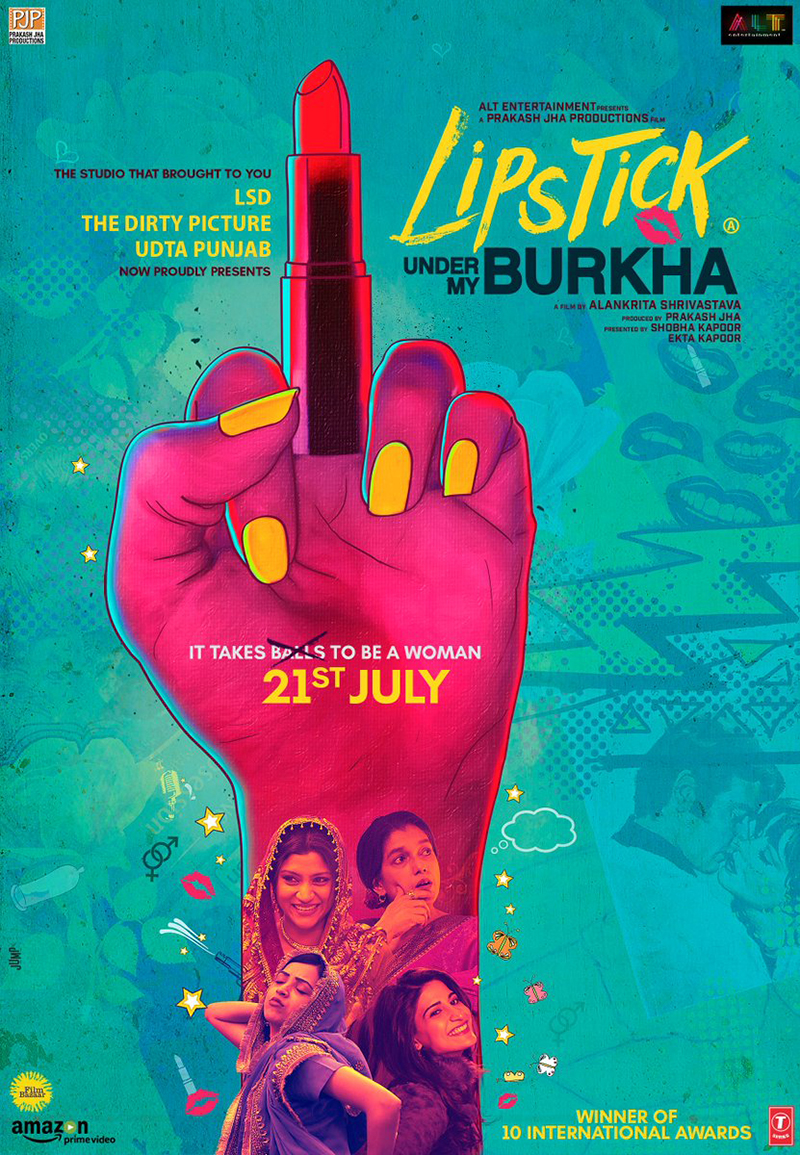 Lipstick Under My Burkha Poster
Moving on to life outside of work, are you enjoying being an aunt?
I came home a little early as my nephew is here. And I don't think there is a bigger pleasure than this in my life. I never understood what a child does to a house. Be it your own, a niece or a nephew, they come with their own charm. Motherhood is not about giving birth, it is about feeling it. And this is my child.
Image Source: APH Images, 5dariyanews, instagram/altbalaji, instagram/madhurimatuli, instagram/ektaravikapoor & clevelandinternationalfilmfestival