Bigg Boss 12: Jasleen Matharu Says, "I Will Call Up Anup Jalota And Apologise"
Jasleen Matharu is the latest to have been evicted from the Bigg Boss house. In an exclusive chat, she speaks up on Anup Jalota and everything else like never before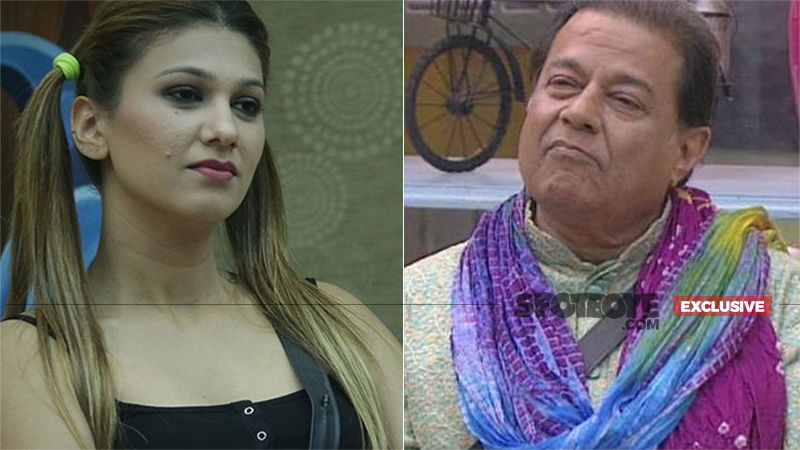 Was your eviction shocking for you also?

Of course, I was expecting to be in the finale. And coming out after such a long journey is making me feel bad.
If not you, then who should have come out?
Somi Khan, Surbhi Rana, Deepak Thakur and Rohit Suchanti were the deserving names to get eliminated and not me. I am very upset. I don't know with what mentality have they entered the house. The only thing they do is insulting celebrities, making cheap comments, talking about their injuries. Seriously I can't even express what all we have heard from their dirty mouths. So I feel it's extremely unfair that people like them are in the game and a deserving person like me has come out.
What message you want to give to the fans who are supporting them?
I am surprised that how their fans have got them to the top 8. They should have been thrown out long back. I don't know log kya soch kar inhe vote kar rahe hain. If they feel Surbhi Rana is genuine then let me tell you she is the most fake person inside house, a crazy chick who behaves like a psycho.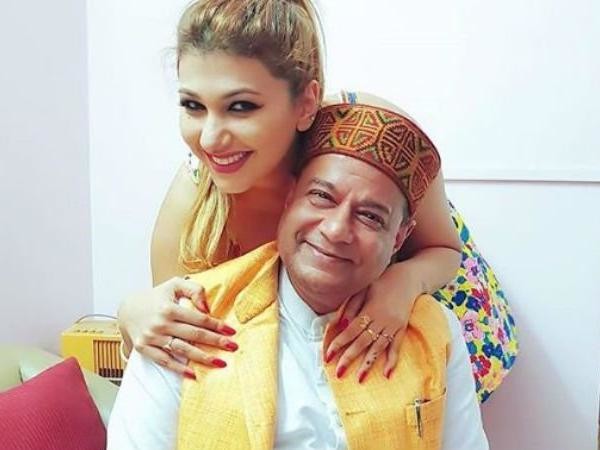 Jasleen Matharu And Anup Jalota
Are you upset that you didn't become captain in the whole season?
I am very upset with the fact that I didn't get an opportunity to become captain. As I was playing individually and people like Somi Khan had support from many of them. She was trying to be laadli to everyone and let me tell you, unki baby sitting ho rahi thi ghar mein. If you are not a performer, then too people are pampering you and making you a contender for captaincy and that is only because you are trying to be sweet to them by making rotis for them. For 12 weeks, I have played for myself all alone as I didn't want to depend on someone else. But every time, they used to throw me out as they wanted to support her and not me. Nevertheless without being the captain also I survived for 12 weeks which clearly shows that my fans were there to support me.
We have waited for months to ask you this; are you and Anup Jalota in a relationship?
No, it was just a prank. When Anup ji announced on-stage that 'my student Jasleen has come with me' and I was behind the stage, I made a plan that I will go there and make a story that since 3 years we are together in a relationship, just to tease him and watch his reaction which I did and I thought he will also joke and it will be cleared the very moment. But Anup ji was shocked and didn't say anything meanwhile we entered the house. So we never got an opportunity to open about it that it was nothing but a prank. And housemates started questioning us about it. So basically vo prank hum dono par bhaari pad gaya.
Have you spoken to Anup Jalota after your eviction?
I have still not spoken to him. But I will definitely call and apologise as it became very embarrassing for him when he got evicted to answer all these questions.
You are calling it a prank, but when Shilpa Shinde told you that he has given a denial, you were upset and emotional. Why?
My bond with him is extremely strong and when Shilpa Shinde came into the house and said Jasleen tum bahar hi nahi jaana. So much of controversy has happened I got afraid and broke into tears. She made me feel so bad that I got worried. As I felt he has denied to recognise me. But now when I am out I am explaining that it was nothing but just a prank.
Anup Jalota said in our interview that you used him to get into the show?
Really, let me tell you that the show was offered to me and not him. I would have chosen anyone to go along but I chose him as we share a good bond and he is a great personality. I will never agree that I used him to get into the show.
Why was a prank required to sustain in the house?
With no bad intentions, I did this prank and as it didn't get clear the same moment it continued in the house also. And the moments which you all saw when I went for a date with him wera a part of the task.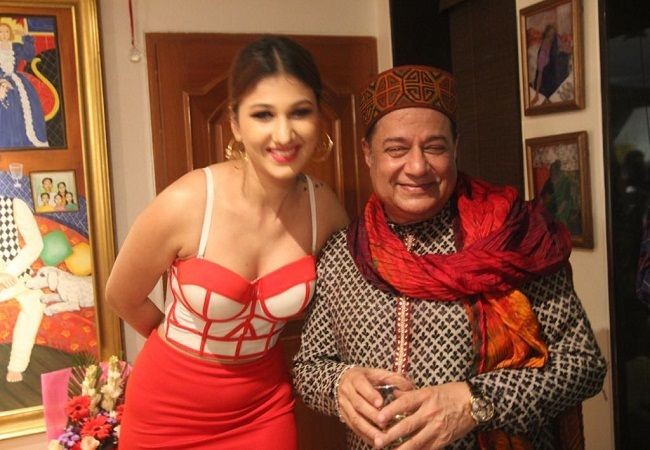 Jasleen Matharu And Anup Jalota
Be honest, was this a publicity stunt?
No yaar, I was anyway doing good work in the industry when this offer came to me. I was doing a lot of shows as a singer. I don't understand what kind of publicity I would have got joining his name with me. I have already cleared the misunderstandings now let people call it a publicity stunt. I can't help it.
Your father got calls which left him fuming with anger, how did you face them?
It was very difficult for me to face them as mujhe pata tha baahar bawaal ho chuka hai. In fact, the moment I got to hear that family week is going to happen I got worried that how will I face my parents if they will come in. As we contestants were freeze, I would not have got an opportunity to clarify also. I would have just cried. But unfortunately, I got evicted and the moment I came out, I told him that it was just a prank. And he understood thank God.
What if he wouldn't have got convinced?
He knows I am mature and if this relationship would have been true. I am sure he must have understood. I have always got that freedom from my parents as they know that I know what is good for me.
So, you are saying that you and Anup don't have an affair?
Not at all. He is Guru and I am his shishya.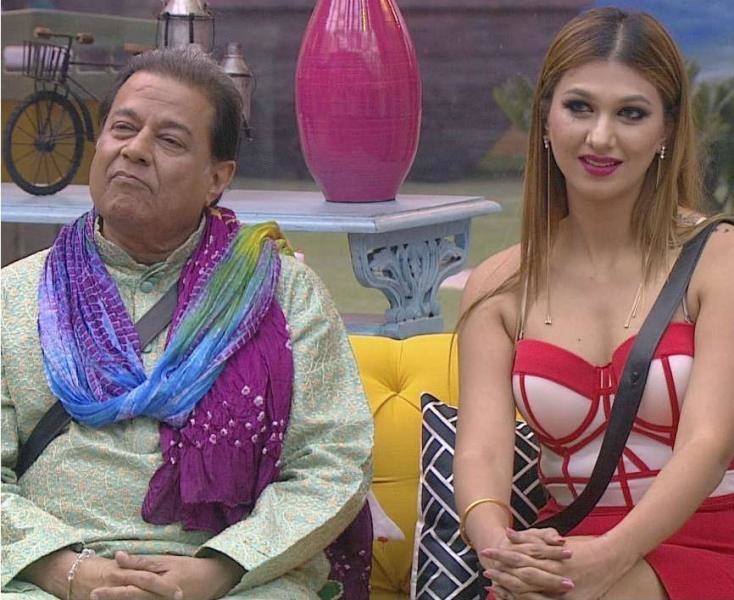 Somi Khan said you were trying to copy her style of clothing?
Yeah, I heard that ki meri tarah suit pehanti hai mujhe copy karne ki koshish karti hai. I don't need to copy her. Aur koi baccha nahi hai jo ise copy karun. I have my own style. I am a Punjaban, I have my own suits. Mujhe Somi Khan ko copy karne ki koi zarurat nahi hai.
Your bikinis were another highlight?
I was not at all worried because I am very comfortable wearing a bikini. But yes, the other contestants who were staying with me inside used to get awkward seeing me like that. And then, I used to wear it for fun. Whenever I used to get into the pool in the costume, they used to ask boys to get Romil inside as he used to run away seeing me like that (laughs). So it wasn't my strategy to grab attention. As if you are jumping into the pool definitely bikini hi pehnoge.
What was cooking between you and Romil Chaudhary recently?
See, Romil was my good friend since day one. We shared a good bond inside. Haan ye sach hai kids hum ek dusre ko bahut pasand karte the. But just as friends.
Somi was insecure about it, why so?
I don't know what made her insecure. She must be thinking from the game point of view that if she will get close to Romil who will support me in the game. Because she personally was not doing anything to be in the game. As her baby sitting was happening. Or may be she started liking Romil and got worried that Jasleen use mujhse chheen na le.
Your secret affair with Sukhvinder Singh made headlines. What do you have to say?
I don't know from where his name came. I am sure he must also be upset with me because of this. I know him since 5-6 years now and we are good friends. Mujhe nahi samajh aa raha hai ye sab news kahan se aa rahi hai. I also heard that I am dating Honey Singh. So let me tell you that all these are just rumours, nothing else. Mera koi affair nahi hai.
Then, which singer you secretly dated for 2 years?
I don't want to reveal his name so no comments.
Image Source:-Instargram/bigg bossfanpage, dhoolmitti.com, ibtimesindia