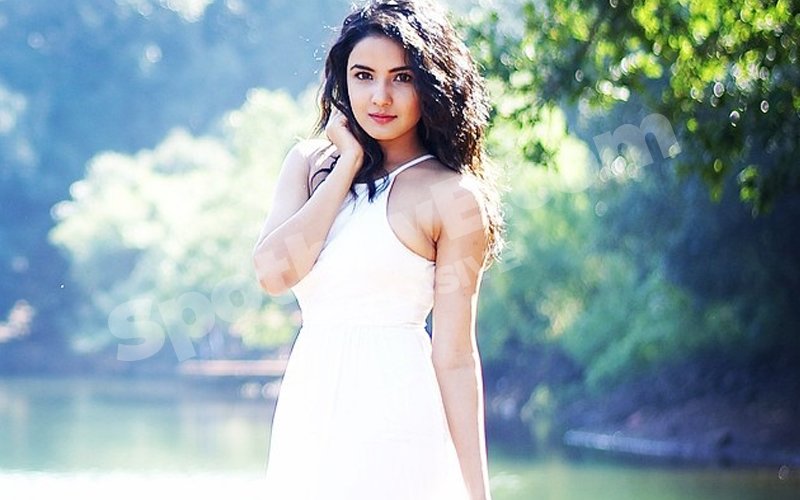 Despite doing numerous films down South, it was Jasmin Bhasin's bubbly and feisty act as Twinkle in Tashan-e-Ishq that made her a household name. With the show wrapping up today, SpotboyE.com caught up exclusively with the actress in her vanity van and she couldn't help but get emotional about her debut show coming to an end. Excerpts:


You romance two actors in Tashan-e-Ishq. Does your boyfriend get jealous?
I don't have a boyfriend. And it's just acting. I don't think even my father feels weird when he looks at it because he knows that I am acting.

Your Instagram profile is replete with pictures of you holidaying with Suraj Wadhwa...
Yes, so what? I go on holidays with many friends. We always go in a group.

So you are not in a relationship?
No, I am not.




And are you ready to mingle?
I am single. I need to find somebody interesting to mingle with.

What kind of person interests you?
Somebody with a good sense of humour and who also loves food. People say that a way to a man's heart is through his stomach...that's the case for me.

How did you switch from South Indian films to television?
I shifted to Mumbai while I was working in South Indian films. I had first rejected this show, but I had no other commitments and I met the makers again. They were very sweet and thank God I accepted the show. Tashan-e-Ishq has given me a lot, be it name, fame or money. I think this has been the best decision of my life.

How has one year in the industry been?
It has been great. I have been working for five years now, but the one year in television industry has been overwhelming. Whatever popularity, recognition and respect I have gained, it's all been because of TV. This has been the best year so far.

Are you like Twinkle in real life too?
In real life, I am very nice, but if you rub me the wrong way, I am very mean. I am full ladaku Punjabi pataka. If anybody messes with me, I give it back to them.

Will you go back to films?
Why not? I am an actor. I would love to act – be it films, theatre or television.




Have you faced casting couch while working in South films?
Luckily, I haven't faced casting couch anywhere.

How did acting happen to you?
I was working in Delhi when I got a few modelling assignments. I did a jewellery ad, which was played in movie theatres in South during the interval. One of the directors spotted me and got in touch with the ad agency. I auditioned for the film and cleared it. That's when I realised that acting is my calling.

Did your parents approve of the decision?
Initially it was difficult to convince them. My mother used to accompany me everywhere and eventually they were happy with my decision.

What would you been doing professionally if not acting?
I don't know what I would have pursued. But whichever profession I would have been in, I don't think I would have been this happy and successful.

How is Jasmin Bhasin as a person?
I am a very hyper, sensitive, emotional, but very ambitious and short tempered.

How do you handle male adulation?
It feels nice when you get so much attention. It keeps me going. I have been a tomboy all my life, and now, when I dress up and people appreciate it, I enjoy it.

Among your co-stars Zain (Imam) and Sidhant (Gupta) – who is your favourite?
I think I am my favourite. Both of them are equally close to me. We started out with the show together and are good friends.




The show is coming to an end...
I don't think I will be able to say anything. Every time I think about the show coming to an end, I become emotional. It was difficult to give my last shot. I have lived this character for a year. We always knew the show is a finite series, but I never thought I will get attached to it.

Tell us about the weirdest rumour that you have heard about yourself
A rumour, which has been doing the rounds for two-three months, is that I am getting married and leaving the show. I am too young to get married.

Will you wear a bikini if a script demands?
I can wear a bikini, but wearing a bikini and showing it to the national audience – I can't do that. My body is private and I wouldn't be okay showing it to the world.




What if a script demands you to do an intimate scene?
I have always worked on my own conditions. I have a few limitations. So, if ever a script demands an intimate scene, my director and I could discuss and come to a mutual consent.


Image Source: instagram/jasminbhasin2806