Khatron Ke Khiladi 11: Nikki Tamboli On Flying To Capetown Amidst Her Brother's Illness, 'It's His Dream That I Do This Show And I Can't Upset Him'- EXCLUSIVE VIDEO
Nikki Tamboli speaks to us about her journey to Capetown to be a part of the stunt-based reality show, Khatron Ke Khiladi 11. Here's what the actress has to say about leaving her brother, who is fighting with COVID-19, to challenge her fears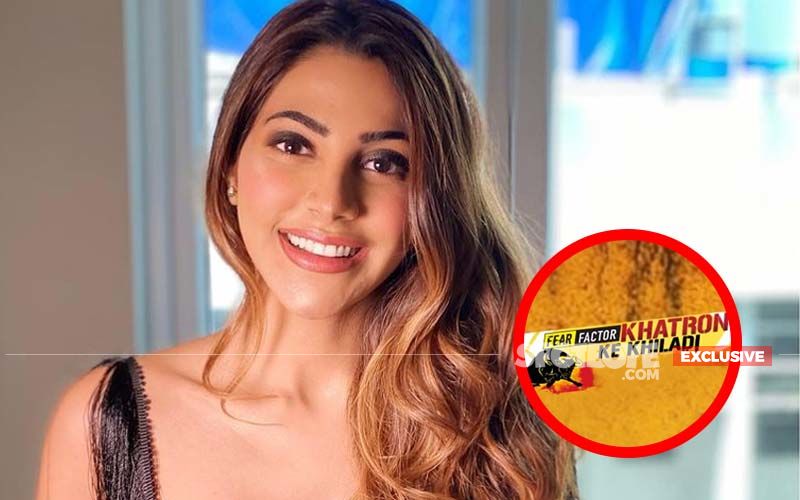 Bigg Boss 14 finalist Nikki Tamboli is busy packing her bags for Capetown as she is soon travelling to participate in Khatron Ke Khiladi 11. The actress who is excited for the new experience and waiting to overcome her fears is also emotional about this journey as her brother Jatin Tamboli is hospitalised and battling with COVID-19 along with other health issues.
Now, in an exclusive conversation with SpotboyE.com, Nikki opened up about his health and her reason for participating in the show. Read on;
How difficult it was to hide the fact that you are participating in Khatron Ke Khiladi 11?
It was really very difficult. My fans were waiting for it more than anything. And even my Mom and Dad used to keep telling me ab bata bhi itna kyun chhupa rahi hai. But I had to hold although I was very excited to declare it.
Were you reluctant to do Khatron Ke Khiladi 11 when the opportunity came as it's not a normal show and challenging at various levels?
When the show got offered to me, I was definitely thinking a lot, if I should do it or not. As the show is really very difficult. So, it was my brother Jatin who I discussed with and he was like you have to do it. No matter what tumhe karna hai vo. So he motivated me for it and I said yes.
Well, your brother's health is not stable and you have to travel amidst that...
He has a belief in me that I will do it. He trusts my caliber. And he also knows how strong I am mentally as well. But currently I am not feeling that good emotionally because he is still in the hospital and condition is not stable. But I have to move ahead in life. I just can't sit sad because if I do not go for it, he will be upset once he is back home. Ki main kyun nahi gayi?
How difficult this journey will be for Nikki with so much tension in the personal space and then you have to deal with some very stressful stunts there?
The journey will be really very difficult. We would be travelling in 3-4 days and I am just worried about my brother. Because coordinating from there would not be that feasible. Of course my family, friends and manager will be here to take care of things but a daughter is a daughter. Many thoughts are crossing my mind but I have to focus on stunts. Because it's my brother's dream and I don't want to upset him. So I am just sacrificing all my things and just going for it. Bahut jyada tension wala situation hone wala hai mere liye.
Any preparations you have done to perform the stunts?
There you have to play with all creepy crawlies where do I get them here to practice with them (laughs). The only thing I can do is stay fit. But that also doesn't help you at times. That game is all about your mental strength and how focused you are. So, I don't feel any sort of preparations can be done for it.
Which fear do you really want to overcome?
I am not a trained swimmer. I don't know how to drive a car. I stay at the first floor and don't see down as I have the fear of heights also. I am going to overcome all these fears and I think that process will be enjoyable for the audience as they will be shocked to see Nikki kitna darti hai.
Your Bigg Boss 14 housemates Abhinav Shukla and Rahul Vaidya are also part of the show. Are you excited for the reunion?
I am more than happy that Bigg Boss 14 ex contestants are also there with me. But I love to make new friends and know new people. Because as much as people you know, you get to gain a lot of new knowledge also. So I am looking forward to meeting new people as well.
Any name from the list of contestants you are excited to create a bond with?
I am looking forward to meeting Arjun Bijlani.
What all have you researched about Capetown?
I have done some surfing about the markets and want to do a lot of shopping. But we should get time for that as our schedule is going to be really very hectic.
Rohit Shetty doesn't like people giving up on the stunts. Does that make you feel pressurised?
Honestly I am very excited to see Rohit Shetty sir as I am a huge fan of him and also I love the way he does stunts. The way he motivates and encourages you it itself gives you a kick to do it. And in spite of that if you don't do it anybody will feel hurt. As you all already know from my journey of Bigg Boss 14 that I am not someone who easily gives up until and unless I have any emotional breakdown. I believe in doing things however difficult it is. Even if I don't win I will try every stunt.
What are your expectations from your fans and from this show?
I want my fans to support me completely. Because the journey is not going to be easy at all. Mentally, I am not that stable with whatever is going on in my family and because I had contracted COVID-19 too, so physically also I am not that fit. So, I am just hoping for the best.




Image Source: Instagram/nikki_tamboli