Krushna Abhishek: I Want To Get Kapil Sharma On My Show And ROAST Him
The stand-up comedian is 'confession personified' when grilled on the current state of his show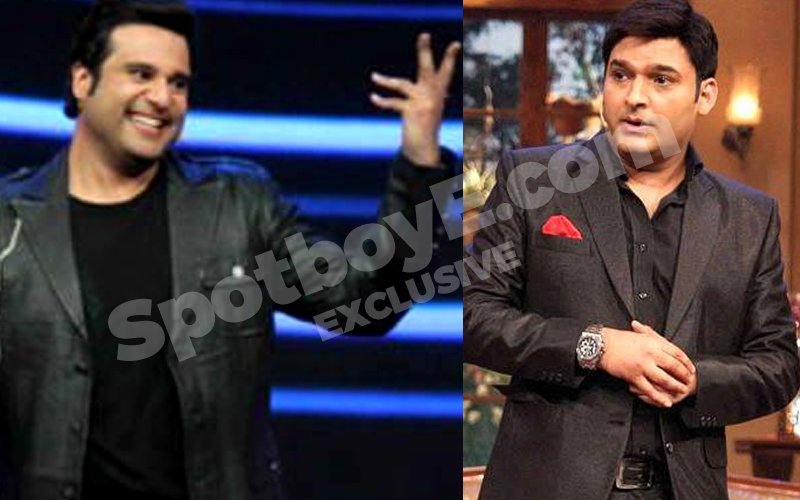 Comedy Nights Bachao just got revamped and you will see the new avatar tonight on Colors at 10 pm. Yesterday evening, SpotboyE.com caught up with Krushna Abhishek for an exclusive chat in his makeup room at Chitrarth Studio, Powai. Excerpts:

Was the revamp required?
We took a joint decision to make some changes in the show. I have hosted 54 episodes and given it all. I was delivering punch lines on almost everyone, and a point came when I began to ask myself that how long can I go on doing the same thing. How many more punch lines can be written on the same person? How much more fun you can make of the same person? And trust me, we all were feeling likewise. The long and short of it is that we had reached a saturation point and started feeling burnt out. Hence, we will now have some new artistes who we expect can carry the show ahead for at least 2 years. I think it's a fair and sensible move.

Are you feeling bad that now your screen time will be reduced?
There will be many moments in the new format, which Mona Singh won't be able to do. So, Bharti Singh and I will take over. Bharti is a mard. Think of it, she and I were doing too many things in the old format, like--- opening act, closing act, and then our individual parts. So you won't see all of that but even this cloud has a silver lining. I am not saying that I will not miss the things which I was doing earlier, but now the people will say 'We are missing Krushna and Bharti'. Good na? We didn't want to reach a point where people would have said 'We don't want Krushna and Bharti'. Who knows the new pattern may go on for 2-3 months and then Mona might even be paired with someone. We will now try to get into the Comedy Circus zone.

Are you seeing The Kapil Sharma Show on Sony?
I have never seen Kapil's show, even when it was on Colors.

The ratings of your Comedy Nights Bachao have slipped...
That was also one of the reasons we decided to reinvent. Moreover, we will now make the atmosphere more positive. There have been cases when we called people on the show and realised that they were scared to get 'roasted'.



Image Source: hddekho

Big stars have stopped coming on your show...
Not really. There was talk that Akshay Kumar was upset, but hasn't he come twice to our show? Like I remember, Shah Rukh Khan had the choice of choosing between Comedy Nights Bachao and Comedy Nights Live and he chose the former. In fact, we wanted him for 'Live' but he insisted that he wants to come on 'Bachao'

But recently, we haven't seen any big star on your show...
So yeah, Akshay did not come for Rustom.

Why?
Maybe he had other commitments.

Big names are mostly seen on The Kapil Sharma Show...
See their format and see our format. There are about 30 per cent people who would have come if we weren't 'roasting' them. On the other hand, there are a good 70 per cent who have no problems- be it SRK/Deepika Padukone/Ranbir Kapoor/Ranveer Singh/Arjun Kapoor. Anil Kapoor told me that he would love to come on 'Bachao'. But yeah, Kareena Kapoor said that she would prefer coming on 'Live' instead since she didn't want to get 'roasted'.



Image Source: SpotboyE Team

Besides Kareena, any other star who didn't want to get 'roasted'?
When Akshay didn't come for Rustom, we thought that he might have felt that the concept of Bachao did not suit him.

If you bump into Kapil now?
I won't feel insecure. I am not denying that the competition remains till we both remain on air with our respective shows. I am not denying that I am slightly down at the moment but I am not out. My team and I will work harder and rise again.

Will you talk to Kapil?
Hmmm... I think I will because I have no issues. But I can't say the same for him; he is a very moody guy. His moods are unpredictable. But yes, I must tell you one thing that despite our rivalry, we respect each other a lot.

Did pressure come on you recently that you have not been able to generate high ratings?
Of course it did, not just on me but on Bharti too. We both are the key people in the show. And mind you, humko tension bhi hota hai and then we tell them 'humko bhi bade aadmi lakar do'.



Image Source: india

Why should the channel blame you when certain big stars don't want to be 'roasted'?
We ask for big stars because we need them. But then, channel bhi kya kare? Format jo 'roast' ka hai. So we are now loosening it up a bit, let's say that we are toning it down. We won't come down heavily on the guests now what we did when we followed the earlier format.

So you guys are now toning it down?
Karna padega, if we want to run it for 2 more years. And I don't think that should be a problem because people do want to see us doing different stuff.

Coming back to Kapil, any one thing you would want him to change in The Kapil Sharma Show?
I don't know about any change, but I would like to have him for a change as a guest on my show and I would love to 'roast' him (smiles).


Thumbnail Image Source: newsdog & iimg