Mere Dad Ki Dulhan Actor Fahmaan Khan Opens Up On Suicide, Mental Health And More- EXCLUSIVE
We recently spoke to Mere Dad Ki Dulhan actor, Fahmaan Khan, who shared his thoughts on facing the highs and lows of life, fighting them out and not give up. Read on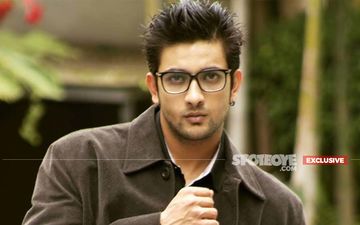 Mere Dad Ki Dulhan actor recently connected with us and we spoke at length about how an actors' career is so unpredictable. He also spoke about mental health and depression.
Excerpts from the conversation below:
Of late, a lot of suicide cases have been reported. What do you have to say about it...
The biggest suicide case that we have been talking and reading about is that of Sushant Singh Rajput and seems like it wasn't a suicide to begin with. So, may justice prevail. It's unfortunate that people are finding it easier to end their lives instead of fighting it out. it's disheartening to say the least.
An actor's life is unpredictable. You may have work for years and then you may be jobless for months or years. So, how should an actor keep patience and maintain his lifestyle?
It is risky, yes! But it's the choice you made for yourself because that's what you wanted. You are aware of the fact that it's risky and unpredictable and you still choose to be here, doesn't that say enough? I believe persistence is key and that doesn't come without patience. An actor's life is going to have the craziest graph, swinging like a pendulum, all the time. But the truth is, I signed up for this because this is what I wanted and I need to be strong enough- to not fall prey to the harsh reality of this industry. Also, maintaining a big budget lifestyle is a hoax. I believe it's best to lay low, do your work, enjoy the art and feel every emotion that is thrown at you and come out on the other side with a sense of accomplishment. It's the best feeling ever.
Mental health takes a toll with hectic shoot schedules and you don't get time to take proper care of yourself, how do you maintain your health?
I believe physical health can be maintained without doing too much. You just need to get your basics right. Eat right and follow a routine. While I'm working, I make sure my food and nutritional intake is right. Also, a few crunches and a few push ups in the makeup room is what I do to keep my body fit. At times, when I reach my set early, I run (when I say run, it's a literal run and not a jog). A human body is constantly fighting to stay fit. You give it one good thing and it reciprocates with 4 good results. It's not rocket science.
Talking about mental health, it's important that we understand, life is not a fairy tale. This is reality and a lot of things aren't going to happen according to how you planned or expected it. Keeping that in mind, I don't plan ahead. It keeps me sane and it also keeps me excited, because I'm surprised most of the time. Having said that, not all surprises are going to be good ones. There are going to be ones that will shatter you. As humans, we all go through that. The important thing is to understand that everything is going to pass, the good, the bad and the ugly. What I do is, take a step back and analyse what's happening. Letting your emotions take its course and feeling everything thoroughly is the best way out. Cry if you have to, be devastated, be angry, be jealous( healthy jealousy actually helps). Suppressing your emotions can be quite damaging. Also, I'm aware of the fact that when I'm feeling all this, there is going to be a time when this will pass but I'll have to work towards it. If I don't, I will only dwell in it forever. It's important to believe that this is going to pass.
How do you keep yourself motivated when you don't have a project in hand?
I think about the time when I decided to move here to be an actor. That's my strong memory to fall back on because I had the fire in me, without a clue of what lies ahead of me (Btw the fire is still burning and how ) and I did it. I worked with that motivation to crack my first contact, my first audition, my first job, my first cheque and then the second and so on. When I could be so motivated without knowing anything or anybody, how can I not be motivated now, when I have a foundation that I built?
People still find it difficult to speak their heart out to anybody. What do you feel may be the reason?
I guess it's because in today's world, no one really is interested in listening to you. It's the sad truth. No one really cares what you are saying. Everyone has a story of their own. A social gathering is about conversations in which each one talks about what they know better or different from the other. When someone starts talking about a certain problem, the person listening is already thinking of a story related to that problem about him/herself. I firmly believe that empathy goes a long way. People need to be more accepting, sensitive and understanding of each other's problems and not be self-absorbed and selfish.
What do you think is the reason for people's loneliness and depression in a time when most of us are all the time connected through social media?
I think it's because most people are very easily influenced and get carried away with what they see on social media. They start comparing their lives to those who portray that their lives are better than the rest. But it's so superficial and delusional most of the time. We can't and should not believe everything we see on social media platforms. Besides that, Depression is real. I won't rule that out. There are various forms of depression. Anxiety, low self-esteem, childhood trauma, etc could all lead to depression. If someone is going through this, it's important to get to the source of the problem and eradicate it, from its roots.
Like I said earlier, life is not a fairy tale, it's a roller coaster ride. You might get dizzy, you might lose consciousness at times, but man do I remember and cherish every roller coaster ride I've ever been on!
Image source: instagram/ fahmaankhan
They say the best things in life are free! India's favourite music channels 9XM, 9X Jalwa, 9X Jhakaas & 9X Tashan are available Free-To-Air. Make a request for these channels from your Cable, DTH or HITS operator.