Nimrit Kaur Ahluwalia On Playing Her Own Daughter Seher In Choti Sarrdaarni Post The Leap, 'I Will Be Lying If I Say I Don't Feel The Pressure'- EXCLUSIVE VIDEO
Nimrit Kaur Ahluwalia speaks about her latest challenge which is playing her own on-screen daughter in the show Choti Sarrdaarni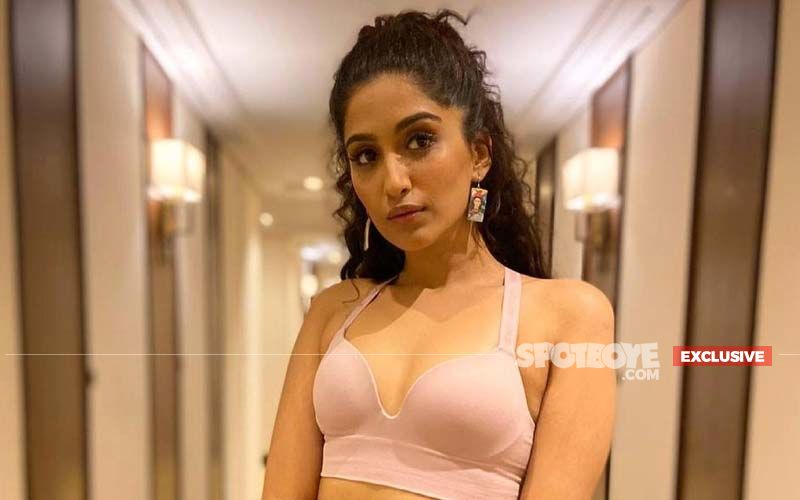 Television actress Nimrit Kaur Ahluwalia who became a household name with her character of Meher in Choti Sarrdaarni is now going to play the character of Seher, her own onscreen daughter post the leap.
Nimrit joined us for a video chat to talk about the development and shared that she feels pressured taking up this new challenge. She also tells us how much she misses her earlier star cast.
Nimrit are you finding it challenging to play your own daughter onscreen?
It has been very difficult to shoot for Meher and figure out Seher. Think of Nimrit and juggle all of this. It's been very challenging but I love challenges. Before you do any project you always have time to prepare for that or understand the character. In my case here, I didn't get that time as such but I understand the core of Seher as I have seen Kevina playing Seher as a kid. I also understand the suffering of Seher of losing her parents and writing to keep her stepbrothers together. But as it's a 16-year generation leap, I have to think that how our society must have evolved and how people must have changed in all these years. Frankly speaking, I am also kind of figuring who Seher is.
So how are you figuring that out now?
On the sets, when I do my scenes with my co-stars. I try to understand the skin of it. And actors get a lot of help with the inputs that a director, creative director, the writer gives. Also, the costume helps you to give that vibe and make it easier. It's a fun process and I am just loving it. And I hope people love it too.
The audience has loved you as Meher and now you will be playing the character of Seher. Do you feel any pressure of how audiences will react to it?
I will be lying if I say that I don't feel the pressure. I do. But it's not the pressure created by anybody. I just feel that in the relay race, the baton has been handed over to me and my team members have said that run. It's your turn to run now. And that's the last track which I need to cover. Secondly, I have set standards for myself also. My cast and crew are the same. People behind the camera are the same. I understand through this show, the time period where we are when so many people have lost their jobs. This show is a livelihood for all of them. And that's my first subconscious responsibility. I have spent time around my seniors and I have definitely learned a lot. And now I am in a space where I am someone who understands the soul of the show the most. Now, I know that Choti Sarrdaarni is not just a show it's a feeling, it's an emotion.
Go on...
The first generation has left a huge impact on everyone and it's not just Meher but the entire cast. People loved all of them. And we are here not to replace them, we are here to tell the story of generation 2.O. So, there is a lot of responsibility in that aspect also.
What are your expectations from the audience?
Nimrit ko Nimrit banaya kisne hai audience ne. I have worked hard and people have also worked hard on me. But the acceptance and love was provided by the audience. So, there is hope that people will give Seher that opportunity too which they gave Meher.
A lot of people are not happy with the leap and wanted to continue seeing the earlier cast...
Everyone including the channel, producers, directors misses season one. And nobody wanted this change to happen. But it is very important to get changes as when a story starts, it also has to end. We have shown that story and that story has come to an end. And there is nothing anybody can do about it.
How much do you personally miss your onscreen family?
I miss everyone. One doesn't realize but when you shoot together for two years. You spend so much time together that you end up understanding them so closely. I don't know how to put it in words how I feel because I am still processing it. The more I talk about it, the more I get emotional. I do miss all of them. But I am very happy with the fact that I have all of these people for life. So, I am very grateful for that.
Did you have to go through any transformation to look younger?
In the first year of Choti Sarrdaarni, I had gained weight. After that, I lost a certain weight and since then I am thin. It's just that I have always been in a suit and covered clothes so nobody noticed that change as such. And my body is still the same, I haven't done anything to it for a very long time. But yes a lot of effort has been done on my current look for Seher. And I just hope people like it.
Image source: Instagram/nimritahluwalia