Rashami Desai-Adhvik Mahajan On Tamas, Cause Behind It And The Actress Being The Soul Of The Film- EXCLUSIVE
We spoke to Rashami Desai and Adhvik Mahajan about their upcoming film, Tamas. Here's what they had to say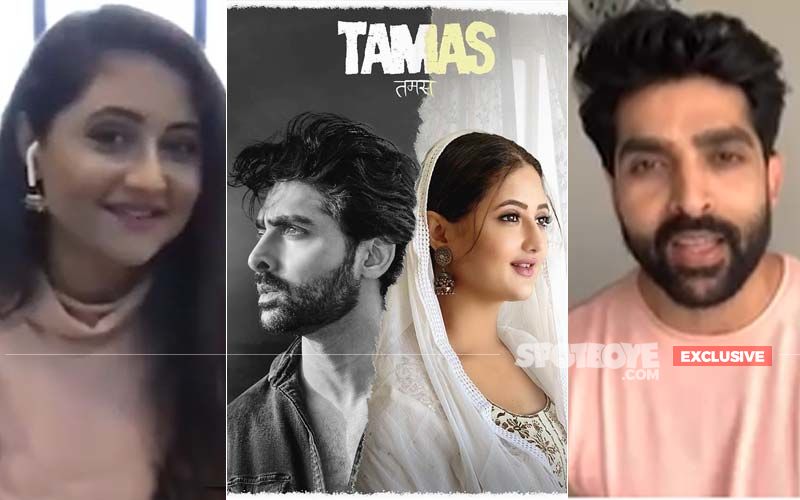 Rashami Desai and Adhvik Mahajan are gearing up for the evening and are mighty excited. And why not? Their short film, Tamas will hit the digital platform at 5 pm.
We got talking to both the actors about it and here's what they had to tell us about their venture, proceeds of which Adhvik plans to donate to charity. Excerpts from the conversation:
Adhvik, what is Tamas all about?
Tamas is a short film. There is a small confusion around it online. As we haven't revealed anything while making it. But luckily our fans are so active on social media that they learnt about it and then we finally released our poster. This idea came to my mind around one and half years ago. It's a topic which I have been witness to personally, along with a few of my friends, and I wanted to bring it forward.
Rashami you are looking very different on the poster. What are you playing exactly?
I am looking very different and my role is also very different from what I play normally in my daily soaps. And for the first time I am doing a short film with an actor, also a friend, also a friend's husband (laughs). I always knew him for his acting but I didn't know he could write, direct and produce also so beautifully. Honestly, it was a beautiful experience with a wonderful thought. Short films are known for real subjects which we face in real life so when you film it also it has to look real. And I think Adhvik has done a wonderful job. The message of the film is about- 'hum duniya ko kaunsi nazro se dekhna pasand karte hain?' and the biggest reason for me doing this film was Advik's intention of donating whatever we make from the film to charity.
Adhvik, what made you pick this topic?
I want the audience to see it first and then decide without any preconceived notions. But the topic is definitely relatable is what I can say. In this lockdown, when I saw a lot of things happening with my friends and a lot of things discussed in the media, I just thought why not share my views on it creatively. I wrote the story but then realised how I will shoot it without any technical help, so then I decided I'll shoot it when things get normal.
So then what changed?
Meanwhile, I was talking to someone about casting of webseries. In response they told me to send my profile and I told them I have done these TV shows. So, in reply they said, "TV profile won't do, if you have done something in cinema please send that, as it would be preferable." They may just be doing their job but somewhere it hit my mind that acting is acting. I have worked in TV but have done theatre also. I have done small roles in TV including episodics of Savdhaan India. So, I was like what is this mentality? The story which you have written is why you are dependent on others. Why can't you work on it and try to make something out of it. So, then I decided I will shoot it all by myself. By God's grace everything fell in place and luckily I got Rashami on board to make it bigger.
Why did you decide to cast Rashami for the film?
When I decided to shoot the film finally on my phone, the only thing which was stressing me was the female lead. I knew it won't be easy to get anyone on board due to lockdown and then for her to shoot it at my home and understand the concept well and do justice to it. So, my wife Neha Mahajan suggested to me why don't you talk to Rashami. She is quite close to my wife. I sent Rashami what I had written and the kind of innocence I was looking for in my character, she had it all. Luckily, Rashami liked the script and she took the risk to trust me. If Rashami wouldn't have been there, my film would have not gotten completed as she is the real hero of my film.
Rashami, how did you manage to shoot with no help?
I think it's a myth that girls are habitual to keeping themselves all hoity-toity. But if somebody comes on our set and gets to see what all they go through, it will be a surprise. But here in this film, I definitely wanted to look a certain way. But when I went to shoot, I saw Adhvik struggling so much for things as he was doing everything by himself. So, I just felt this whole energy reaches to the viewers. If they like the work or not that is their personal choice but I want people to see it. There is no benefit we are looking for, except love.
Adhvik: Maine to poori film mein baal hi nahi banaye, haath tak nahi lagaya.In fact, I just finished my show Divya Drishti recently, so I didn't want the audience to relate me with Rakshit's character. And I knew that Rashami will look good on screen without makeup and too much dressing and she is looking beautiful.


Image Source:- instagram /imrashamidesai