Sambhavna Seth: I never believed in the institution of marriage
The former Bigg Boss contestant and her husband Avinash Dwivedi open up on their love story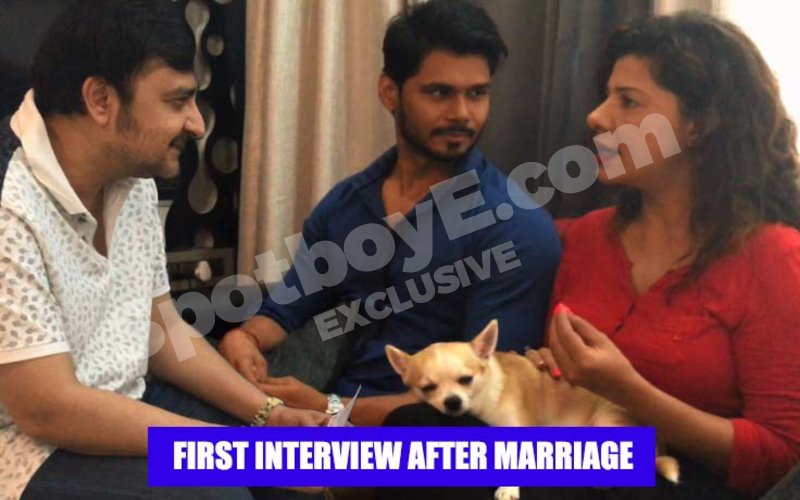 Sambhavna Seth got married to her longtime boyfriend Avinash Dwivedi on July 14 (IN PICS: Sambhavna ties the knot with boyfriend Avinash Dwiedi, Jul 15). The couple got engaged on February 13 against the wishes of Sambhavna's parents. Her parents weren't happy with the match as they felt that Avinash, who is a struggling actor, is not financially stable. But all that is in the past now as the newlyweds begin a new innings with the blessings of their parents. SpotboyE.com caught up with Sambhavna and Avinash in their Yari Road flat on Saturday afternoon as they gave their first interview after their wedding. Excerpts:

Where did you two first meet each other?
Sambhavna: We met on a dance reality show 6 years ago, where he was the contestant and I was the mentor.

How did you manage to keep it under wraps for such a long time?
Sambhavna: Well, no sparks flew around at that time. I was very fond of him as a contestant; he is a terrific dancer and he even won that show.



Image Source: instagram/sambhavanasethofficial

And then?
Sambhavna: After the show was over, he kept chasing me and said that we should take our bonding and camaraderie forward. I wasn't too sure about that, but suddenly I fell ill and was hospitalised for 12 days.

And he took great care of you?
Sambhavna: Yeah, he was there 24x7. I realised that I wanted to be with him.

Avinash, what do you like about Sambhavna?
Avinash: She is cut-throat honest. She is very straightforward. She talks directly, be it whether she feels love or jealousy for you.



Image Source: instagram/sambhavanasethofficial

Oh yes, how can I forget her in Bigg Boss Season 8?
Sambhavna: (Laughs)
Avinash: We laugh at each other almost whole day. She imitates people very well and I enjoy that very much.
Sambhavna: I am a clown for him (laughs).

Did you believe in the institution of marriage?
Sambhavna: I was a tomboy. I never believed in the institution of marriage. I never thought that I'll ever get married. Dating is one thing, marrying is another. But as I began to know him more and more, I felt that he is the guy I can be with for 24 hours in a day. Aur yeh mujhe jhel sakta hai.

Fights?
Sambhavna: We have had our share of fights, but would soon make up. If your relationship is honest, you will have differences with your partner. We are two different individuals and different personalities.

Your mother was strictly against your marriage with Avinash...
Sambhavna: Yes. Pehle to bahut tha, but she consented a week before marriage. Now, she loves him very much. My father, brothers and bhabhis had to convince her to meet him.



Image Source: instagram/sambhavanasethofficial


What was her discordant note?
Sambhavna: I think she felt that I am more popular than Avinash and even earning more than him. These insecurities are there in many parents. But I stood my ground. Abhi itna nahi kar raha Avinash, lekin usme talent hai aur jazba hai; he is not only a good dancer but a good actor as well. He will make it soon. I know that money is important in life. But what will I do with money if my husband is bad?

Did it ever cross your mind that you should listen to your mom? Recently, Kavita Kaushik said goodbye to Nawaz since her parents didn't approve of her choice...
Sambhavna: It depends on your relationship first. If it is strong and you have clarity on it, I think you can convince people. But I am not speaking for anybody else except me.

Were you tense when her mother refused to see eye to eye with you?
Avinash: They were right in their place. But love marriages do meet with resistance even otherwise, don't they?

Will you allow her to dance in Bhojpuri films now?
Avinash: I am a big fan of her item numbers. I have no problem.
Sambhavna: I had made sure about this before marriage.



Image Source: instagram/sambhavanasethofficial


Tell me one thing about Sambhavna which you would like to change...
Avinash: She reacts very quickly. If she controls this impulsiveness, she can understand things better. Like if she wants to say 'Why did you do this? I don't like it', she will end up saying 'How dare you do this!'
Sambhavna: How dare you say this! (laughs)

Your sister also commented recently that you are short-tempered...
Sambhavna: They have seen me doing all this on screen. I don't behave like I did in Bigg Boss-- but I am quite a fun-loving person off screen.



Image Source: APH Images

Avinash, where are you taking this fun-loving person for honeymoon?
Sambhavna: I want to go to Thailand.
Avinash: I had three other places in mind, but I know it will be Thailand in the end.
Sambhavna: Why are you even talking about those three places then?

Sambhavna, you are proving to be a dominating wife from Day 1...
Sambhavna: Not at all. Women do have a final say at home, don't they?

Babies?
Sambhavna: (Screams) Whaaat! We haven't even discussed of starting a family. We have pets at home and they are our babies for now.