Suyyash: I will take Kishwar out for a holiday abroad and propose to her
Here's the latest update from the world of Bollywood. We bet you wouldn't want to miss this. Read on for details... The TV actor spills details about his forthcoming wedding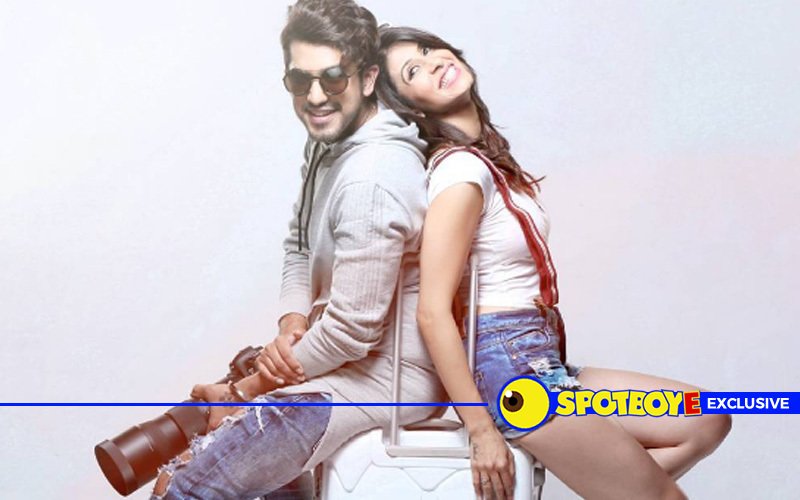 The couple has been together for five-and-half years now and they still look so much in love. Suyyash never lets Kishwar out of his sight. With a camera in hand, he has found himself a perfect muse – his girlfriend, Kishwar. Suyyash is planning to propose to her soon! Isn't that exciting?
Let's find out more.


So, when is the wedding?

It's been five-and-a-half years since we are together and we are still going strong. We are getting married this year for sure.

Has the wedding plans started?

I am not sure about the date or month, but this year pucca. Let the weather cool down a bit or else we will be sweating at our own wedding.

Do you and Kishwar discuss about the wedding?

We have spoken to our respective families and things are sorted. Whenever we get time, we do talk about it. All this while we had been busy with the BCL practice and then we were also travelling.

What does Kishwar have to say about the wedding?

She doesn't discuss like all those typical girls –
mujhe yeh pehen na hai, mujhe yeh chahiye, wo chahiye
! She is a much matured person. But I think, once we get into the mood, she will also start behaving like that. Karna bhi chahiye, every girl has her wedding dreams and plans.

Is it going to be a destination wedding, aajkal fashion hai…

No, no! It has to be Mumbai because all the friends and our families are here. We want everybody to be present at our wedding.

Has Bigg Boss made you stronger as a couple?

We had this question in our mind before we decided to participate in the show. Many people told us that couples break up once this show ends. But for us, testing our relationship by living together in the same house was very important. We wanted to see how we will react when someone says something against me or her and how strong we are when we are together. So we proved our point by standing strong against all odds. And yes, Bigg Boss has definitely made us stronger.

Hearing all the break-up stories in 2016, doesn't it scare you?

We have been seeing so many break ups happening around us, of course it is scary. But with the relation we share, I feel it is stupidity not to take the plunge just because something bad might happen in the future. It is better that you take the step now than regret later. One should live in the moment. I know for sure that I can't find a girl better than Kishwar. I am ready to take the big leap.


As a person how would you describe Kishwar?

She gives me my space and trusts me completely. We are good friends more than a couple. We are very strong emotionally and we are loyal to each other.

Photography is your passion: Kishwar has often said that she is a bad poser...

She can't really pose per se, but I feel with me she is very comfortable. Hence I know in which moments to click her picture. I shoot accordingly, you know.

Doesn't Kishwar get irritated when you are always clicking pictures?
No! Because she knows that photography is something I love. She never gets irritated. Well, I compensate by clicking her good pictures and I am always there with her. So, I believe she has nothing to complain about.

Since both of you travel a lot, do you have any honeymoon destination in mind?
Both of us haven't been to Australia, so that's one place on our mind at the moment. But don't know if that'll be our honeymoon destination. Nairobi, Taiwan and USA are the places already lined up. Kishwer wants to see a White X'mas but I am not sure we will visit such a place because she catches cold very fast; I am sure she will only end up wearing lot of warm clothes and not stepping out of the room.

Have your parents always been comfortable about your relationship with Kishwar?
Kishwar's parents have always been very cool about us. Her mom is super cool. But my mom is a typical Punjabi mom and I can't take that right away from her. Every mother has the right to choose a girl for her son. Initially, things weren't that easy. But, when they got to know, they started hanging out with us, since then things have been awesome. My sister Shruti and Kishwar are the best of friends, my dad also loves her, and my nephew has already started calling her 'mami'.

Are you in a live-in relationship with her?
Noooooooo!


Tell us any irritating habit of Kishwar…

It's not just her habit, it's our habit. We both snap a lot. But now we have learned to balance situations. If one of us snaps, the other person keeps quiet. And I never sleep over a fight. We talk and sort it out. Every day is a new day.

What's the most romantic thing you have done?

I think I am the most romantic person when it comes to expressing love. If you have seen our song video-- Khushnuma, that's exactly the way I gave her the promise ring. She took a lot of time to realize what had happened. It was a very sweet moment for both of us.


Have you proposed to her yet?

Not yet but I will of course. Rithvik (Dhanjani, TV actor) and I were just discussing the other day about how to propose. He has very creative ideas, but I couldn't figure out anything. One thing I know is: I will take her out of India and propose to her.

What's on the singing front?

Prince (Narula) and I have formed a band -- Jai Veeru (that's the name we were given inside Bigg Boss house) and we are coming up with a new song very soon. We are also collaborating with Punjabi singer, A-Kay.


Image Source:
instagram/suyyashrai