Pratyusha Banerjee's Mother's Interview: 'My Daughter Had Told Her Aunt That Rahul Raj Singh Is A Psycho And Beats Her'- EXCLUSIVE
Pratyusha Banerjee committed suicide on this day, 5 years back. We reproduce her mother's interview, which we did in May 2016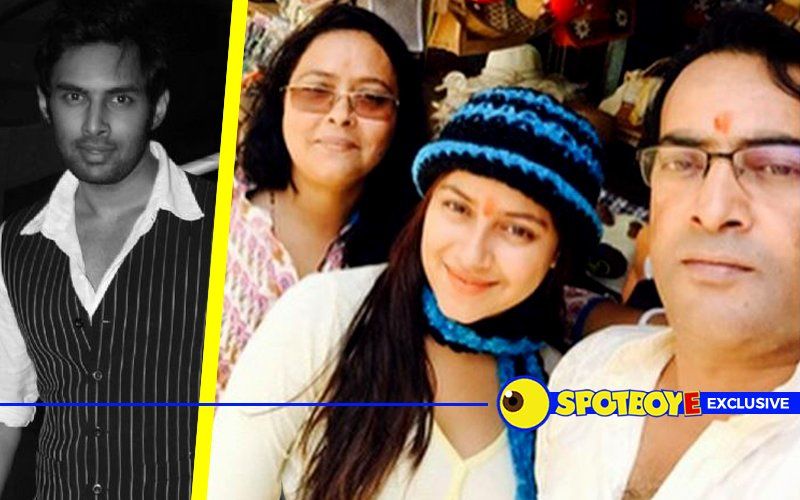 TV actress Pratyusha Banerjee's parents can't forget this day, no matter how many years pass by. The actress committed suicide on April 1, 2016 and today is her 5th death anniversary.
We reproduce her mother, Soma Banerjee's interview, which we did in May 2016, when she was in Delhi to meet the then Union Home Minister Rajnath Singh.
You asked the Union Home Minister to transfer the Pratyusha case to the CBI. Elaborate.

Rahul Raj Singh should have been behind bars. Pratyusha's father and I are very disturbed that he is roaming free.


What makes you think that Rahul is guilty?

The police is in possession of Pratyusha's last conversation with Rahul on the phone. They have got the recording. That says it all.


What does it say?

My daughter is telling Rahul: Tumne meri zindagi barbaad kar di, tumne mere parents ko marne ki dhamki di, tumne mujhe dhoka diya, dekho main kya karti hoon (You wrecked my life. You threatened to beat up my parents. You ditched me. See what I do). And Rahul hung up on her.

Did she tell you that her relationship with Rahul had gone downhill?

We were not talking since the past few months, but I did get a few calls from her a few days before her death. But let me tell you that she had told her aunt who stays in Ambernath very clearly that Rahul is torturing her, she is a victim of physical violence, and he is a psycho (pauses). But I think she must have felt that things will be fine again.

Did she tell you that she underwent an abortion?

No, she did not.


You were staying with them in Kandivli. Why did you go away?

I left Mumbai in January simply because Rahul had started staying with us. He said he would leave soon, but that day never came. Mind you, he used to behave very badly. It had become very difficult for me to stay any longer.

What was he doing?

He used to direct Pratyusha to do things against me. Pratyusha was also feeling very odd, in fact she even asked me that how long I will continue staying

Rahul says that Pratyusha's balance money has all got transferred in your account...

He is talking rubbish. Pratyusha and I had a joint account from her first day in the TV industry. We both had Debit Cards and we both were using the same account. After Balika Vadhu, she didn't get much work for 7-8 months. Even after that, she didn't get work consistently. But she had to maintain her lifestyle (pauses).


Please continue...

She was our only child. Why would we take her money? Since November (2015), Rahul was handling all her transactions. And mind you, there were transactions of at least 40-60 lakhs since then. The bank was even informed to delete my number from their 'Notification of Withdrawals' list. This was all done at the behest of Rahul. I saw him making her sign on many cheques. I didn't bother what was happening. I had come to terms with the fact that she has decided to spend the rest of her life with him.

Rahul says she was in high debts..

Not too many. But yes, she stopped repaying her loans in June last year. There was a gap. Then, they went on to do Power Couple to bring their life back on track.

And then?

Nothing then, but I strongly believe that Pratyusha was murdered. My daughter was a very strong girl, she cannot commit suicide.


Are you saying that Rahul murdered your daughter?

Aise bol toh nahin sakte lekin uska haath toh hai. Rahul has a girlfriend Saloni Sharma and they both tortured her very badly. Once, Saloni had hit Pratyusha so badly on the road that she went crashing on the footpath. Shopkeepers in that area know about this incident. It happened near Pratyusha's house.

Do you suspect Saloni's involvement too in the murder?

Yes.

What were your first impressions of Rahul?

He put up his best front in his initial days with us, but later he never got along with my husband.

Did you like it when he started staying with Pratyusha and you in Kandivli?

Definitely not, but what can you do if someone imposes himself on you? I kept asking him when he will move out, but he kept procrastinating.

Did Pratyusha and Rahul share the same room when you stayed with them in Kandivli?

Obviously. I hated it, but as I said what could I do? What can a mother do if daughter has become an adult and taken a certain decision which is not to her liking? Either she withdraws herself from the scene or continues to hover around for imparting protection. Think of it, I did both.


What exactly happened when you got the news about Pratyusha on that ill-fated day (

Apr 1

)?

Pratyusha's uncle called me in Jamshedpur to say that something has happened to her. I called Rahul. Do you know what he told me? He said: 'Haan, haan, pata nahin'. I had to then call up Pratyusha's assistant and only after that, Rahul took my call to say: 'Pratyusha nahin hai'. Imagine! Bas, phir toh meri duniya hi ujjad gayi, sab kuch khatam ho gaya (I was devastated. My life had got ruined).

Rahul has accused Kamya of borrowing Rs 2.5 lakh from Pratyusha, which he says Kamya hasn't paid till date?

He is lying. Our charitable trust had sponsored her cricket venture.

Have you met Saloni?

Never.

Then how can you say that she was involved with Rahul while Pratyusha was in his life?

I could make out from the way that Pratyusha was worried in her last days. Pratyusha's driver Javed has told the police that Saloni had tried to throw glass on my daughter. Besides, let me tell you that he was with Saloni when he disappeared after keeping Pratusha's body in the hospital. It's so sad that parents have to become mere spectators in their children's lives when the children grow up.


Continue...

And how can you forget that he cheated several ladies of their hard earned money promising them that they would get them roles in movies? He even debarred my daughter from talking to many of her friends, he told her to cut them off from her life. Pratyusha was subjected to severe torture from Rahul. Her maid will testify.
I had even told Pratyusha that he is not the right man for her, don't get married to him, he has had a wife prior to you. She replied
: Arre mom, that shaadi lasted for only few days. Last days mein toh I told her that I need to return to Mumbai, bahut hulchul ho rahi thi.

Rahul says your daughter had a drinking problem...

Nonsense. He used to force her to drink. Aur pata nahin woh drugs se bhi kya kar raha tha. Kitni neech soch hai uske (God knows what he was doing with drugs when he was with my daughter. He is so crass). He doesn't fear God.
Sab khatam ho gaya hamare liye. Ab toh neend bhi nahi aati aur na aayegi jab tak we get justice.


Image Source: instagram/iamprats & indiforums