Tinaa Dattaa Explodes: "Mohit Malhotra Is Frustrated, Says His Character Demands He Keeps His Hand Here And There"
Here's Tinaa Dataa's detail interview of how Mohit crossed the limits of decency. In a detailed accusation, the actress explains how she tolerated until the water came up to the neck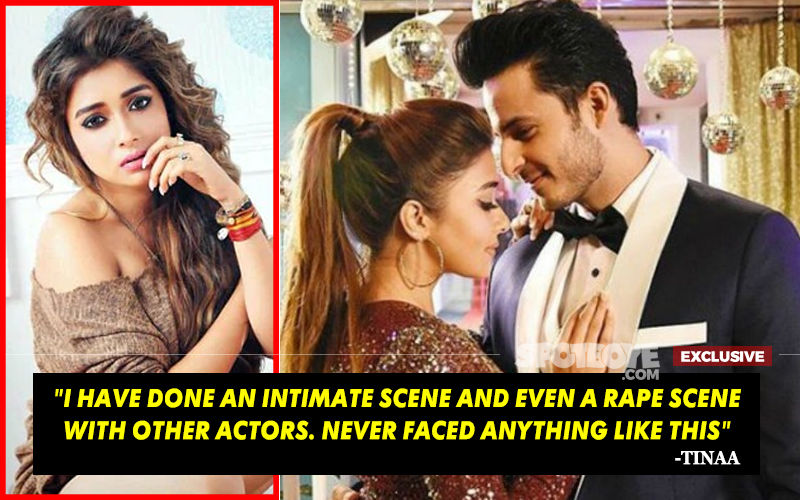 This morning, we brought you a shocking story of Tinaa Dataa breaking down on the sets of Daayan because Mohit Malhotra was allegedly getting too close to her,
against her wishes. We had an EXCLUSIVE chat with the actress and she was extremely frank and forthcoming. Read on...
Sorry to bother you as I know you are under duress, but if you could tell us what exactly happened between Mohit Malhotra and you?
There are some people on set who want to behave as hoooligans. Mohit Malhotra is one such. He had been warned once, but he did not change. In fact, things became worse. I spoke to the Creative Head too.
That he is getting too close for comfort?
Yeah.
And?
He would say that his character demands that he should keep his hand here and there. There was a big showdown on the set. It happened at Klick Nixon Studios, when were shooting for a hospital scene. Some media people were also there and they saw this. And you know what?!
What?

Some people are not ashamed to go out and say that we are best friends. Yesterday, he forced me to shoot a video with we two standing together to show that all is well between us, and then circulated the video in the media. Imagine! This is legally and ethically so wrong. He is doing all filthy stuff.
How long have you been bearing this?
It was going on since a long time. I went public only after it became so much that I couldn't take it anymore.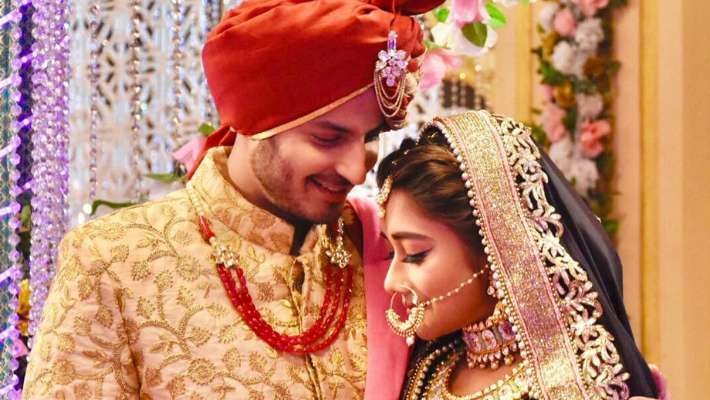 Mohit Malhotra And Tinaa Dataa Still From Daayan


Why didn't you speak to Ekta Kapoor?
What happens is if you are doing a show, you don't want things to escalate so much. But now he is going all out and making things dirty. I have to work with him everyday. Why not sort it out I always thought and take the show forward?
What happened during the hospital scene?
(Goes quiet).
Did you tell him ever directly to back off?
Of course. I made it loud and clear. I have done rape scenes, romantic scenes and intimate scenes before in my career, but never faced something like this with anyone before. He is so annoying. He is so frustrated.
Nobody gives excuses like him that woh scene mein bahek gaya tha. He can't say he got carried away. He was obviously doing it deliberately. It is so clear if a girl is uncomfortable, you can understand from her body language. Shouldn't you reciprocate and make her at ease instead? I remember working with Hiten Tejwani, what a gentleman he is! Whenever he had to touch me, he would ask if I was okay with that. I remember once he had to lift me and he did it with so much grace.
So, you saying that Mohit is taking advantage of the situation?
Yeah. And this is so wrong.
You want him out from the show?
Nothing like that. As I said, I brought it up only because it had become too much. Let the production house decide (Balaji Telefilms) how they want to handle this, here onward.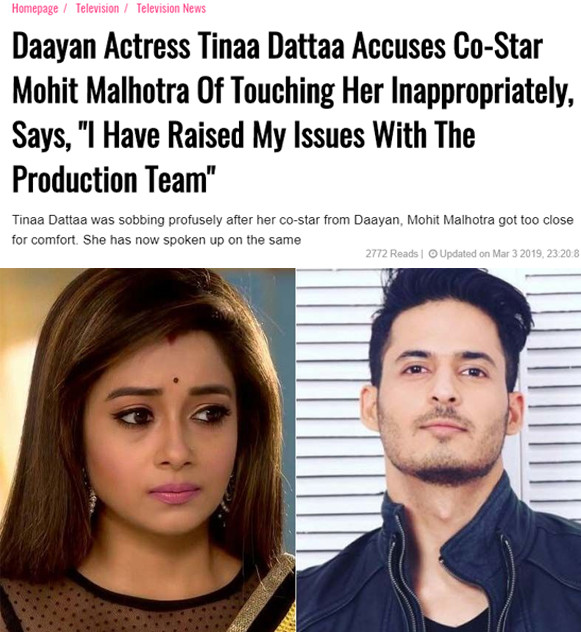 Image Source:- Instagram/dattaatinaa, iwmbuzz