Vikas Gupta Gets Emotional: My Ardent Fan Divya Died In Coma. I Want To Meet Her Family
Bigg Boss 11 contestant Vikas Gupta is shaken up since he heard about his fan Divya having passed away. He talks EXCLUSIVELY to SpotboyE.com about Divya and his desire to meet her family
Yesterday, we brought to you the tragic story of Bigg Boss 11 contestants, Hina Khan and Vikas Gupta, losing a fan to a tragic accident. Divya, the face behind the telly stars' fan pages, breathed her last on Sunday.

Divya was one of the few fans who was constantly in touch with the two TV stars. Hina and Vikas posted heartfelt message on Twitter.


We got in touch with Vikas last evening to know more about the demise:

Excerpts:

What happened to Divya?
I got to know from fans on Twitter that Divya is no more. Sometimes what happens is that we don't know everything because we have never met each other. We interact through Ids which have been created on social media.

A few pages allege that it's a 'story' built to gain attention...

I don't feel so as I was told by fans last week that she met with a serious accident and was in coma battling for life. The story may be dramatic at the face of it, but if you look at it logically, Divya was active on Twitter until recently and suddenly vanished. Soon after, her friends told me that she is no more. It can't be fake.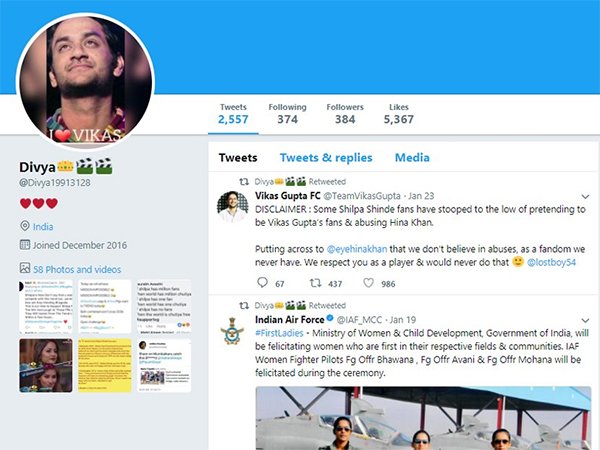 Divya's Fan Page For Vikas Gupta

Divya was one of your special fans. Why didn't you guys meet each other?
We do not have direct communication with fans. But the fact that she will not be there anymore for re-tweeting, supporting, giving her opinions and discussing the issues that matters in my life is unbelievable. I really feel bad.

What if her family tries to reach you?
I would like to meet the family. I would love to know about Divya as a person. In fact, I am trying to find her photographs but have not been successful till now.



Image Source: Twitter/ Vikas Gupta FC