'Amber Heard Is A TERRIBLE Person' Says Model Ireland Baldwin As She Speaks Up In Defense Of Johnny Depp-SEE POST!
Ireland Baldwin called Amber Heard a 'disaster human being' who used her 'very womanhood to play the victim and turn the world against the man'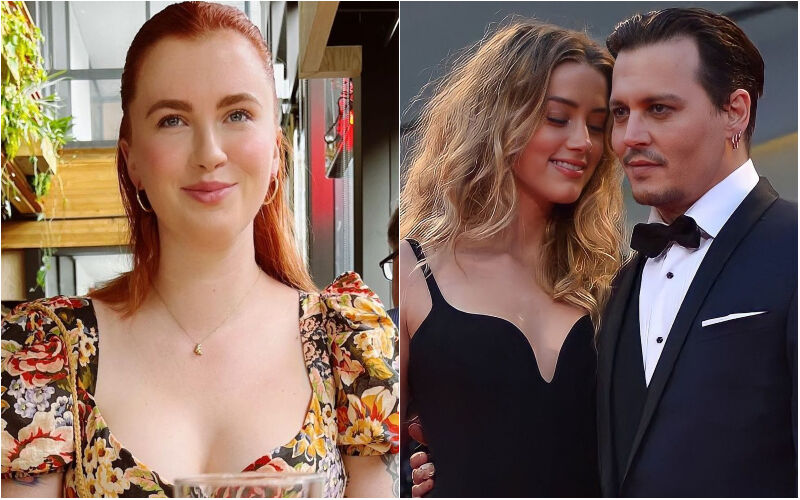 Ireland Baldwin recently called out Amber Heard via Instagram as she shared a post in defense of Johnny Depp amid the actor's on-going $50-Million defamation lawsuit against his ex-wife.

Baldwin's post comes in light of the audio clip that was played in court where Heard admitted to hitting the Pirates of the Caribbean star as she posted it on her Instagram.
The model and daughter of actor Alec Baldwin called Amber a "terrible person" as she shared a screenshot of a tweet featuring the clip of Johnny Depp sitting on the stand while listing to the audio clip being played in the courtroom.
Sharing the same, Ireland added a long note in support of the 58-year-old actor and said, "The thing is, I know women who are exactly like this. They are manipulative and cold and they use their very womanhood to play victim and turn the world against the man because we live in a society where it's cool to say men are all the worst and blah blah f***ity blah."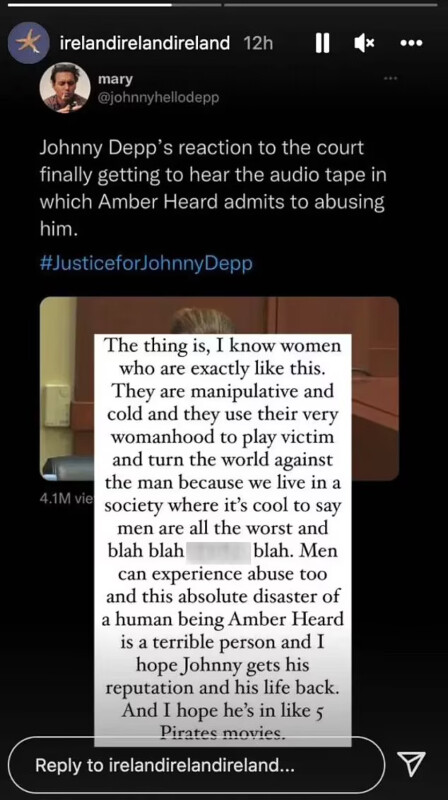 She added, "Men can experience abuse too and this absolute disaster of a human being Amber Heard is a terrible person and I hope Johnny gets his reputation and his life back. And I hope he's in like 5 Pirates movies."
Ireland's statements have given new hope to Depp's legion of fans and many expressed their support for the actor following the latest tweet.
Meanwhile, Ireland has also posted a TikTok - originally posted by j4jdeppotato - with a swirling eyes emotion of someone exposing the Milani's All In One Correcting Kit Heard, 34, claimed she used to cover up alleged injuries was actually released until after the pair had broken up.
Johnny Depp and his ex-wife Amber Heard are currently embroiled in a court battle which is being termed the court drama of the decade. The trial, which is still underway in Virginia, is attempting to determine if a 2018 Washington Post essay written by Heard, in which she accused the actor of domestic abuse, defamed Depp, 58.
Depp has continuously denied her allegations against him and is seeking at least $50million in compensatory damages and a punitive award of at least $350,000, along with attorneys' fees and court costs.
Image Source: Instagram/irelandirelandireland/hergun1yer