'Cheap Thrills' Singer Sia Poses With Mystery Man Post LA Football Event; Internet Suspects, It Is Her New Boyfriend!
Sia was seen standing close to her 'mystery man' as they attended a Los Angeles Football Club event together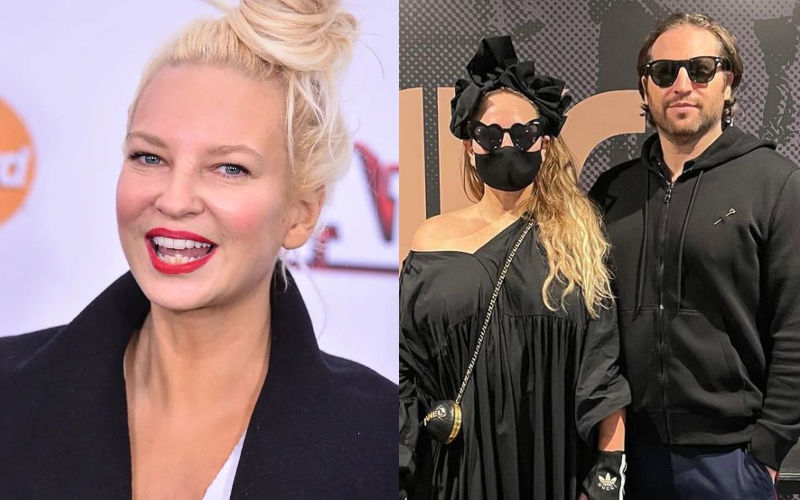 'Cheap Thrills' singer Sia has been making waves across social media with her vocals. Now, the ace singer has been decorating the headlines for her personal life as she shared an image posing with her alleged beau on a social media post. Sharing the picture on Saturday, October 22, Sia was seen standing close to her 'mystery man' as they attended a Los Angeles Football Club event together.

The 'Unstoppable' singer is often seen covering her face during public expeditions, however, this time she ditched her trademark look (bangs and a black mask paired with black heart-shaped shades for the eyes). Instead, she kept her hair back with a band covered with puffy black ribbons. She was seen sporting an oversized black maxi dress and left her right shoulder bare for the event. Sia finished the look with a crossbody bag and black and white gloves on her hands.
Sia's alleged boyfriend, on the other hand, went simple as he styled casual navy blue track pants along with a black hoodie to pair with the singer. He can be seen sporting a slicked-back hairdo and styling it with black sunglasses.
Meanwhile, Sia shared another picture from her outing with her 'mystery man'. In the second post, she was seen posing behind a piano while triumphantly stretching her hands in the air. She captioned the post, "Pride forever! #lgbtqia+ #LAFC #22 also just finished my next album! A great day all round!"
Interestingly, the identity of Sia's male companion is yet to be disclosed and the singer hasn't addressed the relationship so far. However, this isn't the first time, the rumoured couple was sighted.
Back in June, they were spotted attending the Bored Ape Yacht Club's second Annual ApeFest at New York City's Pier 17.
The 'Chandelier' singer twinned a multi-coloured outfit with her male companion as they posed with a group dressed in all whites in the surfaced picture. Another image from that day found the pair lovingly posing together as they wrapped their arms around each other, reported DailyMail.

The rumoured couple was also spotted attending the premiere of 'West Side Story' in New York City in December 2021.
Meanwhile, the details of Sia and the mystery man's first encounter or where the relationship is heading is still a puzzle.
According to the outlet, during an interview on GQ, Sia stated, "I've decided to be single for the rest of my life and I just adopted a son, I don't have time for a relationship." Although, her PDA moments with her male counterpart defy the January 2020 statement.
For the unversed, Sia was previously married to Erik Anders Lang and they tied the knot in Palm Springs, California in August 2014. The marriage didn't last long as the singer filed for divorce after two years.
Image Source: Instagram