Adele's Reaction to Harry Styles beating Beyonce To Win Album of the Year Award At Grammys 2023 Leaves Twitter Divided-DETAILS BELOW!
Twitter users have claimed that Adele seemed unimpressed with Harry's win over Beyonce in the top category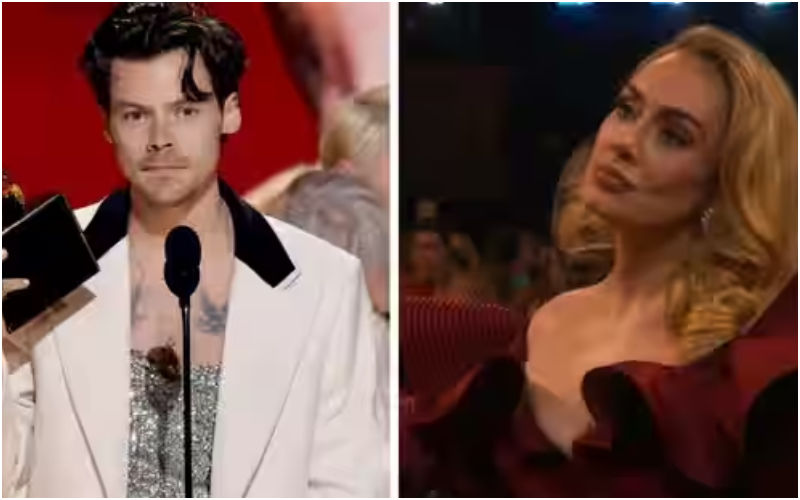 Grammy Awards 2023 saw a dramatic outcome as Harry Styles won the top award of Album of the Year for Harry's House and he has taken over social media ever since. In the clip, Lizzo also captured Adele's reaction, who reported appearing flustered when the camera was pointed at her face.

Now, Twitter users have claimed that Adele seemed unimpressed with Harry's win over Beyonce in the top category.
In the viral clip, Lizzo captured the exact moment when Harry won Album of the Year for his album Harry's House.
Initially, the singer seemed shocked at having his name called out, and before he approached the stage, he hugged his collaborators and Lizzo. While Harry collected his Award at the Grammys, Lizzo continued capturing the reactions of everybody, and later zoomed in on Adele's face who was seated right beside her.
Adele looked unimpressed and shouted, "Why are you filming me?" Lizzo giggled and then turned the TikTok onto the stage.
In another viral video, a member of the audience zoomed on Adele as Harry won the Album of the Year award. The clip featured that Adele neither stood up, nor clapped like everyone else.
The videos have raked several comments on the microblogging that took note of Adele's reaction.
A comment read, "The funny part is we all know she was rooting for Renaissance, not 30." Another wrote, "She looks so disappointed it makes me so sad seeing her like this, God." Another one said, "The fact that we all know she was more upset over Beyoncé not winning than her losing."
Meanwhile, fans also opined that this hatred is not needed and Adele had a normal reaction to the win.
"I don't understand all this talk about Harry, not deserving it. Way too much rage and hate." wrote one. Another comment read, "Would you chill out? His album was absolutely fantastic and he has a massive year ascending from pop star to cultural icon. He absolutely *deserved* it even if you think someone else's album was better."
Harry's win in the category came as a surprise to many as most expected Beyoncé to win the award.
Image Source: Instagram