OMG! Rakhi Sawant FAINTS Outside Oshiwara Police Station While Talking To Media After Arrest Of Husband Adil Khan Durrani-See VIDEO
Rakhi Sawant fainted due to exhaustion outside Oshiwara Police Station while talking to the media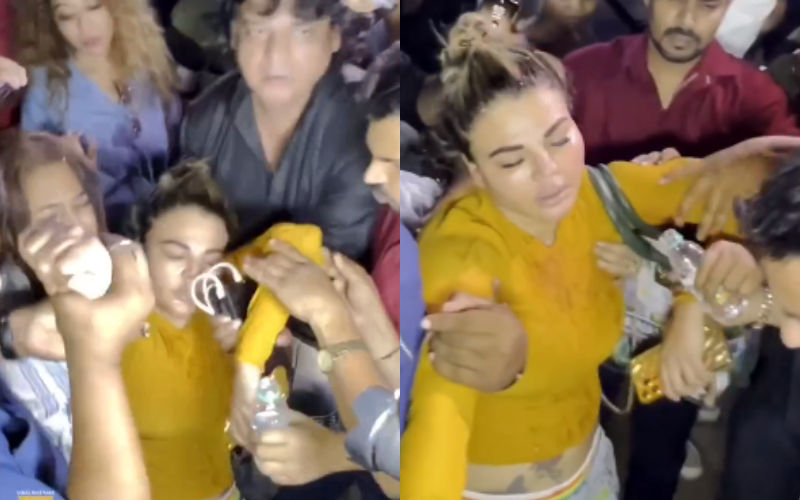 Rakhi Sawant is going through a difficult time on the personal front. She recently filed a case against her husband Adil Khan Durrani at the Oshiwara police station, accusing him of infidelity and domestic violence. On Tuesday, Sawant suddenly fainted while talking to the media outside the Police station. The actress reportedly fainted due to exhaustion and mental trauma she has been undergoing for the past few days. Soon after Rakhi fell on the ground, she was immediately taken to her car where she was made to sit to catch her breath.
On February 7, Adil got arrested on Rakhi's complaint and was taken into custody by the Oshiwara police in Mumbai. Rakhi blamed Adil for her mother Jaya Bheda's death and even accused him of stealing her money and jewellery from her flat.
Sawant had earlier told the media, "He (Adil) came to beat me at home in the morning, I immediately called the police. He frequently visits my home and gives threats. Even today he came to beat me at home, and I was scared. He said that you defamed me in the media." Reportedly, the Oshiwara Police filed the FIR under IPC Sec 406 and 420 against Adil Durrani. He will be produced before the court on Wednesday.