Akshay Bardapurkar Gets Felicitated By Maharashtra's Minister Of Cultural Affairs Sudhir Mungantiwar; Says, 'Proud To Represent Three National Award Winning Films'
Akshay Bardapurkar, whose production ventures won national awards, was felicitated by Maharashtra's Minister of Cultural Affairs, Sudhir Mungantiwar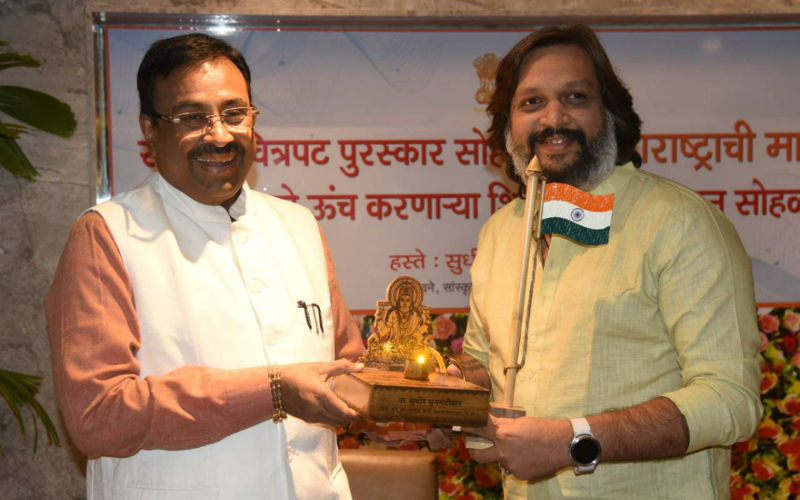 The founder of Planet Marathi OTT, Akshay Bardapurkar, was felicitated by Maharashtra's Minister of Cultural Affairs, Sudhir Mungantiwar. A grand ceremony was organised to reward the national award winners from the state. The felicitation was held to acknowledge his win at the 68th National Film Awards.
The Marathi filmmaker and national award winner opened up about the honour bestowed upon him. He shared that it was an exhilarating experience to support regional cinema, and he sees this recognition as a win for the entire Marathi film fraternity. He said, "I am proud to represent not one but three national award-winning films. It has been an unstoppable, exhilarating experience creating and supporting exceptional Marathi cinema and content. I am grateful to our Minister of Cultural Affairs for acknowledging the win. I see this as a win for the entire Marathi film fraternity."
Akshay Bardapurkar's 'Goshta Eka Paithanichi' received the Best Marathi Film and his other film 'June' received a Special Jury mention for its actor Siddharth Menon. He will also showcase another gem 'Sumi' which won 2 national awards on Planet Marathi OTT.

Sharing his insights on the success and future of the regional industry of Maharashtra, Akshay says that OTT has played a huge role in the success of regional cinema and has introduced it to non-language speakers.
Requesting the government support OTT content creators and increase their subsidies, he shared, "It is my humble request to the Govt. to support us with subsidies for OTT content, besides theatrical releases. As creators we make no compromise on the quality of content for OTT and it is produced on par with theatrical films. During the pandemic, since it was not possible to release films in cinema houses, OTT came to our rescue and opened more opportunities for creators. The subsidy will encourage more regional players to create quality content for OTT and help us take better Marathi content to the world."
Image Source: Instagram