Amitabh Bachchan Meets Cristiano Ronaldo, Lionel Messi Ahead Of Friendly Blockbuster Match Between PSG And Saudi All-stars-WATCH
The football match ended in favour of PSG, as Lionel Messi and his teammates had a close win by 5-4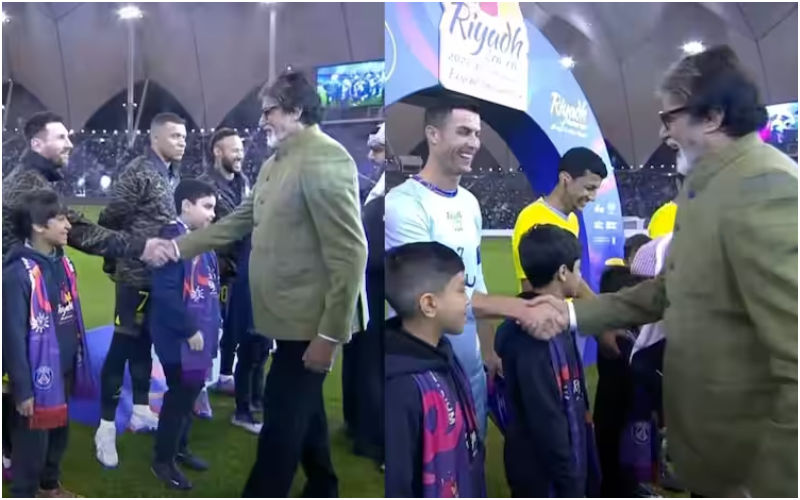 Lionel Messi's club PSG and Cristiano Ronaldo's Saudi All-stars played a much-anticipated football match on Thursday and it certainly was a sight to behold for the Indian fans. Interestingly, Bollywood superstar Amitabh Bachchan greeted the two greatest footballers of all time before the match and a video of the same has been doing rounds on social media.

India is known to be a nation which has a massive fan following of both Argentinian and Portuguese players respectively and watching them on the big screen with the Bollywood legend was a sight for sore eyes.
Many took to their Twitter handles and applauded the Indian superstar for his appearance during the match.
Check out the videos below:
Cristiano Ronaldo was recently signed by Al Nassr, and he represented a combined team along with his club's arch-rival Al Hilal as 'Riyadh Season Team' for the Riyadh Cup.
Lionel Messi, on the other hand, has been making waves across the globe following Argentina's win at the FIFA World Cup 2023.
The football match ended in favour of the French side, while Messi and his teammates had a close win by 5-4. The Argentinian scored the opening goal while Ronaldo in his very first match in Saudi Arabia scored two goals. Other goals for Paris were scored by Sergio Ramos, Marquinhos, Kylian Mbappe and Hugo Ekitike.
South Korea's Jang and Al Nassr's Anderson Talisca scored the other two goals for the home side.
An NDTV report suggests that to promote Thursday's friendly, Turki al-Sheikh, an advisor at the Royal Court and head of Saudi Arabia's General Entertainment Authority, announced a charity auction for a special ticket that would come with perks like photo opportunities with players and access to the locker rooms.
The bidding started at 1 million Saudi riyals ($266,000) and the auction closed at 11:30 p.m. local time on Tuesday. Sheikh then announced on Twitter the winning bid of 10 million riyals ($2.6 million) had come from Mushref al-Ghamdi.
"Congratulations, you deserve it, and may God reward you with good," Sheikh said.
The proceeds from the auction are due to go to the national charity campaign known as Ehsan.
Image Source: Instagram