Barcelona Fan Deyvi Andrade Caught Kissing A Girl On Cam During Half-Time; Says He Was Cheating On His Girlfriend
Recently, an FC Barcelona fan was caught kissing a girl next to him on camera during a match and looked embarrassed after realising he has been filmed. As the video has been making rounds on the internet ever since reports state that the man identified as Deyvi Andrade has accepted he was cheating on his girlfriend and pleads to her social media to forgive him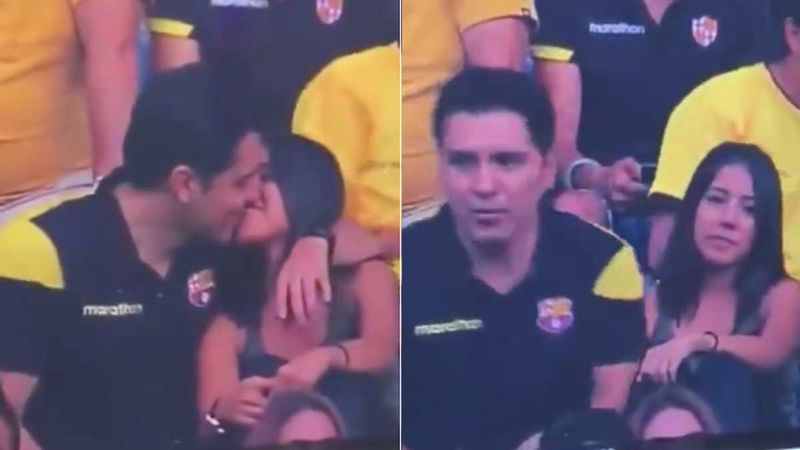 Like they always say, if you want to get cosy, you might as well do it behind locked doors. Unfortunately, identified as Deyvi Andrade, the football fan was too eager on locking lips with his female companion at the match and was caught red-handed in the most awkward situation. In a video that has been making rounds on the internet, Devyi is seen kissing the girl beside him in the stadium and looked embarrassed after releasing he has been filmed. Now, reports state that Andrade has accepted he was cheating on his girlfriend and pleads to her social media to forgive him.
During the half-time of between Barcelona SC and Delfin in Ecuador on Saturday, Devyi's cute PDA was captured on cameras and later went viral on the internet. Ever since, as per the man identified as Deyvi Andrade by Metro, the football fan took to social media to defend his actions to everyone slamming him. As the fan looked ashamed after kissing and immediately took off his hand over the woman beside him on releasing about the cameras, Andrade questioned everyone blaming him if they would react in the same way if a woman was in his place, doing it. Moving on, Deyvi fought hard defending himself as many made fun of him on social media. Also Read:
Mia Khalifa Wishes Her Fiance Robert Sandberg On His Birthday, But Is Unhappy With The Blurry Picture
Check the viral video below:
Andrade later went on to accept that he has a girlfriend and requested her to forgive him for his mistake. As per a Mirror report, Deyvi pleaded to his partner to be back together. He wrote, "I want to go back to living these moments by your side," requesting her to forgive him. Apologizing to his girlfriend on social media, Deyvi said, " I am really sorry and this is why I've come out in public to comment on this nonsense, so I can ask you to forgive me," and explained to her that he is confused but wants her back.
Meanwhile, as Deyvi Andrade has admitted his mistake after the incident went viral on social media, he also received a lot of flak from many women around the world. Later, Andrade confessed on social media that this incident and the viral video clip has destroyed his relationship completely.
Needless to say, the man got what he deserved, but unfortunately has been stuck in humiliation for life.
Image source: Twitter/ @NRiveramelo