Bhojpuri Singer Priyanka Singh CRIES On Stage After A Rude Anchor Snatched Her Mike To Stop Her Mid-Way; Netizens Say 'Shame On Her
Bhojpuri Singer Priyanka Singh breaks down in tears after an anchor mistreated her on the stage!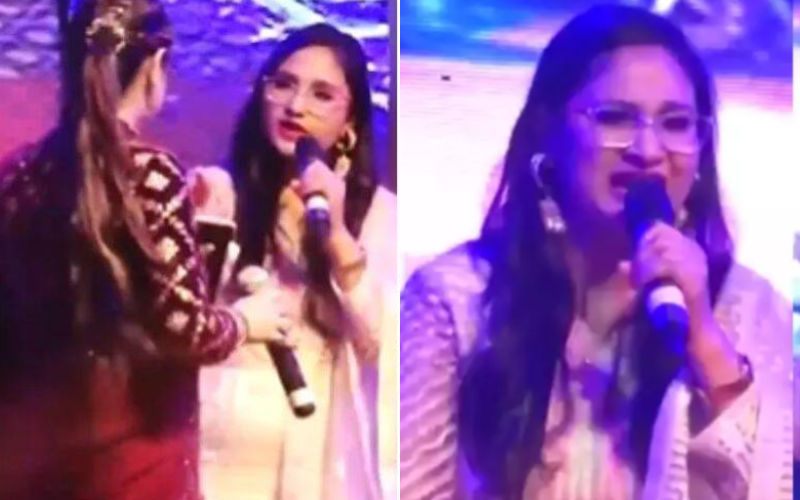 Popular Bhojpuri singer Priyanka Singh broke down in tears after an anchor mistreated her at a recent event in Bihar's Thawe Mahotsav. In the video that has gone viral, Singh could be seen crying on the stage after an anchor named Rupam Trivikam behaved rudely with her in an attempt to stop her mid-way. The singer requested the anchor for just two minutes to talk but she ignored her plea and snatched her mic to invite some dignitaries on stage.
This insensitive behavior of the anchor made Priyanka burst into tears. The singer slammed the district authorities saying, "I am not dying to sing. You called me here to perform so you cannot disrespect me like this. The district administration is wrong. I had a very bad experience at the Thawe Festival." The video of Priyanka being mistreated at the event has gone viral on social media and netizens have come out in her support. Many users condemned the incident and lashed out at the anchor as well as at the organizers. Even Bigg Boss OTT fame and dancer Akshara Singh took to Twitter to criticize the act.
She tweeted, "Such a degenerate treatment of an artiste is highly condemnable. Fortunately, God gives birth to someone as an artiste. The pinnacle of indecency. To say the culmination of indecency in the gathering of a civilized society, see how these people are showing a spectacle of their own influence."
As reported by Times Of India, Priyanka was stopped on the stage due to a lack of time. The source told the portal, "After this, there was resentment among the people against the district administration. Seeing the progress of the matter, DM Dr Naval Kishore Chaudhary himself went and tried to persuade Priyanka Singh."
For the unversed, Priyanka Singh is a popular name in the Bhojpuri industry and is widely known for her songs 'Chhalakata Hamro Jawaniya Ye Raja' with Bhojpuri superstar Pawan Singh.