Bill Gates' Daughter Phoebe, 19, Faces Brutal Racial Attacks For Her PDA-Filled Picture With Rumored Boyfriend!
Bill Gates' Daughter Phoebe introduced her new boyfriend to the world in an Instagram story with two heart emojis on July 6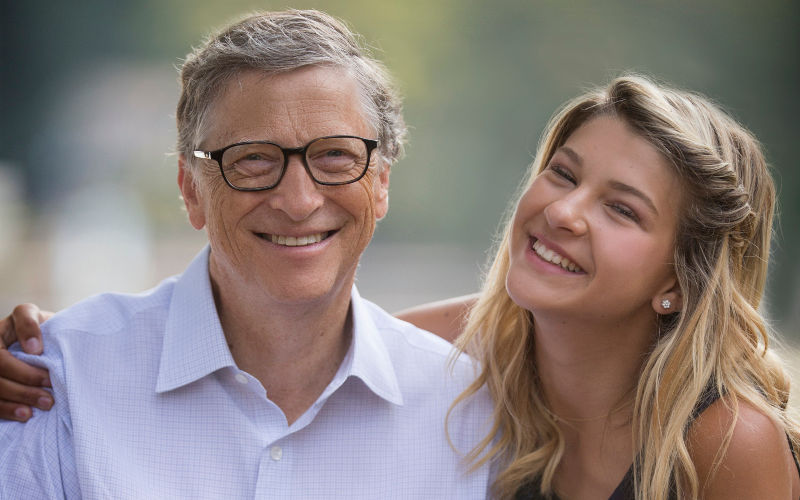 Bill Gates's youngest daughter Phoebe has drawn a lot of flak from the internet. She has been receiving racial attacks by netizens shortly after she posted a picture of her rumoured boyfriend who appears to be African American.

In the picture, the young and unidentified man can be seen planting a kiss on Phoebe's cheek.
Earlier this week, on July 6, the Billionaire's young daughter introduced her new boyfriend to the world in an Instagram story with two heart emojis.
The young man's identity has not been confirmed, but several reports suggest that he is rumoured to be dating the 19-year-old Phoebe, who is one of three children of the now-divorced couple, Gates and Melinda, but didn't reveal his name.
The PDA-filled picture has garnered a lot of attention, along with racial backlash by taking a dig at dating outside her race as well as her social class.
One of the users wrote, "When Phoebe Gates hands her black boyfriend a blank check…" Another said, "When Phoebe Gates boyfriend get added to the joint checking acct".
Meanwhile, another claimed that the teen's late grandfather wouldn't be okay with this relationship.
The user commented, "Phoebe Gates ' grandfather, who was a #eugenecist, is turning in his grave, no doubt. #eugenics #WilliamGatesSr #racist #PhoebeGates #PlannedParenthood". While another user indicated her father will not be happy by saying, "Bill gates bout to make a whole new virus just to end this relationship. Who would've thought that with the ongoing climate crisis Bill Gate's daughter would partake in smoking coal. #interracial #date #billgates #phoebegates #climatechange".
However, a section of users sided with the rumoured couple and celebrated the news of their union while congratulating them.
One said, "Not mad at all!! Congrats to them both!! Love is love." Another user pointed out, "Why does a planet of social media bigots think a young woman, who's father has nearly half the money on the planet, cares about their opinion?"
Not mad at all!! Congrats to them both!! 👏🏽👏🏽👏🏽👏🏽 Love is love.

— WineLoverSFCA (@WineloverSFCA) July 7, 2022
Why does a planet of social media bigots think a young woman, who's father has nearly half the money on the planet, cares about their opinion? 🤔

"Bill Gates' daughter Phoebe faces racist comments after posting photo with rumored boyfriend"

— Wide Awake (@pblcnmy) July 8, 2022
Image Source: Instagram/Geekwire