Cannes 2022: Bella Hadid Sizzles In 1987 Black Versace Gown; Hopes To Make Donatella Versace And Gianni 'PROUD'-SEE PICS
Bella Hadid was seen wearing a strapless classic black gown which was originally designed by Gianni Versace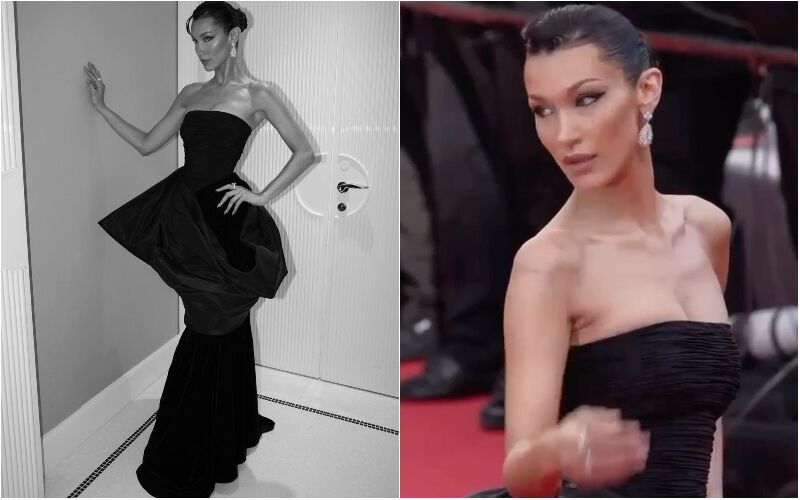 Bella Hadid knows how to turn heads with her glamorous appearances and she has yet again grabbed eyeballs as she donned an original 1987 vintage Versace gown. The supermodel exuded sheer elegance for her first red carpet appearance this year, at the recently concluded Cannes Film Festival.

The 25-year-old was seen wearing a strapless classic black gown which was originally designed by Gianni Versace, for Austrian soprano and mezzo-soprano Helga Dernesch, for a performance at the opera Salomé, in Milan, in the year 1987.
Bella's stunning gown also featured a draped bodice in black georgette and a panné velvet skirt. A flourish at the waist is crafted from a stiff taffeta band, which closes at the back of the dress. To complete her look, she accessorized her gown with minimal jewels from Chopard.
Taking to Instagram, Hadid shared a series of pictures of her vintage dress from the screening of the French film 'Les Innocents' at the film festival.
Hadid wrote, "Going to see an incredible movie, Les Innocents by @louisgarrelpage. Honoured to be wearing a 1987@versace dress by Gianni himself, Jewels by the amazing @chopard 🖤 Thank you for all of the amazing dresses you've loaned @luxurylaw and I, from your archive,@donatella_versace I hope to make you and Gianni proud always…"
The Palestinian supermodel paired her black gown with a chic pulled-back high bun, and her signature foxy-smudged eye makeup, looking like the dream she is.
In another post, she shared several pictures from her appearance at the red carpet and wrote:
"Gianni Versace designed this dress in 1987. It is an honor for @donatella_versace to lend this to me for such an important night…: the 75th anniversary of the brilliant festival… Celebrating film and watching/listening/feeling the mutual respect of every person that makes it go round is consistently a highlight of my life ….
I am wearing @chopard by @chopardbycaroline …. An angel on earth , and someone I truly admire. I would do anything for her! Thank you to the entire Chopard team. It is such a pleasure to work for you..
Thank you to my @luxurylaw @tuddynana @evaniefrausto for your love, energy, and beautiful brains. I am obsessed with you ….🖤"
Meanwhile, the official Instagram handle of Versace also shared an original illustration of the design, by artist Werner Bernskoetter.
Image Source: Instagram/bellahadid