David Beckham's Fan Spent $30,000 To Look Like The Footballer; Ends Up Becoming Laughing Stock On Internet! Netizens Say, 'You Spelled James Corden Wrong'
David Beckham's fan Jack Johnson came to the limelight after spending almost 30k on his plastic surgeries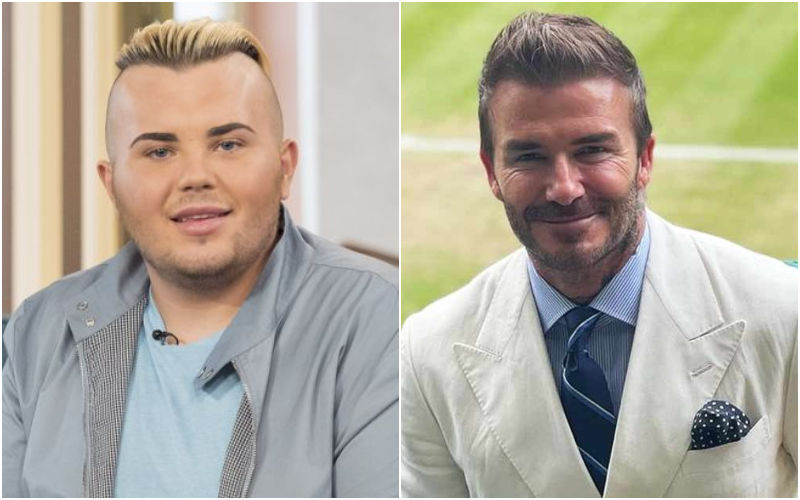 David Beckham is one of the most celebrated athletes across the globe and even though the English footballer has retired but is still very popular among the fans and is often spotted attending matches all across the globe cheering on his favourite teams and players.

However, there's no denying at some point in time everyone wanted to look like Beckham, even though it is just about changing the hairstyle. But, some tend to go the extra mile to look like their favourite star. In a similar turn of events, a UK teen named Jack Johnson spent almost 30k to look like the English footballer back in 2016. The news has once again gone viral on social media and netizens are now reacting to it while comparing him with James Corden.
In 2016, David Beckham's fan Jack Johnson came to the limelight after spending almost 30k on his plastic surgeries. The clips and pictures of him has taken over the internet and shared the news once again and fans are going gaga over it.
The caption to Jack Johnson's reaction to the story behind looking like English football and said, "I've always been obsessed with David Beckham. I think he's the most beautiful man in the world. I wanted to look like him."
Reacting to the social media post, a user commented, "you spelled james corden wrong." Another user commented, " He ended up looking like Miley Cyrus." A third user commented, "Bro looks like David beck ham&cheese sandwich." "0,000 to look like James Cordon," a fourth user commented.
James also appeared on This Morning show and spoke about his new look in conversation with Phillip Grills.
This isn't the first time that fans have gone to extreme lengths to look like their favourite celebrity and wanted to look like their favourite stars. In the past,, obsessed fans tried to look like Justin Bieber, Jennifer Lawrence and Michael Jackson but failed terribly with their plastic surgeries.
Image Source: Instagram