Desi Uncle Disgusts Women On Internet As He Is Offended By THIS Bra Ad: Netizens School Him: 'No B**bs, No Opinion'
Netizens unleashed their fury towards a man as he was applauded by a Nykaa advertisement titled - 'Happy Boobs = Happy Days'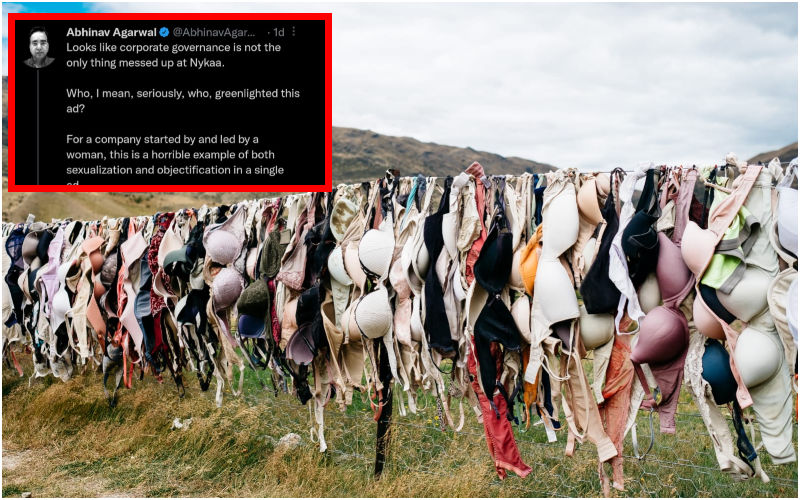 It appears we are falling short in raising awareness around body positivity and educating the masses about social acceptance, or how women's bodies work. Well, this time it was a desi uncle who has disgusted the netizens, especially women and he has even invited flak for the same.

Netizens unleashed their fury towards a man as he was applauded by a Nykaa advertisement titled - 'Happy Boobs = Happy Days'. Unfortunately, the man was horrified by the sight of a woman in a bra advertisement, which was clearly quite problematic to him.
While a ScoopWhoop report suggests Manosphere syndrome, the internet believes the contrary.
The man thought it was a horrible objectification and sexualisation of the woman, although, a few tried to explain to him that it wasn't the case. Taking to his Twitter handle, the offended gentleman wrote, "Looks like corporate governance is not the only thing messed up at Nykaa. Who, I mean, seriously, who, greenlighted this ad? For a company started by and led by a woman, this is a horrible example of both sexualization and objectification in a single ad."
This instantly sparked outrage on Twitter and netizens did not seem to have any mercy for his comments.
Check out the comments below:
However, this did not appear to be a case of Manosphere syndrome, as the tweet has now been deleted following the backlash.

Earlier this year, a man left women on the internet fuming as he shared his extensive list of requirements for his dream girlfriend on Reddit. The unbelievable 14-point list was posted with the caption: "They should be an upgraded version of a woman from the early 1900's [sic]."
Well, the world was supposed to be heading towards a positive future for women. But, it seems many are yet to learn the basics.
Image Source: Instagram