DISGUSTING! Meghan Markle Trolled As Fans Claim, She Was The Only Royal To Cry At Queen Elizabeth II's Funeral! Netizens Say, 'I Don't Believe Her Crocodile Tears'
Meghan Markle's supporters claimed that she was the only member of the Royal Family to cry at the late Queen's funeral, however, many have scoffed off the claims and said that they do not believe her crocodile tears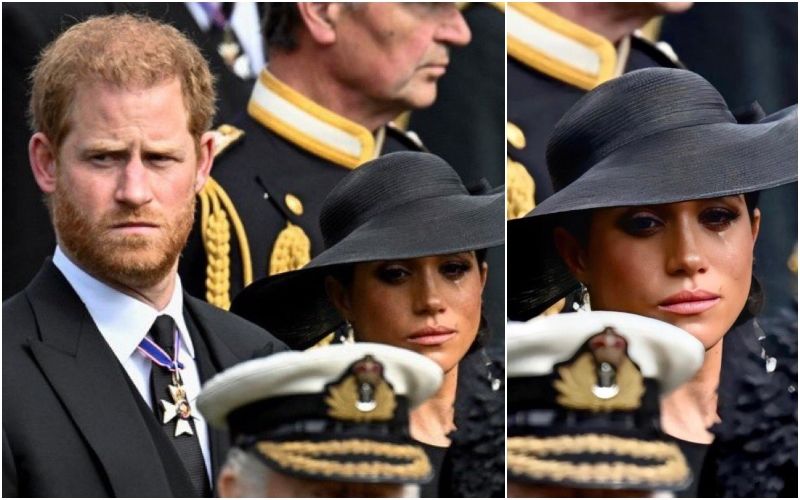 Sadness has engulfed Britain's royal family post the death of Queen Elizabeth II. But, the internet seems to have made a competition out of the family's grieving as well. Unfortunately, an argument has sparked amongst netizens trying to justify which family member cried at the queen's funeral.

The Internet has been divided over Meghan Markle's supporters' claiming that she was the only member of the Royal Family to cry at the late Queen's funeral.
The arguments sparked after a touching ceremony at Westminster Abbey on Monday, September 19. Prince Harry's wife Meghan was reportedly spotted wiping away tears and a fan named 'SussexDetective' took a screenshot of it and wrote on Twitter, "Meghan being the only one who cried for the Queen…. Sums up everything really."
"Meghan and Harry have both always maintained that they deeply respect and have had a wonderful relationship with the Queen and that the Queen was always very good to them. She's crying because the Queen was probably the only person who was kind to her," yet another user remarked.
Nevertheless, the remarks apparently reeked competition over the family's grieving period and this instantly provoked outrage on Twitter as other fans shared images of Royals who were visibly crying.
The plethora of images from the forlorn occasion featured a young Princess Charlotte sobbing in public and King Charles' eyes welling up with emotions as he gazed at his mother's casket in the abbey.
Furthermore, following the arrival of Catherine, Princess of Wales at the funeral cortege at the abbey, she was seen trying to hold back tears as her eyes were swollen with grief.
Also, Prince Edward was also seen sobbing into a handkerchief while his wife, Sophie, the Duchess of Wessex, was dabbing tears from her eyes. Prince George was also sad. As the funeral party returned to Buckingham Palace, Queen Consort Camilla also appeared looked sad at Wellington Arch. Several other users on social media were also not impressed with Meghan crying at the late Queen's funeral.
A DailyMail report suggests that Meghan has been struggling to control her emotions as the Queen's coffin departed the Abbey towards Windsor Castle, where she will be laid to rest alongside Prince Philip.
Shortly after the Queen's death, Harry released a statement on the Archewell website which he shares with Meghan.
The statement read, "In celebrating the life of my grandmother, Her Majesty The Queen – and in mourning her loss – we are all reminded of the guiding compass she was to so many in her commitment to service and duty."
"She was globally admired and respected. Granny, while this final parting brings us great sadness, I am forever grateful for all of our first meetings – from my earliest childhood memories with you, to meeting you for the first time as my Commander-in-Chief, to the first moment you met my darling wife and hugged your beloved great-grandchildren. I cherish these times shared with you, and the many other special moments in between. You are already sorely missed, not just by us, but by the world over. And as it comes to first meetings, we now honor my father in his new role as King Charles III," the statement added.
Image Source: Twitter/SussexDetective/