Donald Trump And Wife Melania Trump Attend Girl Scouts Ceremony Ditching Protective Face Masks And Gloves
In the middle of the Coronavirus lockdown, President Donald Trump and first lady Melania Trump attended Girl Scouts ceremony while not following the guidelines. The Trumps were spotted without protective face masks and gloves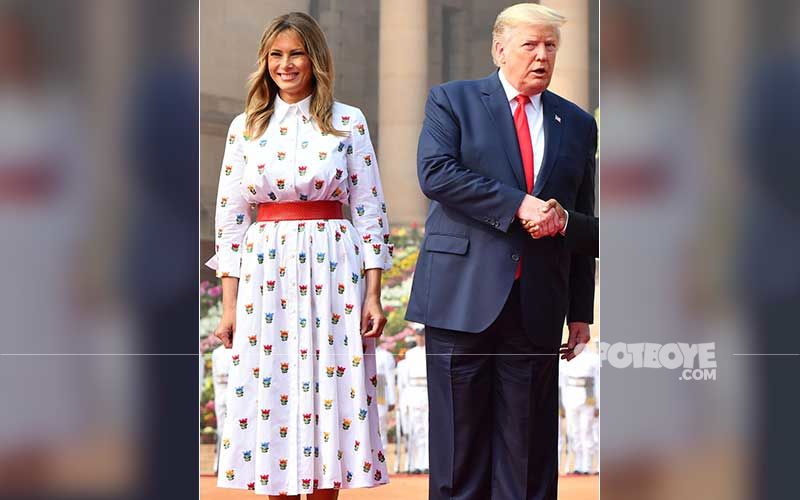 Amidst the Coronavirus lockdown, President Donald Trump and first lady Melania Trump greeted a group of Girl Scouts at the White House on Friday afternoon. The two were seen greeting a group of in-uniform Girl Scouts at the Rose Garden ceremony, with the President handing out certificates to several honorees. But what caught everyone's attention was that neither one of them wore protective face masks nor gloves. Ever since the Coronavirus outbreak, there has been a rule in several countries that one has to use protective masks and gloves while stepping out.
The Trumps stepped out to attend the Girl Scouts ceremony while flouting the measures of social distancing and wearing facial coverings in order to help prevent the spread of Coronavirus. The Trumps were seen holding hands when they arrived at the venue. In fact, while handing over the certificates to individual Girls Scouts, Trump even posed with them just inches away from their face for the photos. On the other hand, all the NYPDs were seen following the guidelines as they were sported wearing face masks and gloves.
This comes after Melania had urged her Twitter followers to follow the guidelines strictly in order to be safe during the pandemic. In April, she had tweeted, "As the CDC studies the spread of #COVID-19, they recommend people wear face cloth coverings in public settings when social distancing can be hard to do."
For Donald Trump, it's not the first time that he has gone without mask at a public place. "I just don't want to wear [a mask] myself. It's a recommendation. I am feeling good," he said during a Coronavirus press briefing on April 3, as quoted by HollywoodLife. "I don't know, somehow sitting in the Oval Office behind that beautiful Resolute Desk, the great Resolute Desk, I think wearing a face mask as I greet presidents, prime ministers, dictators, kings, queens — I don't know, somehow, I don't see it for myself," he said right after a few weeks when his personal valet was tested positive for COVID-19. ALSO READ:
Donald Trump Has Stake In Hydroxychloroquine Firm, The Anti-Malaria Drug He Touts As COVID-19 Treatment-Reports