Drake Does The Unimaginable! Makes Diamond Necklace With 42 Rings From Engagements He 'Never Did'; Its Cost Will Blow Your Mind!
Drake's blinding jewellery piece is made using 18K white gold and it is crafted using a handmade technique called 'eagle claw'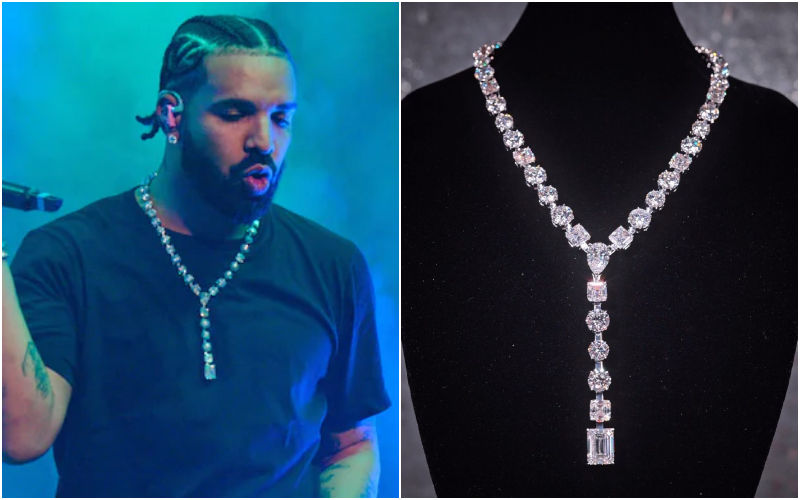 Apparently, rich is the new flex and Drake has done something no one would dare to imagine! The rapper has apparently found a bizarre yet grandiose way to get over his past relationship. As per the reports, the 36-year-old artist has customized a diamond necklace made from 42 engagement rings that he never got to use.

A PageSix report suggests that jewellery designer Alex Moss shared a video flaunting his creation and captioned it "New piece titled 'Previous Engagements' for all the times he thought about it but never did it." He also explained that necklace is made up of "42 engagement rings, 351.38 carats in diamonds."
Interestingly, the blinding jewellery piece is made using 18K white gold, Moss told TMZ, adding that it is handmade using the eagle claw technique.
The IG Reel also suggests that the necklace is "an expedition spanning 14 months, every diamond hand selected, inspected to only suit perfection." Moss shared that the necklace was made in New York, however, he chose to stay silent on its cost.
The video has instantly invited reactions from the fans and netizens who wish to buy the magnificent piece. "Alex Moss, Can you do sum for me?" one user asked the celebrity jewellery designer, referencing Drake's verse alongside 21 Savage on the viral song 'Rich Flex'.
Another user pointed out, "350 + carats over 42 diamonds so something like 8 carats a piece? Assuming you're using vs1+ this piece is somewhere in the $4-6M range?" One questioned, "So who was the 2 big stones for ??? You should call this piece 'UNLUCKY LADIES'," as another person recommended naming the piece 'HER LOSS'.
However, another PageSix report quoted diamond expert Zack Stone of UK jeweller Steven Stone who believes the 'Passionfruit' rapper's icy chain is worth a whopping $12.5 million.
The details about the diamonds and their supposed owners are still a secret. To note, over the years the rapper has been linked to multiple women over the years including Rashida Jones, Tyra Banks, SZA, Julia Fox and Rihanna.
Drake was seen wearing the necklace last Saturday, December 9, at the rapper Lil Baby's birthday concert in Atlanta at State Farm Arena. Previously, he has been previously linked with Rashida Jones, Tyra Banks, SZA, Julia Fox and Rihanna.
Image Source: Instagram