Ever Seen A BLUE GINGER? Internet Is Baffled With The RARE Find! Netizens Joke, 'Maybe Ginger Got Blue Subscription For Authentication'
Angellica Aribam shared a deep blue ginger on Twitter, and the tweet has taken the internet by storm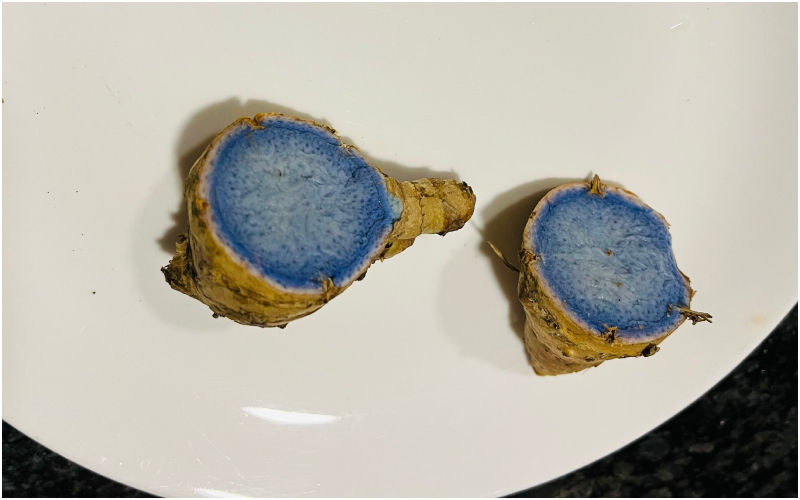 Ginger is a medicinal spice that is known to possess many health benefits. From treating common coughs to boosting digestion, it has been known to be a helpful ingredient in many ways. While we all associate ginger with brown or golden tones, the internet is currently baffled over blue-coloured ginger.

Interestingly, humans are yet to unravel the mysteries of nature and every plant is known to possess several species of the same genus. Now, the latest discovery has sparked discussions on the internet and among researchers.
It all started after, Angellica Aribam, a political activist, recently posted about deep blue ginger on Twitter, and the tweet has taken the internet by storm. On Tuesday, Aribam shared a picture of this unique root spice and wrote, "I have never seen a blue ginger in my 20 years of cooking. Is this normal?".
The tweet went viral in no time and it has garnered over 20k views and hundreds of likes. Responding to the post, a user shared a similar picture of blue ginger and mentioned that this variety of ginger is locally grown in Mizoram.
Another netizen informed that it is Thai ginseng and wrote, "It is black ginger – also called Thai ginseng – the plant looks very similar, so the farmer may have thought it was regular ginger while harvesting. Has some medicinal properties. Not as popular as black turmeric."
Another Twitter user, commented, "Maybe the ginger had got blue subscription recently for its authentication 😅".
It happens if it's stored in cold temperature for long. Will taste milder than regular ginger.
Just smell it and check for mould though.

— Radhika Khera (@Radhika_Khera) February 21, 2023
Experts suggest that ginger often develops a blue and grey colour after being stored in cold temperatures for an extended period of time. It has been explained that the drop in temperatures changes the chemical composition of ginger, the acidic level decreases and it becomes more alkaline, which gives rise to blue-grey pigmentation, reported ETimes.
A few experts also believe that ginger may turn blue because of the natural colour mutation of anthocyanins, a natural pigment found in ginger, and other fruits and vegetables like oranges and cabbage.
Image Source: Instagram