Ex-pornstar Mia Khalifa Goes BRALESS Flaunts Her NIP**ES! OnlyFans Star Stuns Locals As She Holidays To British Seaside Town-SEE PICS
Mia Khalifa got the UK tounges wagging as she turned up at the British seaside town for a quite retreat and she has once again shared a glimpse into her Britain holiday with a carasoul of images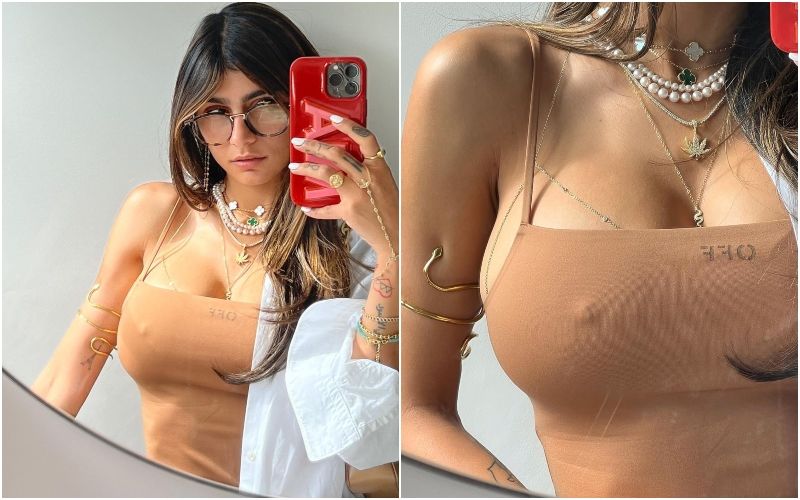 Mia Khalifa needs no introduction! The diva has effortlessly managed to raise temperatures with her social media postings and the latest carousel of images might even leave you gasping for breath!

The former pornhub legend is a pro at decorating the headlines for her stylish looks and breathtaking pictures. The 29-year-old Lebanese-American star has once again left her fans gasping for more as she shared a new series of images on her social media handle.
Mia got the UK tounges wagging as she turned up at the British seaside town for a quite retreat - and Brits in the Garden of England could even catch a glimpse of her on holiday.
Speaking of her latest photo series, the ex-pornstar seemed to be flaunting her assets as she shared a selfie in the first picture, while the second picture clearly featured her going braless showing off her right boob and the nipple.
In the following pictures, Mia can be seen stepping out to enjoy her vacation in Britain. Some reports suggest that the ex-Pornhub icon headed to the Kent coastline and took to Instagram to share her adventures with her nearly 28 million followers.
Enjoying the cool ocean breeze in Faversham, she even shared an Instagram Story and wrote, "proper British sea(mud) town" as she only just concealed her curves with an oversized shirt over a form-fitting orange dress.
The OnlyFans beauty also shared a series of snaps from the blissful getaway showing her frolicking through the streets of the market town.
"Badgyal?", she captioned the post, in which she was seen walking next to boats and grinning as she marched along a high street enjoying her vacation.
Fans and friends appeared to be envious of her latest outing, and they rushed to the comment section of the post and praise her.
Tennis player Julia Elbaba said: "obsessed w/ you," followed by a series of glasses-wearing emojis. Meanwhile surprised fan added: "Mia khalifas in Faversham wtf??" A user quipped, "Go to carters newsagents it's cultural heritage".
Unfortunately, Mia seemed to be battling the cultural differences between Britain and the US.
She posted a screenshot to her story where she apparently asked a friend via text: "How do you say bad b**** in British it doesn't fit here".
And on a video shared with her fans, she said: "Also me as soon as I see an English countryside" followed by a saluting emoji and a Union Jack.
Image Source: Instagram