Feud Between Kate Middleton And Meghan Markle Is Getting Worse? Deets HERE
Several reports are claiming that the feud between Kate Middleton and Meghan Markle is getting worse. Now, read on to know the truth behind these claims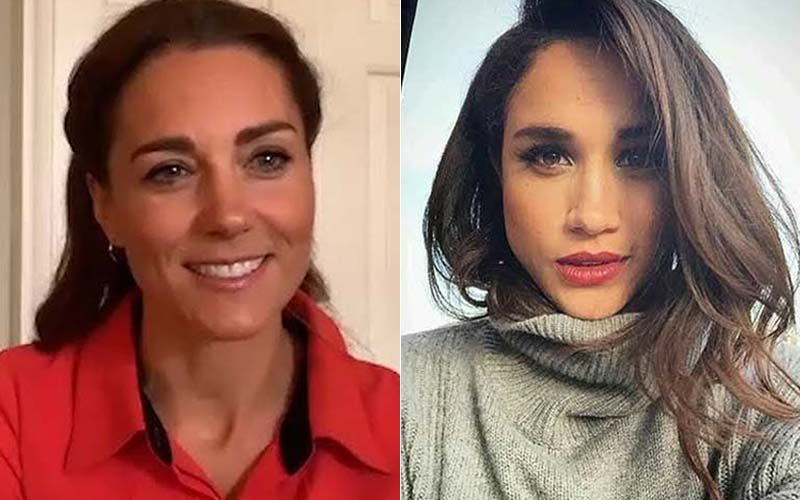 Prince Harry and Meghan Markle made it to the headlines recently, after their explosive interview with Oprah Winfrey. The couple made many shocking revelations about the British Royal family. During the tell-all interview, Meghan opened up about her relationship with the Duchess of Cambridge, Kate Middleton. Since then, several reports are claiming that the feud between Kate and Meghan is getting worse.
According to the latest report in Life & Style, Kate Middleton's feud with Meghan Markle has been affecting her health. The report claimed that Prince William is concerned about his wife's 'eating disorder'. A source in the report said, " Kate's so busy and overwhelmed and she picks at her food and rarely finishes a meal." Reportedly, the source of the stress was no one other, but Meghan Markle. The tabloid claimed that the feud in the Royal family has put Kate "under an enormous amount of pressure to help save the monarchy." Another report by In Touch claimed that Middleton was the one who banned Meghan from attending Prince Philip's funeral. The report states that banning Markle from the funeral was the "perfect revenge for Kate". The tabloid also insisted that the Duchess of Sussex's presence "would have made it awful."
Thankfully, Gossipcop.com has pointed out how false and ludicrous the report is. The website stated facts and proved that firstly, in regards to Middleton's health, there's nothing there. The report mentioned that there was absolutely nothing to suggest Middleton was struggling with her health, and even if she was, Meghan was nowhere to be blamed for it. In terms of Markle's absence from the funeral, the report stated that she was advised to rest owing to her pregnancy.
Meanwhile, this is not the first time when reports have claimed that there is a feud between Kate Middleton and Meghan Markle. However, putting it all to rest, as per the report, Markle herself had denied the feud. She called Middleton a "good person" instead.
Image source:
YouTube/The Royal Family, Instagram/hrhofsussex