FIFA World Cup 2022: Neymar's Doppelganger Takes Over Qatar! Fans Line Up To Click Selfies With The Lookalike-WATCH!
Neymar was subbed in Thursday's 2-0 win over Serbia with what was later diagnosed as a sprained ankle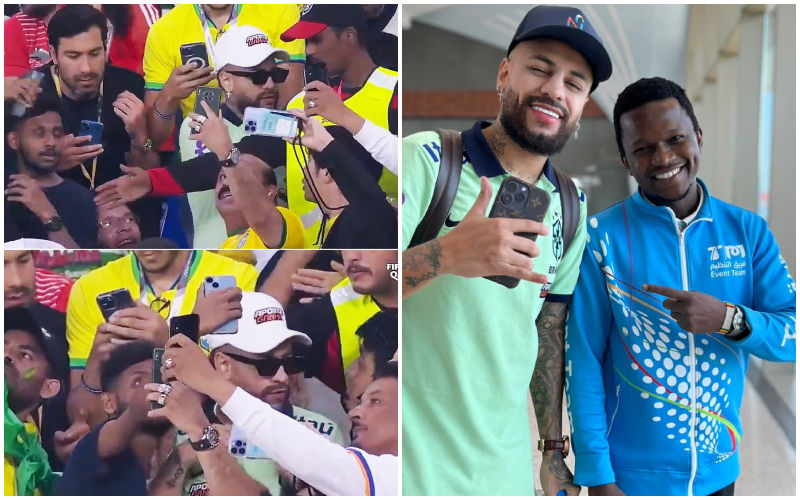 Five-time world champions Brazil are currently celebrating their advancement in the Round of 16 at the FIFA World Cup with a game to spare in the group stage. However, they were mindful in beginning their victory celebrations too soon and the national teams seem to be on a spree to win FIFA World Cup 2022.

While fans have been enjoying the world cup, they seemingly missed the services of their striker - Neymar in the Group G clash against Switzerland. While the team managed to maintain a clean sheet, they won by a 1-0 margin. Well, that certainly was a close call!
As for the Brazil star, management is confident that Neymar will return to lead their big to win a 6th world cup despite him suffering an ankle injury in their opening match in Qatar. The Brazil captain was subbed in Thursday's 2-0 win over Serbia with what was later diagnosed as a sprained ankle.
However, while fans are still reeling from the absence of the original Neymar, football fans were now seen flocking to click pictures with the 'fake' Neymar during Brazil's match against Switzerland.
As per the reports, he is known to be Eigon Oliveira and his TikTok account (@eigonoliver). Interestingly, he has more than half a million followers. The social media star is the spitting image of Brazil star Neymar, and his massive fan following is quite understandable.
With a few accessories and a training jersey, he was seen fooling everyone into believing he is the player himself.

Meanwhile speaking about Neymar's return on the pitch, defender Marquinhos - a teammate of the forward at Paris Saint-Germain - said that the star has been spending his days undergoing intensive physiotherapy in an attempt to recover full fitness as soon as possible.

Image Source: Instagram