Former Porn Star Mia Khalifa Indulges In Some BATHROOM Banter With Her Fiancé; View Picture
Former Porn Star Mia Khalifa has something funny to share with her followers. Post-retirement from the Porn industry, Mia penned a fun post on her Instagram on how her fiancé Robert Sandberg came over to greet her during a seductive photo shoot being that was done in a bathroom. What followed was a hilarious take on her sexy shoot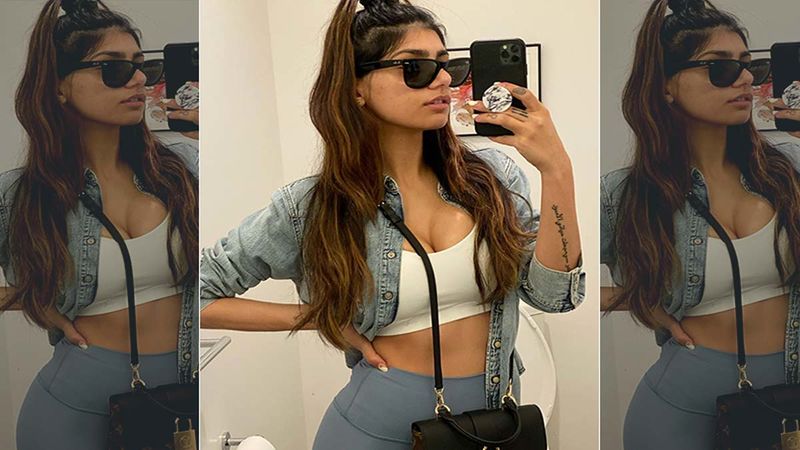 Former Porn Star Mia Khalifa has bid goodbye to her past profession and has been leading a simple life post her retirement from the porn industry. And while she does so the word 'excitement' doesn't seem to detach itself from her name. Now every time she posts a picture on her social media handle, her fans and followers just can't turn a blind eye to it and end up liking and commenting on it as well. Once again taking to her Instagram handle, she kick-started a fun banter with her fiancé Robert Sandberg.
In her Instagram post, we can see Mia looking sizzling hot in red lingerie while she liplocks with her fiancé. Though this image might be titillating, it has a fun angle attached to it if you carefully read the caption. The caption explains this sizzling lip-lock of the couple which was not meant for the photoshoot, in fact, Robert who is seen indulging in a kiss is actually asking Mia to vacate the bathroom so that he can take a dump. LOL! Check out Mia's Instagram post below- ALSO READ:
Former Porn Star Mia Khalifa's Latest Lingerie Picture Exudes Raw Sensuality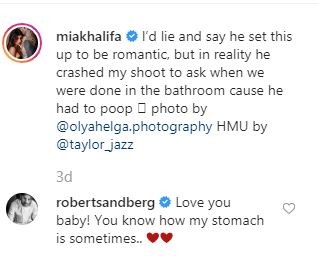 According to reports in albawaba.com, Robert had shared turning
a porn star by profession was Mia's decision
. Further, he also added of the duo tying the knot in summer 2020. Earlier the duo was planning to take their wedding vows in summer 2021, but later settle down on Summer 2020 on mutual grounds.
Image Source: Instagram/miakhalifa