Greta Thunberg Arrested While Protesting In Germany; Climate Activist Gets Slammed By Netizens As She Smiles In VIRAL Pics And Videos-WATCH
Greta Thunberg protested at the opencast coal mine of Garzweiler 2, which is approximately 9km away from Luetzerath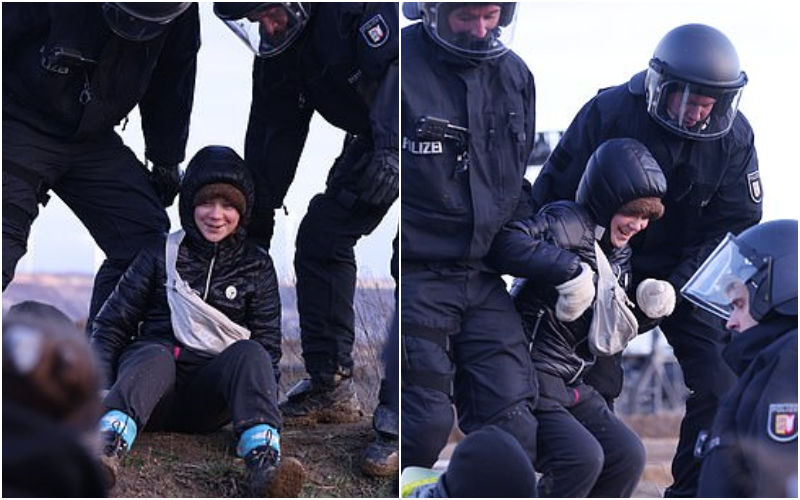 Climate activist Greta Thunberg has often landed herself in controversies owing to her remarks and taking a stand against powerful establishments. The climate advocate was detained alongside her fellow activists on Tuesday during the protests against the demolition of the coal village of Luetzerath but the entire group will be released later in the day, according to police.

"There is no reason to hold them for days. It might take hours or they will go immediately," a spokesperson for regional police in Aachen said, as he spoke about the group of demonstrators.
This time, Thunberg protested at the opencast coal mine of Garzweiler 2, which is approximately 9km away from Luetzerath, where she sat with a group near the edge of the mine.
Several pictures of her arrest have surfaced on the internet, and it has apparently sent social media in a frenzy. However, despite her protest facing the harrowing fate, several have slammed the young climate activist soon after a behind-the-scenes video featuring Thunberg smiling after her arrest surfaced online while many dubbed it as a 'publicity stunt'. "All staged. You are smiling for the camera," wrote a user on Twitter.
The claims come after the village in the western state of North Rhine-Westphalia was to be cleared as a part of the agreement between RWE and the government in a deal that allowed the energy giant to demolish Lutzerath in exchange for its faster exit from coal and saving five villages originally slated for destruction.
Activists have also maintained that Germany should not be mining any more lignite and should focus on expanding renewable energy instead.
Riot police were backed by bulldozers who displaced the activists from buildings in the village with only a few left in trees and an underground tunnel by last weekend. However, reports suggested that the protesters including Thunberg remained at the site staging a sit-in into Tuesday.
The young climate activist was seen sitting alone in the large police bus after having been detained, Reuters source said.
Image Source: Instagram/Twitter/David Young