Halloween 2022 In South Korea Turns HORRIFYING! Seoul Stampede Kills Over 150 People After Crowd Surge In Festivities-WATCH
Emergency workers and pedestrians were seen desperately performing CPR on the people lying unconscious after the crush in South Korea's Seoul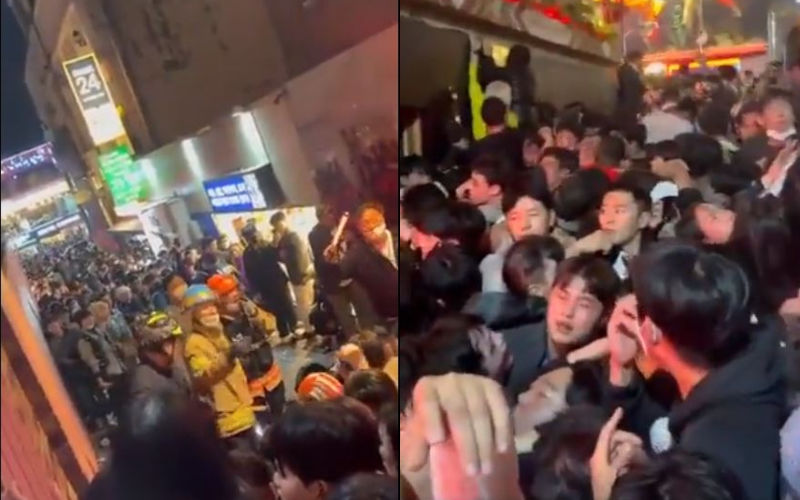 Halloween 2022 celebrations took a surge for the worst in South Korea as a mass of people celebrating Halloween in Seoul became trapped and crushed as the crowd assembled into a narrow alley, killing more than 150 people and injuring 82 others in South Korea's worst disaster in years.

As per the reports, emergency workers and pedestrians desperately performed CPR on the people lying unconscious after the crush in the capital's leisure district of Itaewon Saturday (October 29) night.
At least 149 people have been killed with 76 others injured in a deadly stampede in Seoul's Itaewon district, as huge crowds of partygoers stampeded at late-night Halloween celebrations, Yonhap News Agency quoted fire authorities Sunday.

📸 Public pic.twitter.com/iOJ2yawplT

— BERNAMA (@bernamadotcom) October 30, 2022
The reports also suggest that those who were killed or hurt were mostly teens and people in their 20s according to Choi Seong-beom, chief of Seoul's Yongsan fire department. The dead included 19 foreigners, and he maintained that those whose nationalities weren't immediately released.
Choi Seong-beom, also said that the death toll could rise further as 19 of those injured were in critical condition.
An estimated 1,00,000 people had gathered in Itaewon for the country's biggest outdoor festivities since the pandemic first began.
BREAKING:

🚨Viewers Discretion Adviced

Nightmare in #Itaewon, #SouthKorea

Dozens of South Korean Halloween revellers treated for cardiac arrest on pavement after stampede in Itaewon

Around 100 people have been injured in a stampede during Halloween celebrations #Korea pic.twitter.com/EgLZTp7hlM

— Maimunka News (@MaimunkaNews) October 29, 2022
South Korean Prime Minister Han Duck-soo on Monday released a statement on the recently occurred horrifying incident and promised that a thorough investigation into the Halloween crush will be conducted.
Meanwhile, it is not clear what lead to the surge in the crow into the narrow downhill alley near the Hamilton Hotel, a major party spot in Seoul. The latest reports quoted a survivor who said many people fell and toppled one another 'like dominos' after they were being pushed by others.
FLASH: A massive stampede occurred in South Korea during a Halloween parade. At least 120 people have died. Watch as dozens receive CPR in the street:pic.twitter.com/NsJ0jFzKSb

— Steve Hanke (@steve_hanke) October 29, 2022
Kim, a survivor said that they were trapped for about an hour and a half before being rescued as some people shouted 'Help Me' while others were short on breath, as reported by Seoul-based Hankyoreh newspaper.
Another survivor, named Lee Chang-kyu, said he saw about five to six men push others before one or two began falling, according to the newspaper.
Image Source: Instagram