Happy Karwa Chauth Wishes 2022: Messages, Quotes, Gifs, Facebook And WhatsApp Status, Photos To Share With Your Loved Ones
Karwa Chauth falls on two days, October 13 and 14 and we made sure you don't miss sharing the wishes, messages, and quotes for your loved one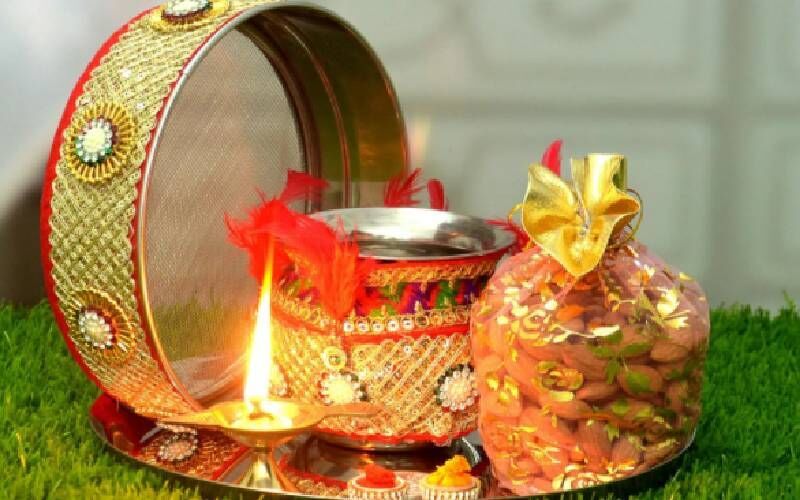 Karwa Chauth is widely celebrated across the country and it celebrates the beauty of marriage as a whole. On this day, Hindu women observe a strict fast, for almost the entire day without taking any food or even a single drop of water, in order to ensure the long lives of their husbands.

This day significantly represents the sacrificial love of women towards the institution of marriage. On this day, women pray for their husband's longevity, safety, and prosperity. The women break the fast after looking at their husbands' faces and make offerings to the moon during the night.
Women from Northern and Western parts of India celebrate the occasion by worshipping Lord Shiva and his family, including Lord Ganesha.
This year, Chaturthi tithi falls on two days, October 13 and 14. Naturally, many get confused about when they should observe the nirjala vrat for Karwa Chauth.
On this prosperous day, don't miss sharing the wishes, messages, and quotes listed below.
Karwa Chauth Wishes For Your Wife
On this Karva Chauth I just wanna say.. Thank you darling for coming my way. Happy Karva Chauth
I am truly fortunate to have a wife like you who has been my biggest strength through the challenges of life. Happy Karwa Chauth to you my love.
The moon has never been so romantic, you have never looked so gorgeous. It is the magical touch of your love that makes Karwa Chauth so special and so meaningful for both of us. Wishing you Happy Karwa Chauth my loving wife. I promise to love you forever!!!
Let's look at the moon together. As its milky whiteness spreads across the sky, let love leave its indelible mark in our lives. Let me be yours forever and you be mine, darling. Happy Karwa Chauth.
If I were a tear in your eye, I would roll down onto your lips; but if you were a tear in my eye, I would never cry as I would be afraid to lose you. Thanks for being mine forever. Happy Karwa Chauth, my sweetheart.
Gold, silver, platinum or diamonds are not enough to express your worth, 'because baby to me you're simply, PRICELESS! Happy Karwa Chauth. Wish you a long and satisfying life.
Your companionship has made my life meaningful and beautiful. Thanks for being such a sweetheart, my love! Happy Karwa Chauth to You, Wife!
Karwa Chauth Wishes For Your Husband
Wishing a very Happy Karwa Chauth to my husband who gives me all the reasons to smile, all the reasons to be happy…. May we two are always together, bonded with love for each other.
A very Happy Karwa Chauth to the husband who is the reason for all my smiles, who is the reason for all my joys. Love you forever and ever.
Mutual admiration, enormous respect, equal attraction, and never-ending love. This is all that I want in our marriage forever. Happy Karvachauth dear Hubby!
O Lord! Fulfill my wishes and my prayer on the occasion of karwa chauth. May my husband stay fit and fine by your blessings. Happy Karwa Chauth.
You are a ray of hope and a source of happiness in my life, my dear husband. Today, I keep this Karwa Chauth fast for you to pray for your happiness and long life so that we always stay together happy forever. Happy Karwa Chauth Love!!!
It doesn't matter how many years pass by, the flight of our love will always fly high. Happy Karwa Chauth Hubby.
According to Drik Panchang, this year Karwa Chauth puja muhurat begins at 05:54 pm and end at 07:08 pm, and the Chaturthi tithi will remain from 01:59 am on Thursday, October 13, till 03:08 am on Friday, October 14.
The Karwa Chauth upavasa time will be from 06:20 am to 08:09 pm on October 13. It will last for 13 hours and 49 minutes. Additionally, on Karwa Chauth, the moon will rise on Karwa Chauth 08:09 pm.
Image Source: Instagram