VIRAL! OnlyFans Model Mishel Karen Wardrobe Malfunction; Handles Unfortunate Accident Like A Boss! Shares Her Hot PICS And VIDEOS
Mishel Karen showed off her curves in a series of pictures she shared on social media and she looked confident sporting a delicate skirt that barely protected her modesty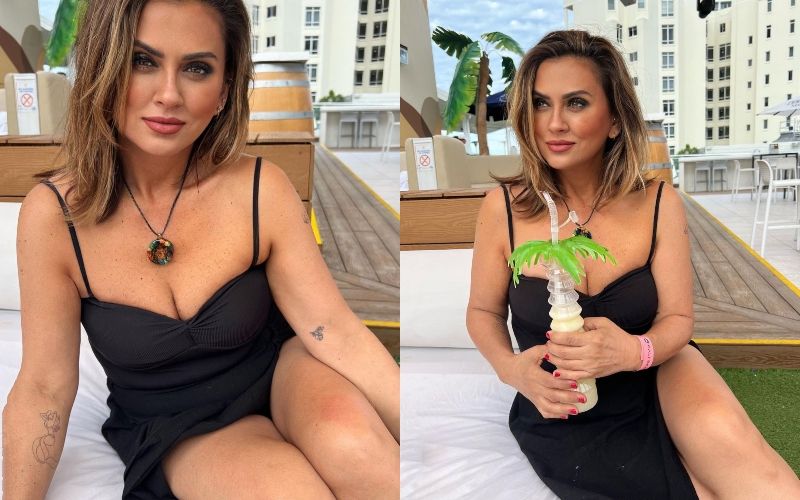 Married At First Sight fame Mishel Karen does not seem to be shy about flashing the flesh behind the paywall of her OnlyFans account. The 51-year-old seems to be revealed more than what she had bargained for during an enjoyable afternoon out along with her daughter Eva on the Cali Seaside Membership in Surfers Paradise.

Karen seemingly suffered a wardrobe malfunction in a plunging black dress and quite a daring bold slit. She appeared to have given the audience more than just a short glimpse in a thin dress during a night out at a Cali Beach club in Queensland.
The majestic grandmother showed off her curves in a series of pictures she shared on social media and she looked confident sporting a delicate skirt that barely protected her modesty.
Her post received rave reviews from her fans and the comments section was instantly filled with praises. Mishel's former MAFS co-star Connie Crayden also weighed in. by calling this seductive grandmother 'Newborn'.
She was also joined by her daughter Eva for the photoshoot. The mother of two is currently working as a model and porn star at OnlyFans.
Mishel Karen has turned out to be Australia's most well-known OnlyFans star and she has been engaged in everything from lesbian threesomes to a 12-person orgy to selling her worn undergarments to fans in order to keep financially afloat.
Recently, Mishel, unfortunately, lost $77,000 as a result of participating in an internet trading fraud. She was attacked by an enigmatic man who had courted her on WhatsApp with loving messages and persuaded her to invest thousands of dollars in a sham financial trading operation. The scammer fled with the entire sum of money, breaking Mishel's heart in the process.
In a recent interaction with Daily Mail Australia Mishel shared that she was surprised by the idea of participating in an orgy after she thought it was just a "sex act" involving 12 people. On being associated with XXX site OnlyFans, she spoke of not sharing adult content. But revealed that she not only going to share her masturbation videos, but her fans will also be able to buy her dirty knickers and socks.
The mother of two has reportedly been scheduled to attend Sydney Sexpo in October and she even has plans to participate in a live panel discussion regarding prejudice towards the mature woman in porn and entertain her fans at the XXX convention.
Image Source: Instagram