Hardik Pandya Drops A Killer Selfie Soaking In The Sun With Virat Kohli, KL Rahul And Mayank Agarwal; Check It Out
Just before the tournament begins, Indian cricket player Hardik Pandya is out and about in Cranberra with Virat Kohli, KL Rahul and Mayank Agarwal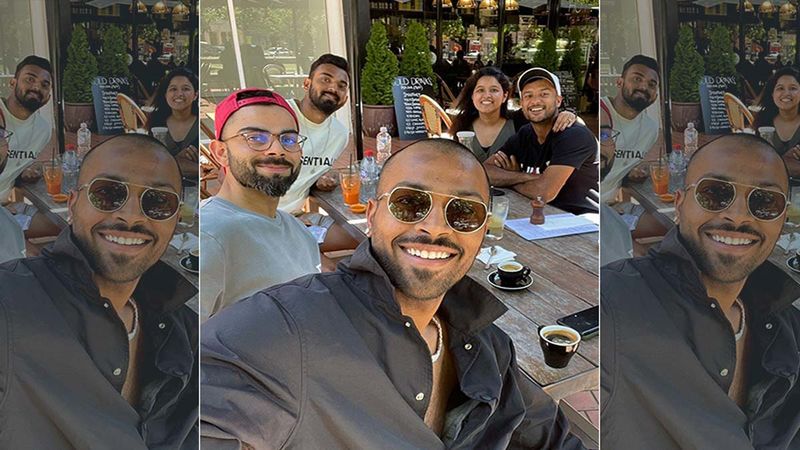 As Indian cricket team is all set to battle it out on the 22 yards against Australia in the 3-match T20I series, beginning from today, Hardik Pandya dropped a glimpse of some happy faces soaking in the sun. Hardik dropped a selfie on his Instagram account, describing the weather of Canberra where the team will be seen playing the upcoming series. The picture has Hardik, Indian cricket team skipper Virat Kohli, K. L. Rahul, Mayank Agarwal with his wife Aashita Sood Agarwal.
Hardik Pandya captioned the image as, "Out and about beautiful sunny Canberra" All the cricket players kept it casual as they were probably seen at the breakfast table, indulging in some refreshing and healthy drinks. While Virat was seen in grey v-necked t-shirt with a red cap and KL Rahul and Hardik were seen in white and black respectively. Hardik Pandya's wife commented on his picture by dropping emojis, as she misses her hubby. This is for the second time, Hardik is away from his little son Agastya after IPL 2020.
The Indian cricket team had to leave for Australia quickly after they returned to India post playing the Indian Premier League 2020, this year hosted in Dubai due to the ongoing COVID-19 pandemic.
The statement read, "Mr Virat Kohli had informed the BCCI about his plans to return to India after the first Test in Adelaide. The BCCI has granted paternity leave to the Indian captain. He will return after the first Test against Australia in Adelaide."
Image Source: Instagram/hardikpandya93