Hartalika Teej 2021: Date, Shubh Muhurat, Puja Vidhi, Time, Auspicious Mantras, And Fasting Rules - All You Need To Know
Let's know about Hartalika Teej 2021 Date, Shubh Muhurat, Puja Vidhi, Dos and Don'ts about auspicious rituals, mantras & rules for fasting.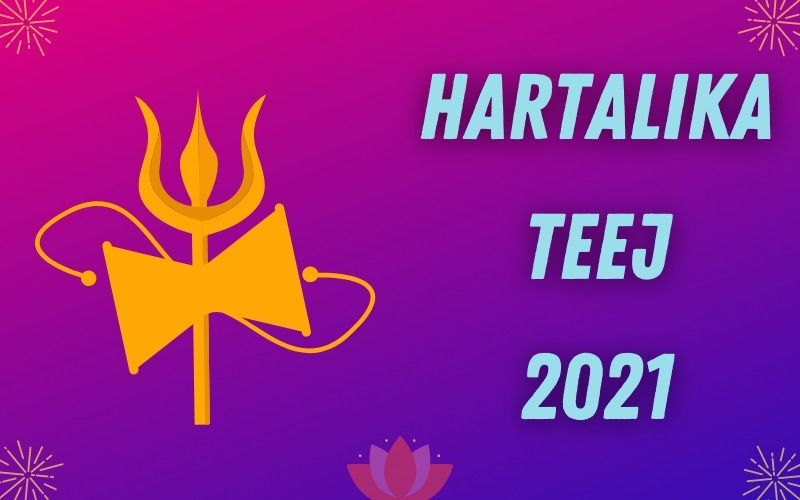 The season of monsoon brings with it a wave of festivals and now it's time to celebrate the festival of Hartalika Teej with buoyancy. In the year 2021, we are celebrating Hartalika Teej on Thursday, September 9, 2021, and the festive earnestness can be felt everywhere.
The Teej is popularly celebrated in various states like Bihar, Rajasthan, Uttarakhand, Chhattisgarh, Uttar Pradesh, Madhya Pradesh, and Jharkhand. Let's, know all about this auspicious festival, tithi, rituals, and foods prepared on this day.
The reason why Hartalika Teej celebrated?
There are three types of Teej celebrated in India, Shravan Teej, Kajaria Teej, and Hartalika Teej. According to Hindu mythology, it is believed that Hartalika Teej is one of the most important Teej, and worshiping Lord Shiva and Goddess Parvati on this day brings marital bliss and prosperous life.
The word Teej extracts from the Sanskrit word 'Tritya' that means third. Now, this year Hartalika Teej will fall on September 9, 2021, which is the Tritiya Tithi of Shukla Paksha in Bhadrapada month.
Know about Hartalika Teej shubh muhurat

As per the Hindu calendar, Hartalika Teej will fall on September 9, Thursday. The shubh muhurat for Teej will start around 2:33 am and will continue till 12:18 am on September 10.

How to celebrate Hartalika Teej ?

On the day of Teej, the devotees get up early in the morning a few hours before sunrise, take bath, clean and decorate the place of worship. However, this year the pratah kaal muhurat for puja will start from 6:03 am to 8:33 am. Meanwhile, the puja can also be done at the pradosh kaal muhurat which starts at 6:33 pm to 8:51 pm.
It is believed that married women must observe fasts for their blissful married life. To celebrate Hartalika Teej, this is also the reason why women dress up in beautiful attire, jewelry, apply Mehendi and worship Lord Shiva and Parvati.
Also, the festival started after taking a vow (Sankalp) in the name of Lord Shiva and Parvati to observe nirjala vrat. Idols made of clay are worshipped on this day. Also, on Teej the ladies observing fast gather at one place, sing and dance on folk songs, sing hymns, chant mantras, and celebrate the day with zeal.
Food for fasting prepared on Hartalika Teej

If it is an Indian festival, one cannot imagine it without a lavishing feast. So here is phalahari food which is not only delicious satvik food but also nourishing. The food for fasting is prepared on this day and offered to the deity as a prasad, which is later distributed among family and friends.
Some of the essential foods prepared on this day are Panchamrit,Sabudana or Mkahna Kheer, Coconut Ladoos, to name a few.
Kheer
This Teej prepares a delicious Sabudana or Mkahna Kheer and adds sweetness to your celebrations. You may also take a vessel and add full-fat milk, add sugar along with some cardamom powder and let it boil. After the milk is reduced to half, add the Sabudana or Makhana and allow the kheer to cook, add condensed milk and dry fruits. Offer to Lord Shiva and Goddess Parvati and serve as bhog and enjoy!
Panchamrit
The recipe of Panchamrit is very easy to prepare - just mix milk, curd, honey, sugar, and ghee. Offer it lord Shiva and Goddess Parvati and serve as bhog.
Coconut Ladoo
Coconut Ladoo is easy to prepare. The recipe includes toss grated coconut in some ghee, add crumbled jaggery/sugar, dry fruits, and sesame seeds. Make small Ladoos, roll over some desiccated coconuts, and serve as prasad.
We can also prepare Aloo (Potato), Singhada aata Halwa to enjoy the Teej fasting food.
Image Source: SpotboyE Team